Blackened Salmon Sandwich with a Sweet and Smokey Grilled Corn Salsa. Super easy to make and loaded with tons of flavor.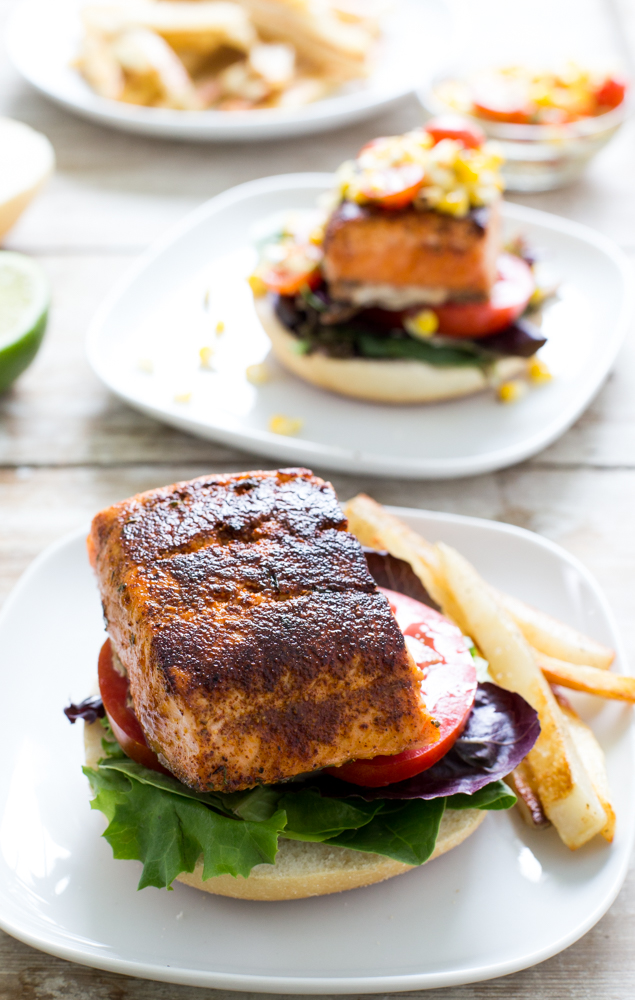 Salmon is my absolute favorite fish to prepare. It's pretty hard to mess up and is buttery, flakey and very mild. It makes the perfect canvas for any meal. I rubbed the salmon with a spicy homemade blackening seasoning and served it with smokey grilled corn salsa.
Blackened salmon + warm crusty roll + summer veggies = the perfect summer meal.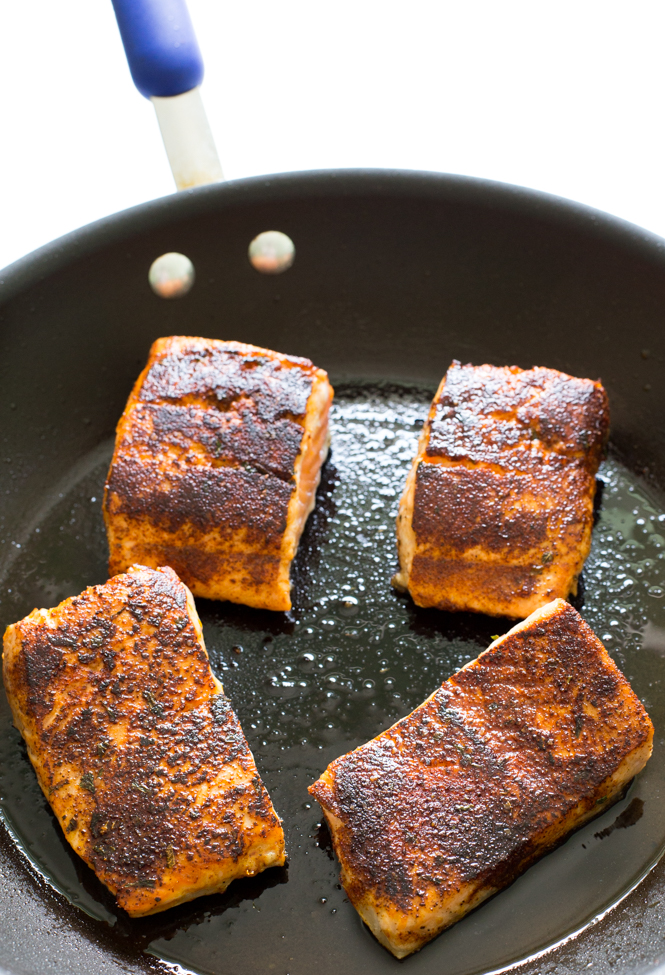 My homemade blackening seasoning is spicy with a hint of sweetness. (I added a bit of sugar in the rub to offset the spiciness) I also used chili powder instead of cayenne pepper so the rub wasn't overly spicy. You can always add some cayenne pepper for an extra kick.
Searing the salmon in a hot pan keeps the salmon crispy on the outside and moist on the inside. The high heat and quick cooking helps to seal in the moisture.
Make sure to pat down the salmon before rubbing it with the seasoning. I like to leave the skin on the salmon during cooking. This helps the salmon stay together and not fall apart when flipping.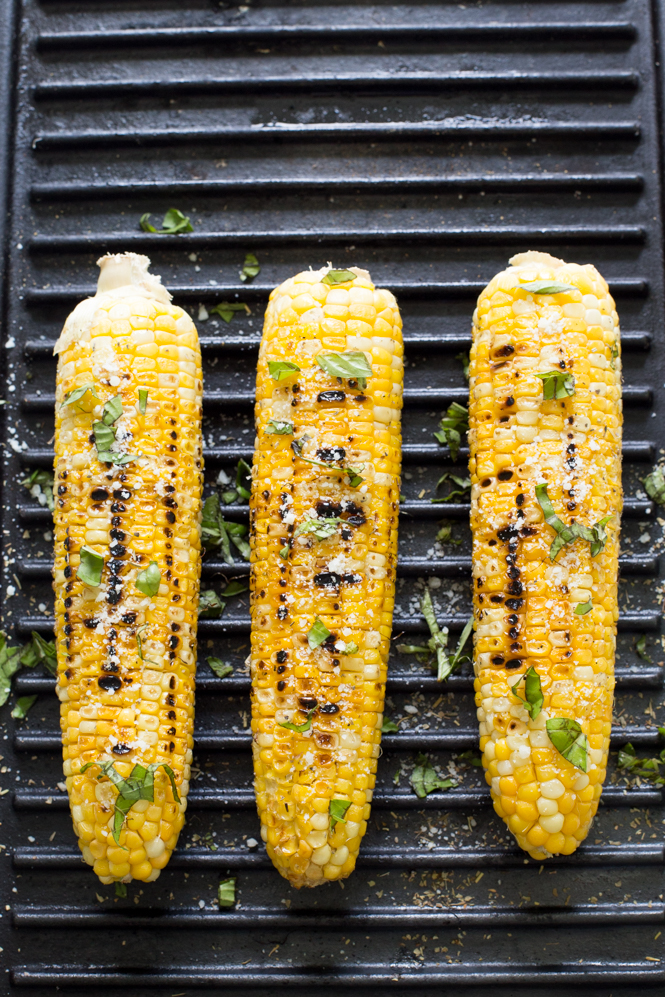 If you haven't tried grilling your corn yet you are missing out. It gives the sweet corn a hint of smokiness. I husk the corn and place it straight on the grill. It only takes a couple of minutes on each side. I toss the grilled corn kernels with cherry tomatoes, cilantro and lime juice. This corn salsa is addicting, Make extra to serve as a dip with chips or toss it on top of salads.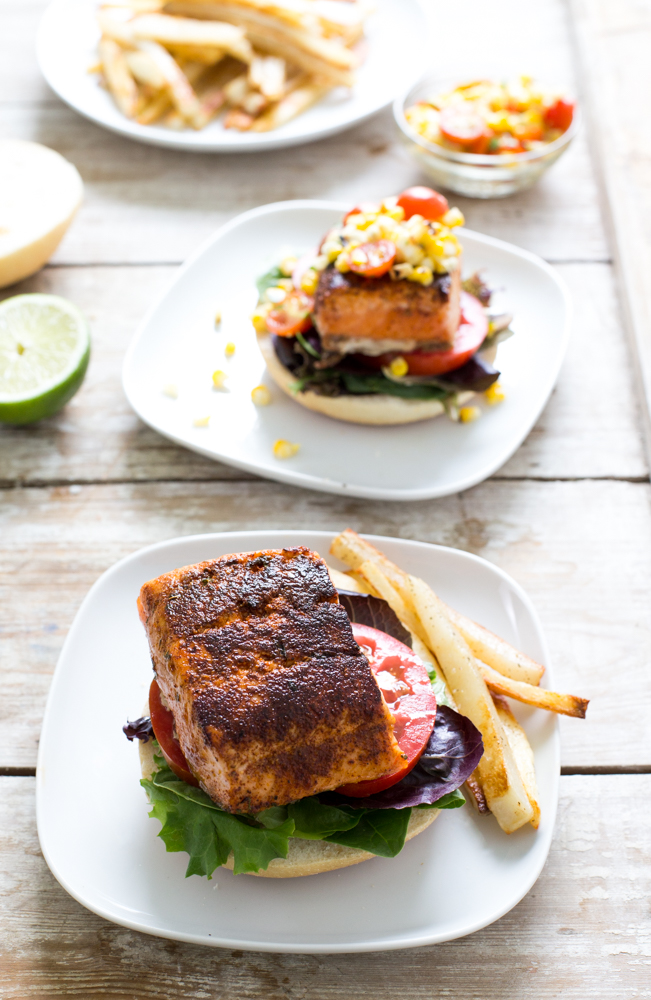 Love this Blackened Salmon Sandwich with Grilled Corn Salsa? Here are some more Salmon recipes to try!
Blackened Salmon Sandwich with Grilled Corn Salsa
Blackened Salmon Sandwich with a Sweet and Smokey Grilled Corn Salsa. Super easy to make and loaded with tons of flavor.
Ingredients
Blackened Salmon Sandwich
4 filets of salmon, skin on (1 pound total)
1 tablespoon olive oil
4 sandwich rolls
1 cup spring mix
4 slices of tomatoes
corn salsa, recipe follows
Homemade Blackening seasoning
1 tablespoon paprika
1 teaspoon dried parsley
1 teaspoon garlic powder
1 teaspoon onion powder
1 teaspoon chili powder
1 teaspoon dried parsley
½ teaspoon dried oregano
½ teaspoon sugar
¼ teaspoon black pepper
¼ teaspoon salt
Grilled Corn Salsa
olive oil
3 ears corn, husked
1 cup cherry tomatoes, halved
¼ cup red onion, diced
2 tablespoons lime juice
2 tablespoons cilantro, chopped
Instructions
Blackened Salmon
Rinse and pat dry the salmon filets.
Rub the filet of the salmon with the blackening seasoning. I used about 1-2 teaspoons for all 4 filets. You will have extra blackening seasoning left over.
Add olive oil to a large skillet.
When the pan is hot add in salmon, blackening side down. Cook for about 4-5 minutes on each side. The salmon should start to turn opaque.
Take off of the heat. When the salmon is cool enough to handle peel off the skin.
To assemble the sandwiches: Layer spring mix, tomatoes, blackened salmon and corn salsa on a sandwich roll. Serve immediately.
Homemade Blackening seasoning
Combine all of the ingredients in a small bowl.
Grilled Corn Salsa
Brush the corn with olive oil.
Place on the grill and cook until charred on all sides and tender, about 5-8 minutes. Make sure to keep an eye on it.
Take off the grill and allow the corn to cool.
Cut corn off the cobb and place in a bowl with tomatoes, red onion, lime juice and cilantro. Set aside.
Notes
Original recipe from chefsavvy.com. Please do not publish my recipe or pictures without linking back to the original post. Thank you!