Double Chocolate Loaf Cake loaded with chocolate chunks then topped with a creamy chocolate ganache icing!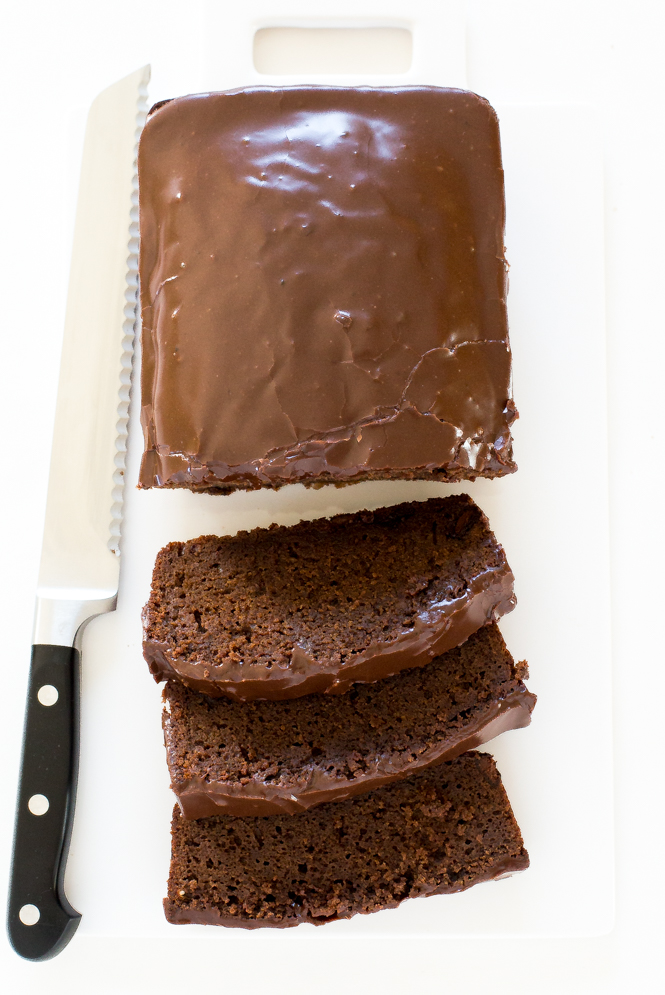 Nothing beats a slice of chocolate cake. This chocolate loaf cake is one of my favorite desserts! Perfectly moist, dense and super rich with a nice thick topping of chocolate ganache.
To achieve the dense, soft texture I added in sour cream and substituted some of the granulated sugar for brown sugar.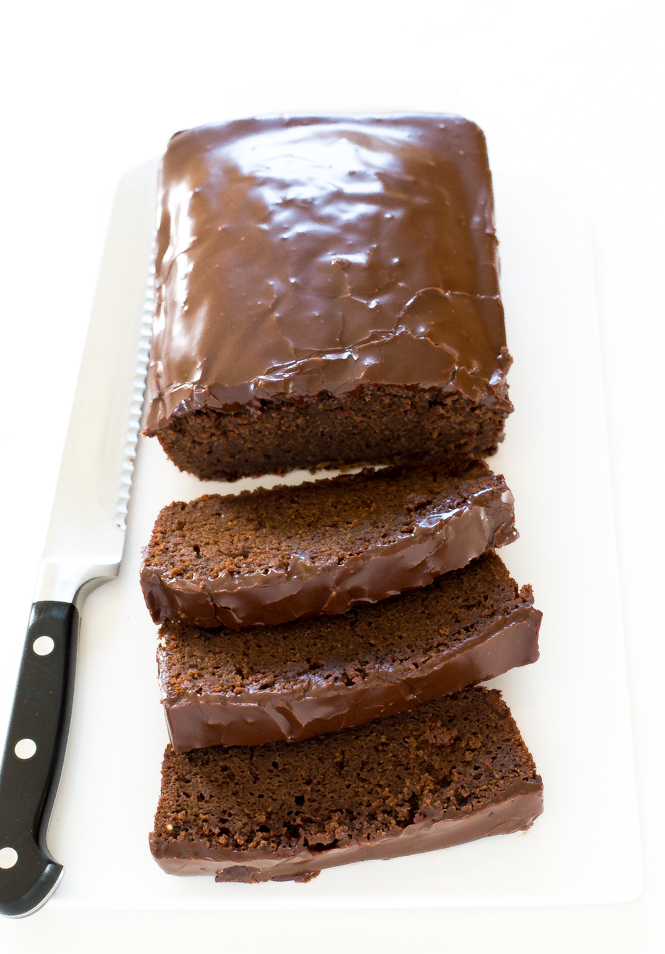 For an ultra soft and moist cake I always bring the eggs, sour cream and butter to room temperature. I also add in hot coffee which amplifies the chocolate flavor and adds a nice silkiness to the batter. After I add the hot coffee I turn the mixer to the highest speed and whip the batter for a minute. This helps to get any last clumps as well as adds air to the batter.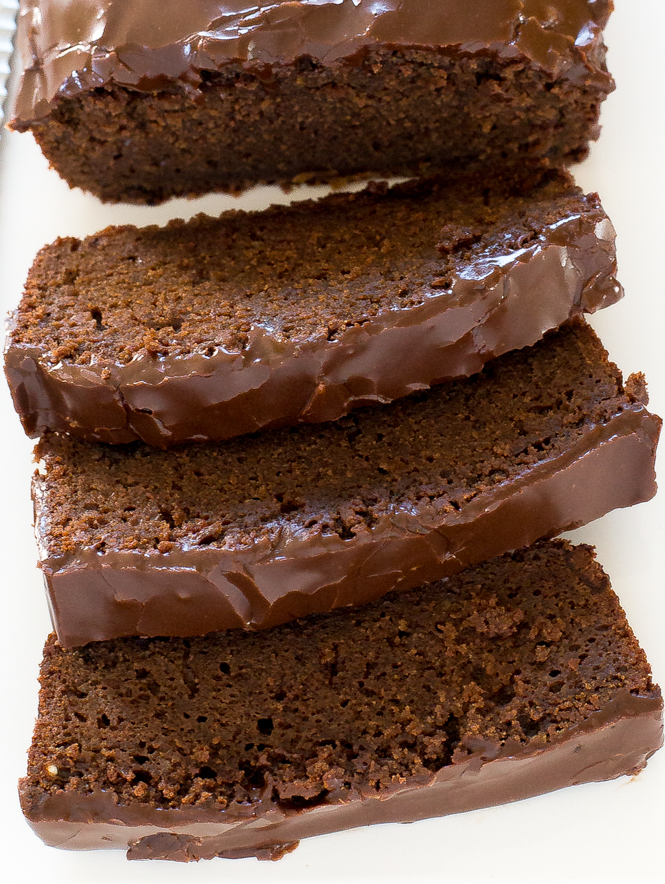 After the cake cools I spread a generous layer of chocolate ganache on top. For the chocolate ganache I whisked together powdered sugar, unsweetened cocoa powder, vanilla and milk.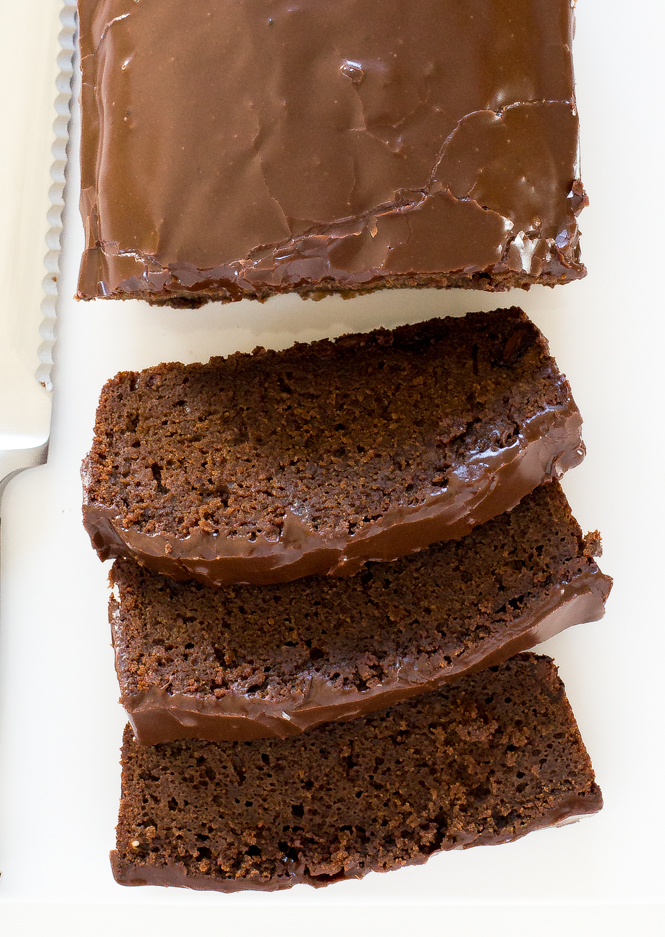 Once the chocolate ganache has set slice and enjoy!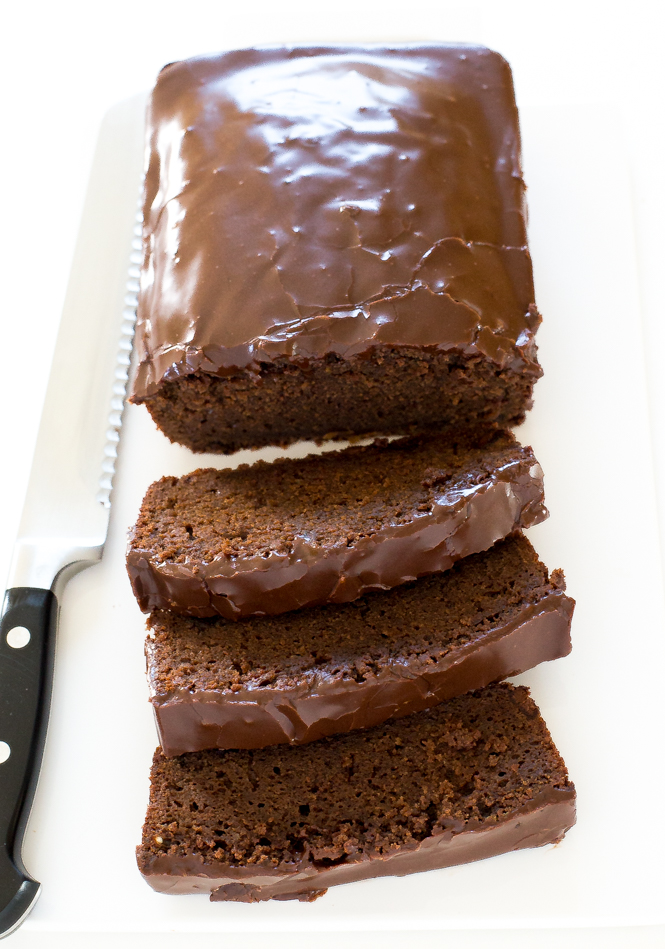 Double Chocolate Loaf Cake
Double Chocolate Loaf Cake loaded with chocolate chunks then topped with a creamy chocolate ganache icing!
Ingredients
1½ sticks unsalted butter, softened
¾ cup light brown sugar
½ cup plus 2 tablespoons granulated sugar
2 large eggs, room temperature
1 tablespoon vanilla extract
⅓ cup sour cream, room temperature
1⅔ cup all purpose flour
½ teaspoon baking soda
½ cup unsweetened cocoa powder
1 cup semi sweet chocolate chips or chocolate chunks
½ cup hot coffee (or hot water)
Chocolate Ganache
1½ cups powdered sugar
3 tablespoons unsweetened cocoa powder
1 teaspoon vanilla
3-4 tablespoons milk
Instructions
Preheat oven to 325 degrees. Grease a 9 x 5 pan with cooking spray.
In a stand mixer with the paddle attachment cream butter and both sugars until combined and fluffy, 2-3 minutes.
Add in eggs one at a time, scraping the bowl between each addition.
Next add in vanilla and sour cream and mix until incorporated.
In a large bowl combine flour, baking soda and cocoa powder.
In two additions add the dry ingredients to the stand mixer and mix just until combined (do not over mix)
Add the hot coffee or hot water to the stand mixer and beat on high for 1 minute.
Fold in chocolate chips by hand and pour the batter into the prepared pan.
Bake for 50-60 minutes or until a tooth pick inserted comes out mostly clean (a few crumbs is fine)
Place the cake on a cooling rack to cool completely.
Once cool run a knife along the sides to remove the cake.
Pour the ganache on top and wait until ganache has firmed up before slicing. (About an hour)
Chocolate Ganache
Add all of the ingredients to a large bowl and whisk to combine.