Light and Fluffy Greek Yogurt Pancakes with Mixed Berry Compote. They take less than 30 minutes to make!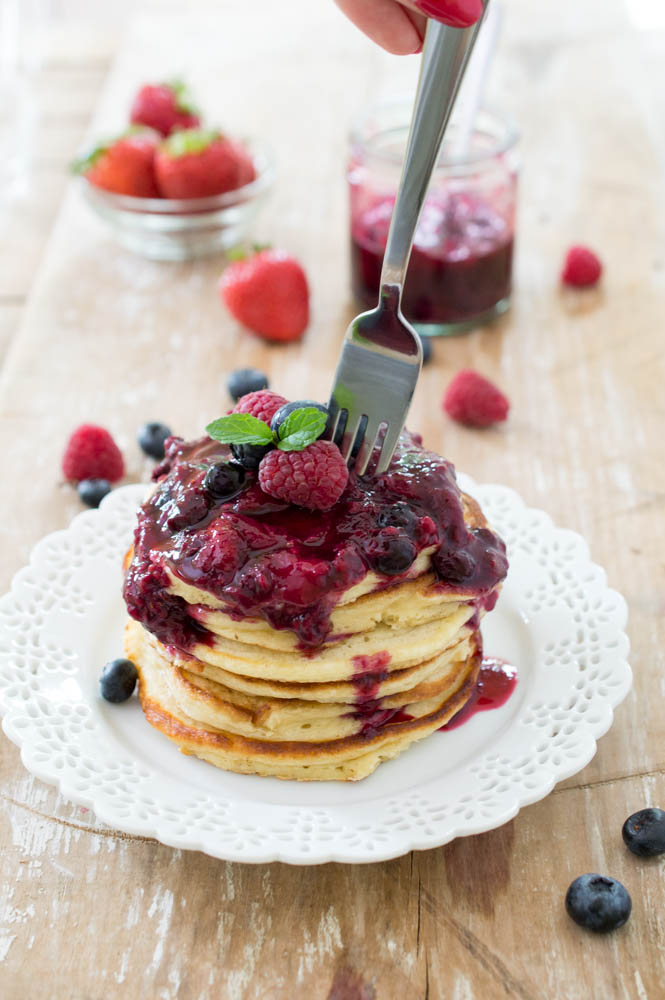 Remember that Mixed Berry Compote I posted last week? Well I put the leftovers to good use and served them with these amazing Greek Yogurt Pancakes.
These pancakes are light and fluffy and only take 30 minutes to throw together. They are way better than the box mix.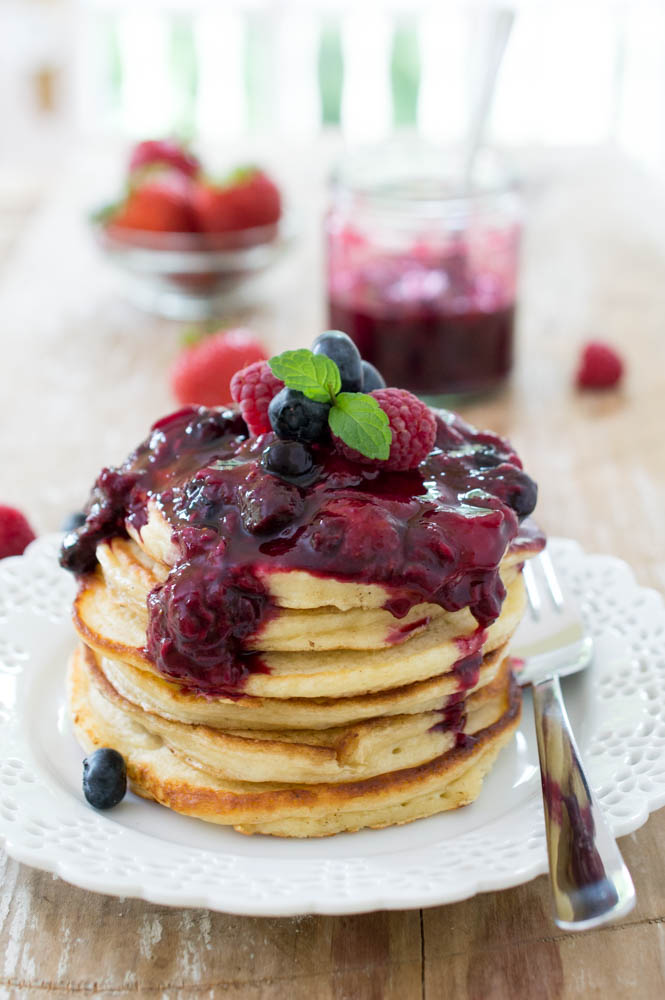 Greek yogurt makes the batter nice and thick and gives you an extra fluffy pancake. You can swap the all purpose flour for whole wheat for healthier pancakes and even add in some flax seed for some added fiber. For extra berry flavor you can add berries to the pancakes while they are cooking.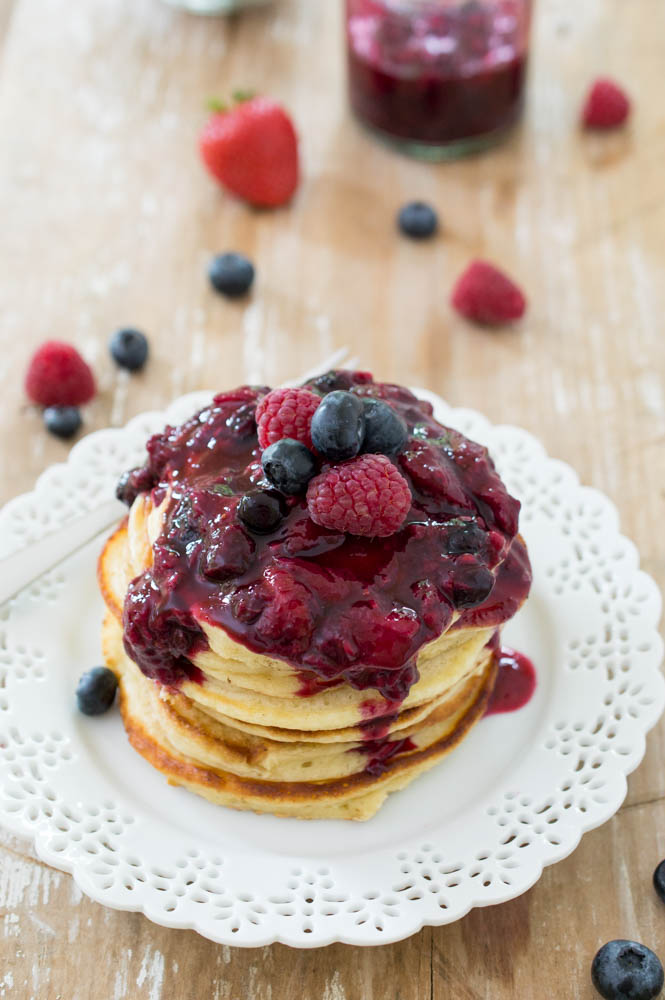 The mixed berry compote is made with only 3 ingredients and has no added sugar. It makes the perfect topping for these pancakes.
To make the pancakes simply whisk the dry ingredients and the wet ingredients separately. Combine the two and fold gently.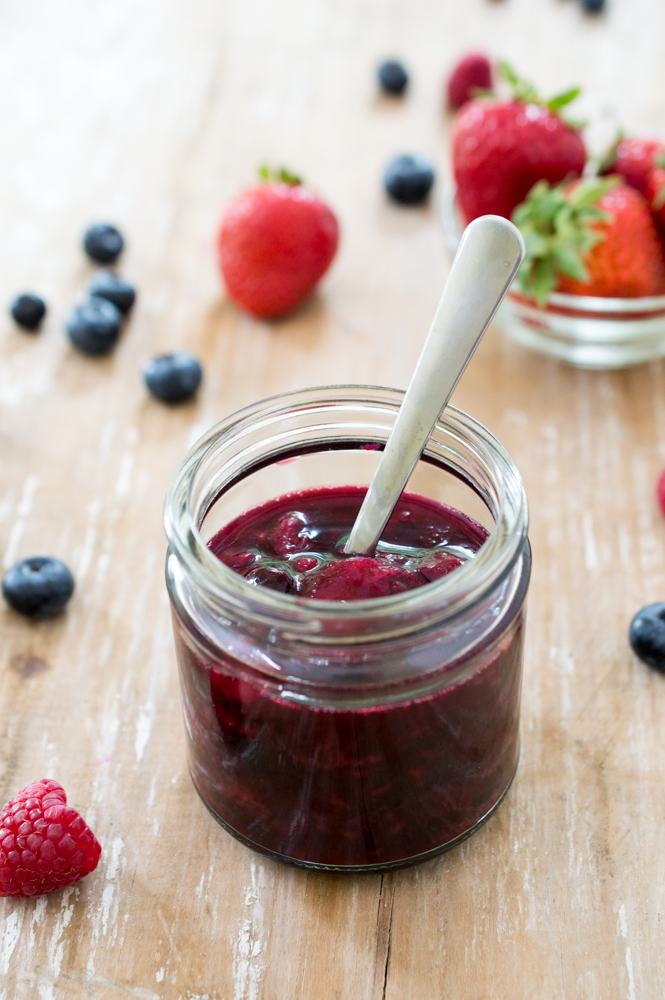 You can serve them plain or drizzled with maple syrup or honey. Anyway you serve them they are awesome.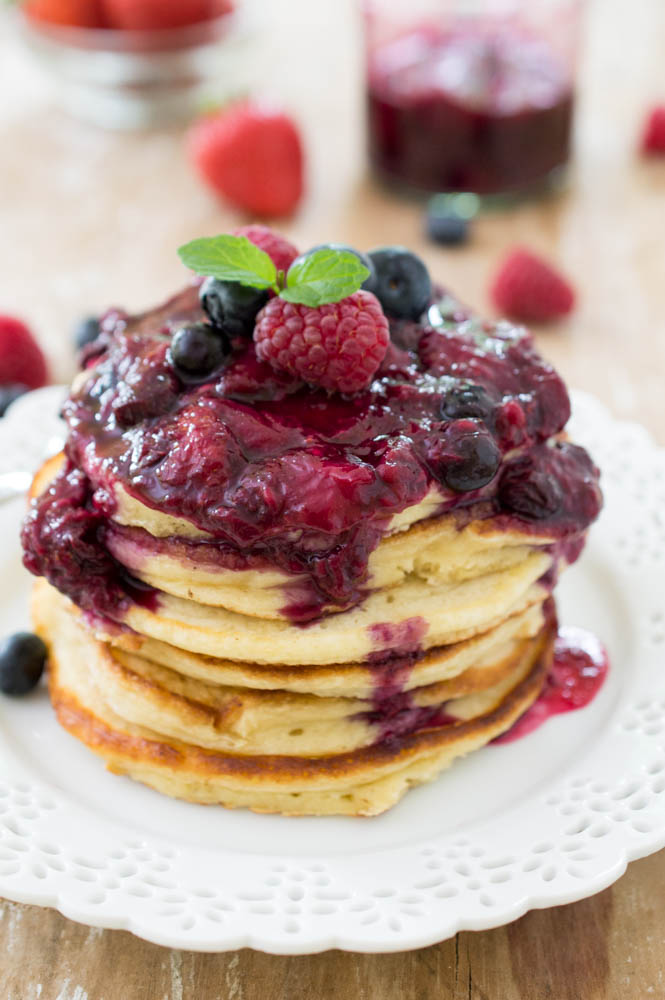 Treat yourself to a big stack of these Greek Yogurt Pancakes!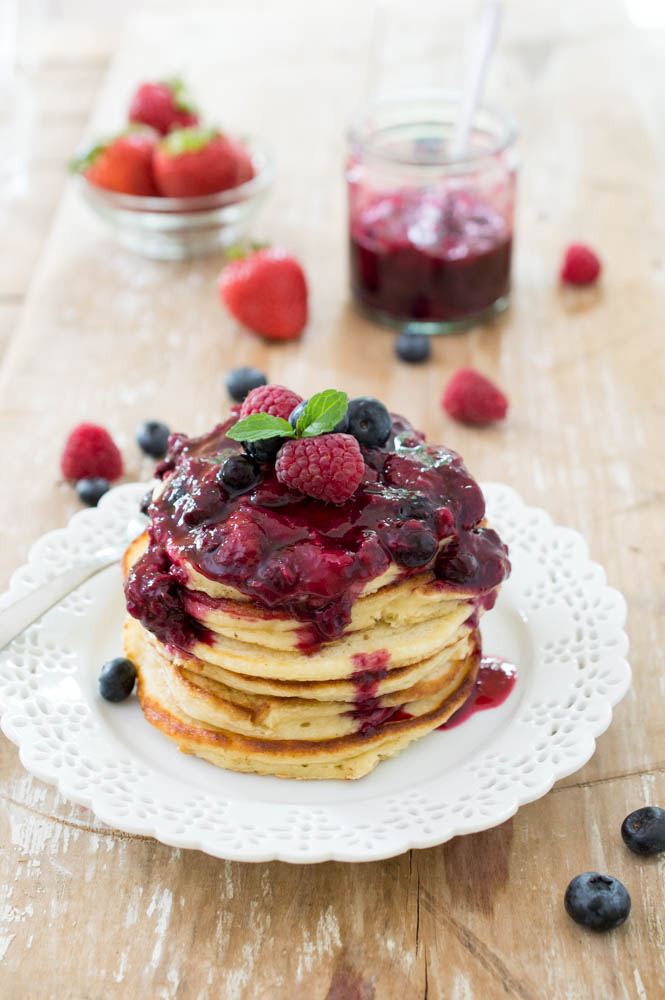 Here are my other pancakes recipes to try:
Greek Yogurt Pancakes with Mixed Berry Compote
Light and Fluffy Greek Yogurt Pancakes with Mixed Berry Compote. They take less than 30 minutes to make!
Ingredients
Greek Yogurt Pancakes
1 cup all purpose flour
2 tablespoons sugar
½ teaspoon salt
1 teaspoon baking powder
1 large egg, whisked
¼ cup Greek yogurt
¾ cup vanilla soy milk (you can always use regular milk and add in extra vanilla)
½ teaspoon vanilla extract
butter for greasing griddle or skillet
Mixed Berry Compote
1½ cup mixed berries
2 tablespoons Pomegranate juice
1 teaspoon lime juice
Instructions
Greek Yogurt Pancakes
Combine flour, sugar, salt, and baking powder in a large bowl. Set aside.
In a medium bowl whisk together egg, Greek yogurt, milk, and vanilla.
Add the wet ingredients to the dry ingredients, and fold gently. Do not over mix.
Heat a skillet or griddle over medium heat and grease with butter or cooking spray. Scoop ¼ cup of the batter onto the skillet or griddle.
Cook until golden brown, about 2-3 minutes on each side.
Coat griddle or skillet with more butter in between each batch to prevent sticking.
Serve immediately with the Mixed Berry Compote.
Mixed Berry Compote
Add all of the ingredients to a small saucepan. Bring to a simmer and cook for 10 minutes or until thickened, stirring occasionally. Mash up the fruit as your stirring with the back of your spoon.
Keep warm until you are ready to serve pancakes.
Notes
Original recipe from chefsavvy.com. Please do not publish my recipe or pictures without linking back to the original post. Thank you!