Rich and Creamy Skinny Fettuccine Alfredo. Under 500 calories a serving! Tastes just like the original!
Fettuccine Alfredo is one of my favorite comfort foods. How can you not love a thick creamy cheese sauce tossed with tender thick fettuccine noodles? I came up with a way to eat my favorite comfort food and not feel guilty about it. This Skinny Fettuccine Alfredo tastes just as good as the original and is so much healthier.
This pasta comes together in under 20 minutes making it a quick and easy weeknight meal.
This Skinny Fettuccine Alfredo comes in just under 500 calories a serving. This pasta can easily serve 4 alongside a side salad. For hungry pasta lovers like myself and my boyfriend it serves 2 just fine.
I swapped out tons of calories using 1% milk instead of heavy cream and low sodium chicken broth for flavor. Olive oil was used in place of butter and tons of garlic is added. For extra flavor and a hint of color garnish with fresh parley and an extra squeeze of lemon juice.
You would never know this Fettuccine Alfredo is low-calorie. It is bursting with flavor and is rich and creamy just like the original.
The Alfredo sauce starts with a simple roux of olive oil and flour which helps thicken our sauce. I like to make the Alfredo sauce while the pasta is cooking and toss everything together at the end.
Skip the restaurant style Fettuccine Alfredo and give this Skinny version a try!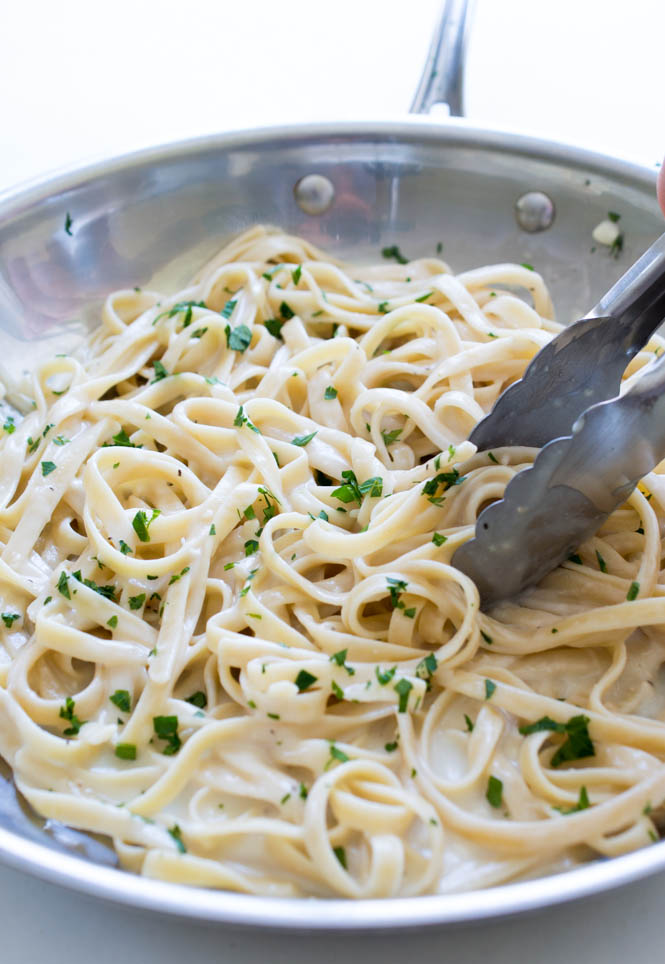 Love this Skinny Fettuccine Alfredo? Here are some more pasta dishes to try:
Skinny Fettuccine Alfredo
Rich and Creamy Skinny Fettuccine Alfredo. Under 500 calories a serving! Tastes just like the original!
Ingredients
6 ounces uncooked fettuccine
1 tablespoon olive oil
2 garlic cloves, minced
1 tablespoon all purpose flour
¾ cup low sodium chicken broth
¾ cup 1% milk
¼ cup Parmesan cheese, grated
1 teaspoon lemon juice
⅛ teaspoon salt
⅛ teaspoon pepper
chopped parsley for garnish, if desired
Instructions
Boil pasta in salted water until al-dente per package instructions.
Meanwhile, add olive oil and garlic to a large saute pan. Cook for 1 minute.
Whisk in flour and cook an additional minute stirring constantly.
Slowly pour in the chicken broth and milk and bring to a simmer. Cook until thickened 3-5 minutes, stir frequently.
Take off the heat and stir in Parmesan cheese.
Toss the sauce with cooked pasta and drizzle with lemon juice.
Season with salt and pepper and serve immediately with parsley for garnish if desired.
Notes
Original recipe from chefsavvy.com. Please do not publish my recipe or pictures without linking back to the original post. Thank you!