Zucchini Chocolate Chip Cookies. Loaded with oats, chocolate chips, zucchini and nuts!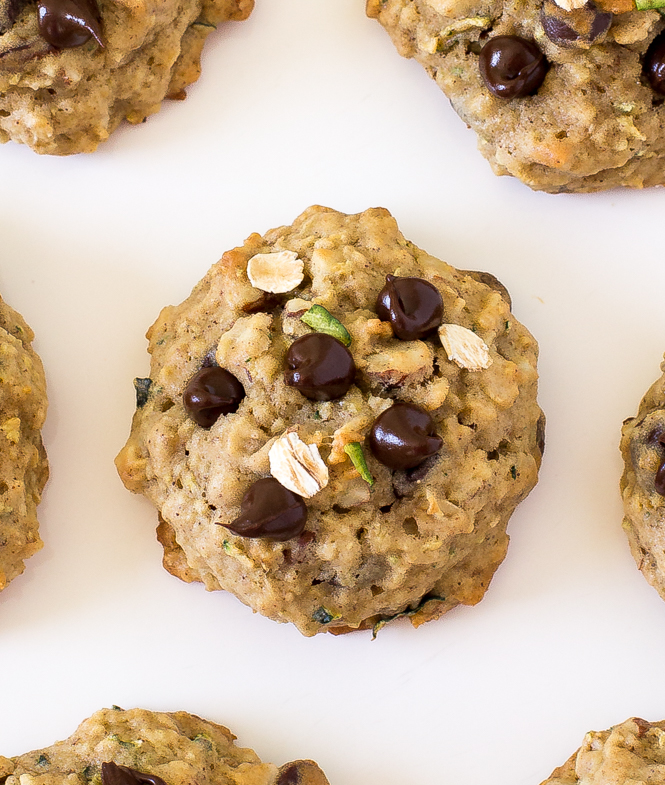 I love the overabundance of zucchini we get every year. To me that means more recipes and uses for all the extra zucchini.
These Zucchini Cookies are an amazing way to use up extra zucchini. They are incredibly soft, cakey and loaded with nuts, chocolate chips and oats.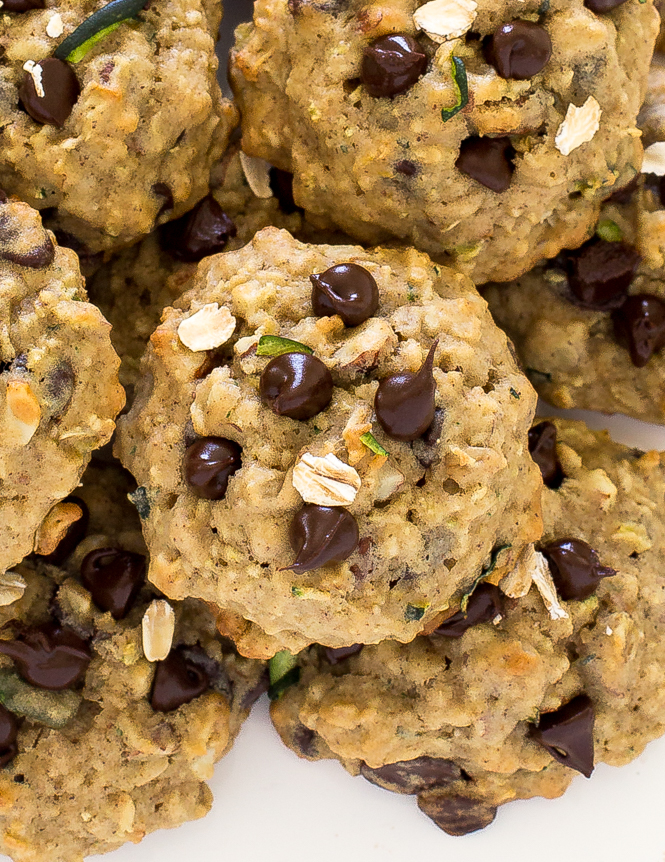 The cookies start off with butter and sugar creamed until light and fluffy. Eggs, vanilla, shredded zucchini, oats and chopped nuts are then added. Next fold in the dry ingredients and chocolate chips then drop into rounded tablespoon cookies. These Zucchini Chocolate Chip Cookies are ready in less than 20 minutes!
To shorten your prep time shred the zucchini in a food processor. It is way easier than using a grater!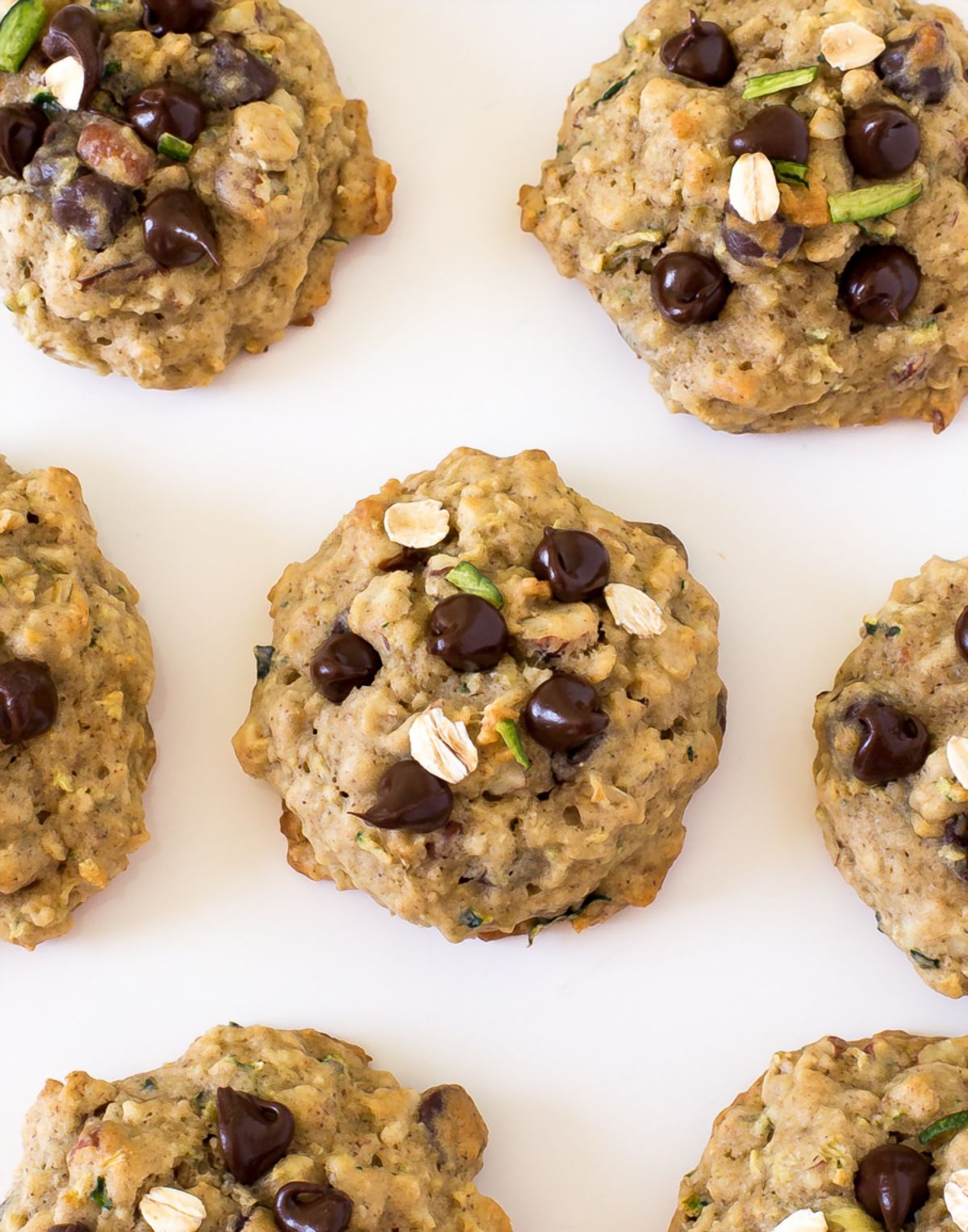 Cookies can be stored in an airtight container at room temperature for 3-5 days (if they last that long). They actually get super soft the longer they sit in an airtight container. You can always freeze the cookies for up to 3-4 months.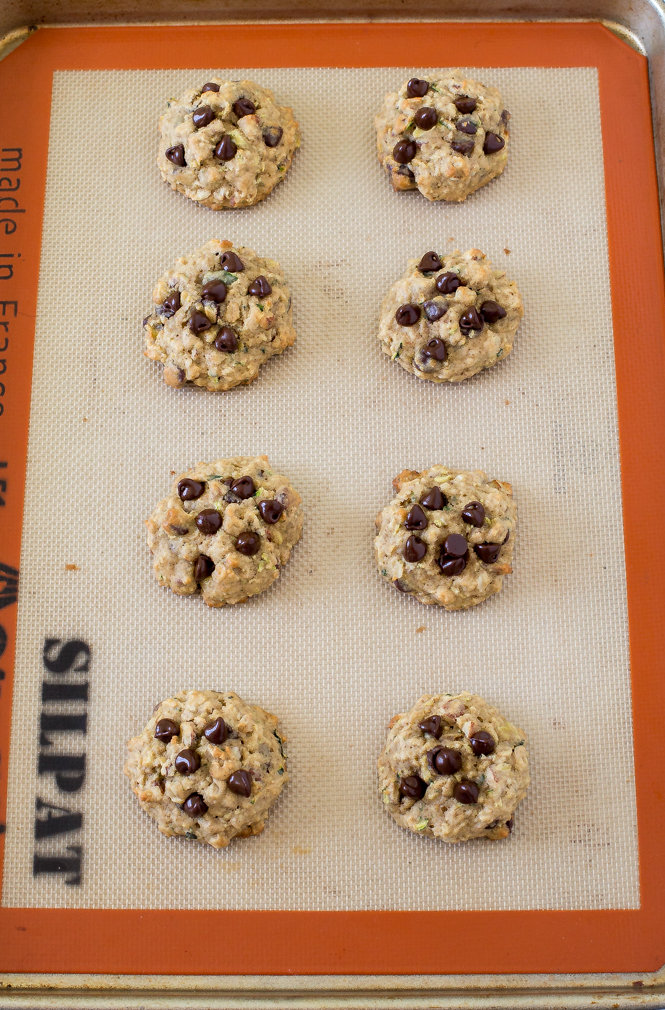 These Zucchini Chocolate Chip Cookies are perfect for breakfast or dessert!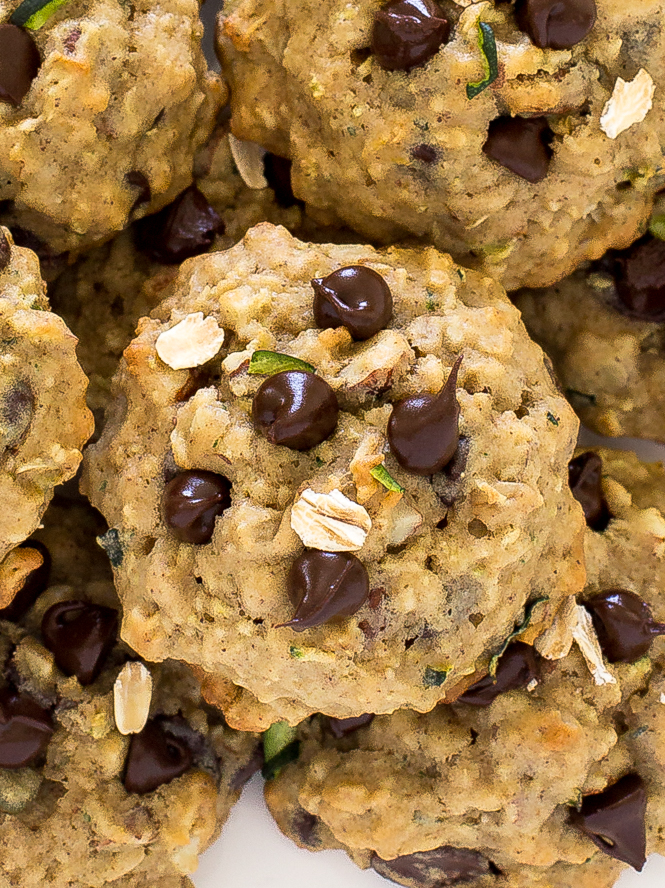 Zucchini Chocolate Chip Cookies
Zucchini Chocolate Chip Cookies. Loaded with oats, chocolate chips, zucchini and nuts!
Ingredients
½ cup butter (1 stick), softened
½ cup granulated sugar
¼ cup light brown sugar
1 whole egg
1 teaspoon vanilla extract
1½ cups zucchini, shredded
1 cup old fashioned oats
1 cups chopped walnuts, or almonds
1½ cups all purpose flour
1 teaspoon cinnamon
½ teaspoon baking soda
1 cup semi sweet chocolate chips
Instructions
Preheat oven to 350 degrees.
Add butter to a stand mixer with the paddle attachment. Cream for 2-3 minutes until light and fluffy.
Add both sugars and cream for another 2-3 minutes.
Add the egg and vanilla and mix until incorporated. Make sure to scrap the sides of the bowl.
Next add in zucchini and mix until combined.
Fold in oats and walnuts.
In a medium bowl combine flour, cinnamon and baking soda.
Fold the dry ingredients to the wet ingredients in two parts. Fold just until combined. Do not over mix.
Fold in the chocolate chips.
Drop by rounded tablespoons and space them 2 inches apart on a baking sheet lined with a silicon baking mat or parchment paper.
Bake for 10 minutes. The cookies should be slightly golden brown.
Allow them to cool for 2-3 minutes on the baking sheet then transfer them to a wire rack to cool completely.
Store them in an airtight container to keep them fresh and moist.
Adapted from
Nestle