15 Minute Creamy Avocado Pasta
Quick 15 Minute Creamy Avocado Pasta. An easy and healthy meal the whole family will love!
Every time I go to the grocery store I leave with an avocado and this time I left with a whole bag. I love having avocado on toast for breakfast with a sprinkle of salt and pepper or on top of my sandwiches or salads. With leftover ripe avocados I decided to make my 15 Minute Creamy Avocado Pasta.
This is a super quick and healthy weeknight meal. Whole wheat spaghetti tossed in an avocado "cream" sauce. The avocado makes the pasta super creamy and thick. It's hard to believe there is no milk or cream in this pasta.

OUR LATEST RECIPES
This is a great way to use up leftover avocado. Super fresh, quick and easy. Throw everything in a food processor and pulse. While the pasta is cooking I make the avocado "cream" sauce. By the time the pasta is done I toss everything together and voila done!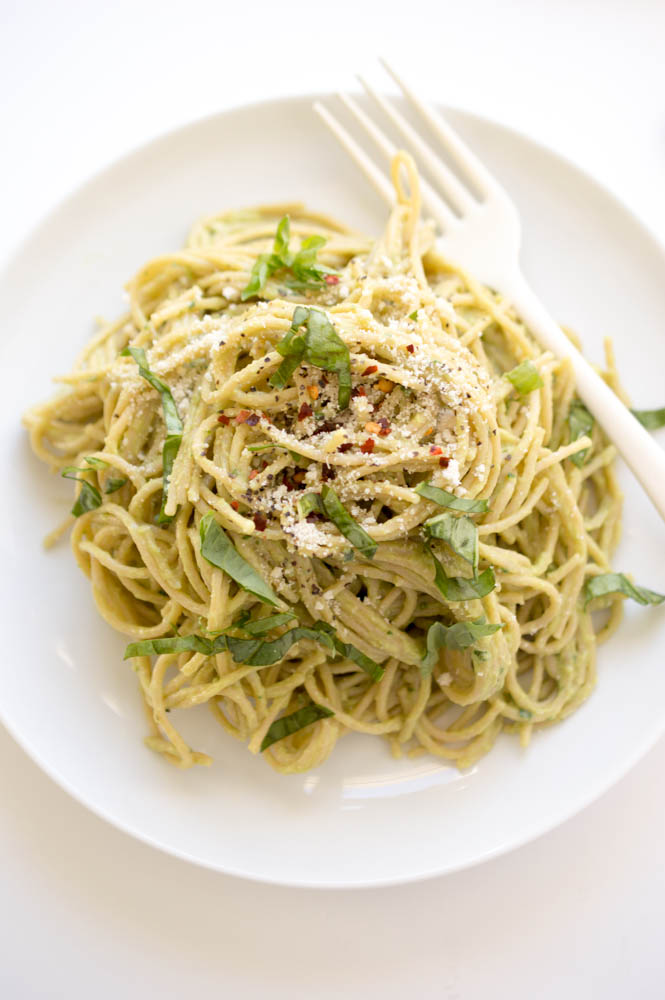 The avocado "cream" sauce starts with 3 fresh ripe avocados, lemon juice, Parmesan cheese, extra virgin olive oil, salt and pepper. Everything gets pulsed in a food processor until thick and creamy. If you do not have a food processor mash up the avocado with a fork instead.
The best thing about this dish is that it is healthy as well as quick. Fiber from the whole wheat pasta and healthy fats from the avocado. 
A couple tips for picking the right avocado. Pick a darker firm but slightly tender avocado. The darker they are the riper they are. If the avocado gives a little it's ripe.
To speed up the ripening process place avocados in a brown paper bag on the counter at room temperature. To keep uncut avocados fresh longer place in the refrigerator.
Love this pasta dish? Here are a few of my other favorites!
15 Minute Creamy Avocado pasta
A quick 15 Minute Creamy Avocado Pasta. An easy and healthy meal the whole family will love!
Ingredients
13.25 ounces whole wheat spaghetti
3 ripe avocados, cut in half with the skin and seed removed
6 sprigs fresh basil
½ lemon, juiced
2 tablespoons extra virgin olive oil
2 tablespoons Parmesan cheese, shredded
¼ teaspoon salt
¼ teaspoon pepper
Instructions
Boil pasta until al dente about 7 minutes.
Add avocados, basil, lemon juice, extra virgin olive oil, Parmesan cheese, salt and pepper to a food processor.
Pulse a couple of times and stir. Pulse again until thick and creamy.
Drain the pasta and drizzle with a little bit of oil. Place back into the pan the pasta was cooked in. (Make sure the pan has cooled down or the pasta will stick to the pan.)
Toss the avocado sauce with the cooked pasta and serve immediately.
Garnish with red pepper flakes, Parmesan cheese and basil if desired.
Notes
Original recipe from chefsavvy.com. Please do not publish my recipe or pictures without linking back to the original post. Thank you!
Only Eats