Lighter Spaghetti Pea Carbonara
A lighter version of Spaghetti Carbonara made with turkey bacon, milk and peas! Takes less than 30 minutes to make.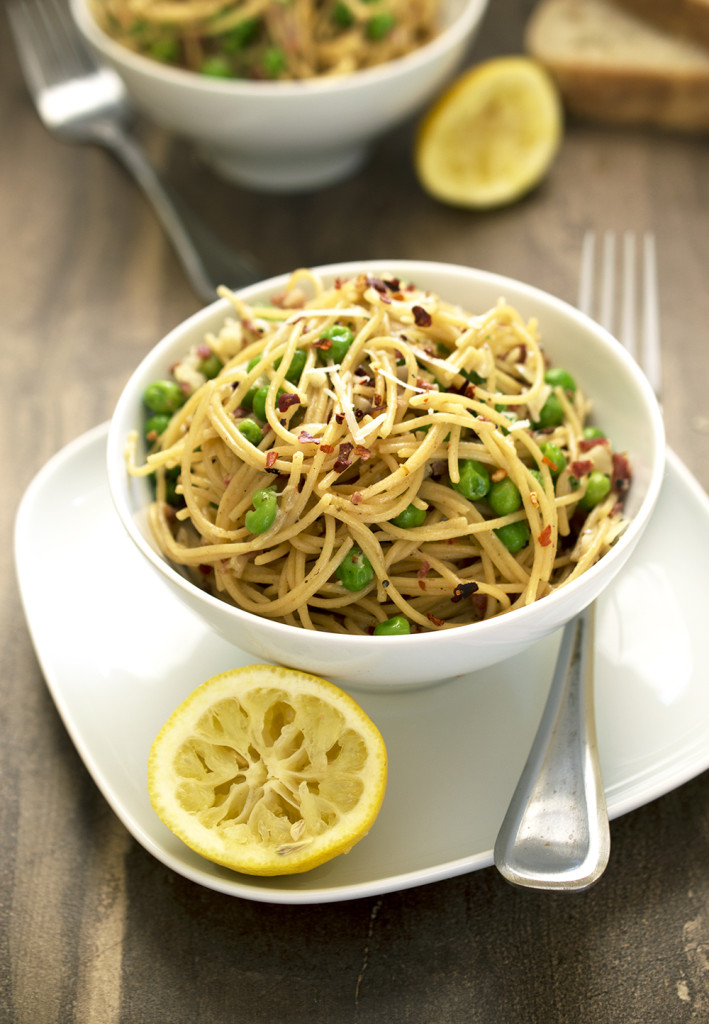 This Lighter Spaghetti Pea Carbonara is one of the easiest pasta dishes you will ever make. It is my go to meal when I need to make a healthy dinner fast.
Don't get me wrong I love regular Spaghetti Carbonara with the thick chunks of pancetta and loads of heavy cream. But if you want this to be a weeknight staple in your kitchen it's best to trim down some of the calories.

OUR LATEST RECIPES
With this lighter version of spaghetti carbonara you won't walk away from the dinner table with guilt.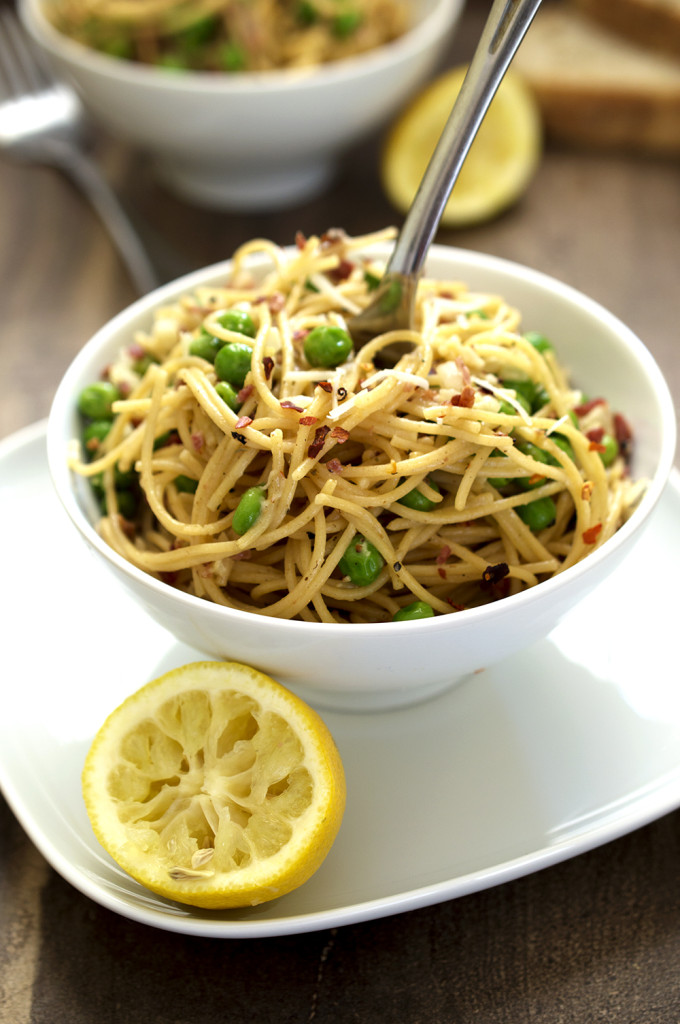 A traditional Spaghetti Carbonara is made with raw eggs, pancetta, and steaming hot pasta. The creamy egg coats the pasta giving us a nice thick sauce.  As for the peas they are a bonus. I happen to love peas and I throw in a little extra when I make this dish for myself.
This recipe does not taste low-calorie at all. I substituted turkey bacon for the pancetta. I passed on the heavy cream and went for a healthier option, 1% milk. I got a lot of my flavor from the garlic, onion, oil, and lemon.
This Lighter Spaghetti Pea Carbonara took me less than 30 minutes to make start to finish. While the pasta is cooking, I saute the bacon, onion, and garlic and toss everything together when the pasta is nice and hot.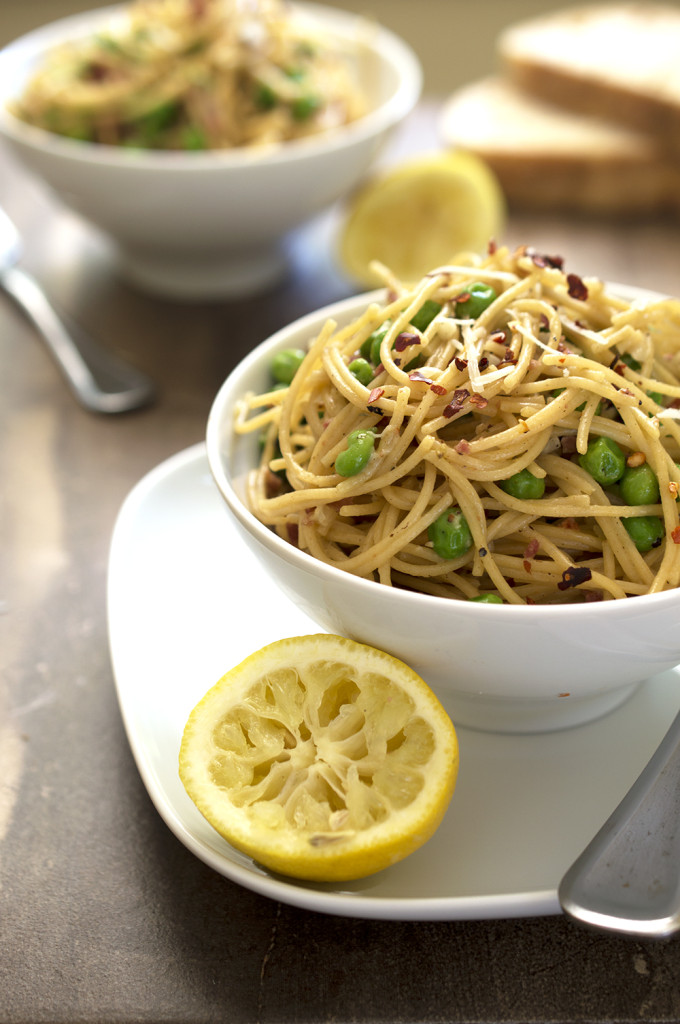 I love adding vegetables to my spaghetti carbonara. It brightens up the dish and keeps it from being to heavy. On of my favorite pasta dishes is creamy mushroom carbonara.
With only a handful of ingredients you can make this wonderful pasta in less than 30 minutes!
Lighter Pea Carbonara
A lighter version of Spaghetti Carbonara made with turkey bacon, milk and peas! Takes less than 30 minutes to make.
Ingredients
8 ounces uncooked thin spaghetti
½ tablespoon olive oil
4 slices turkey bacon
½ cup onion
2 garlic cloves, minced
½ cup frozen peas, thawed
1 extra large egg
¼ cup milk
1 tablespoon lemon juice
¼ cup Parmesan cheese, grated
¼ teaspoon dried oregano
¼ teaspoon red pepper flakes
⅛ teaspoon pepper
¼ teaspoon salt
Instructions
Cook the pasta until al-dente. This usually takes about 6 minutes.
Meanwhile add turkey bacon to a large saucepan. Cook for about 3 minutes on each side until it is cooked through and crispy. Remove from the pan and place on paper towels. Do not drain the grease from the pan.
Add oil and onion to the pan the bacon was in and cook over medium heat for about 2-3 minutes or until tender.
Add in garlic and cook for an additional minute.
Turn off the heat and stir in peas.
Chop up the turkey bacon and add it back to the pan with the onion.
When pasta has finished cooking add it to the pan with the bacon and onion mixture.
Immediately add in the egg and gently toss to combine.
Stir in milk and lemon juice.
Add in cheese, oregano, red pepper flakes, pepper, and salt. Serve immediately
Notes
Original recipe from chefsavvy.com. Please do not publish my recipe or pictures without linking back to the original post. Thank you!
Only Eats