Turkey Meatballs With Arugula and Mushrooms
Pan fried Turkey Meatballs served on a bed of wilted arugula and sauteed garlic mushrooms. A healthy dinner that can be made in 30 minutes or less!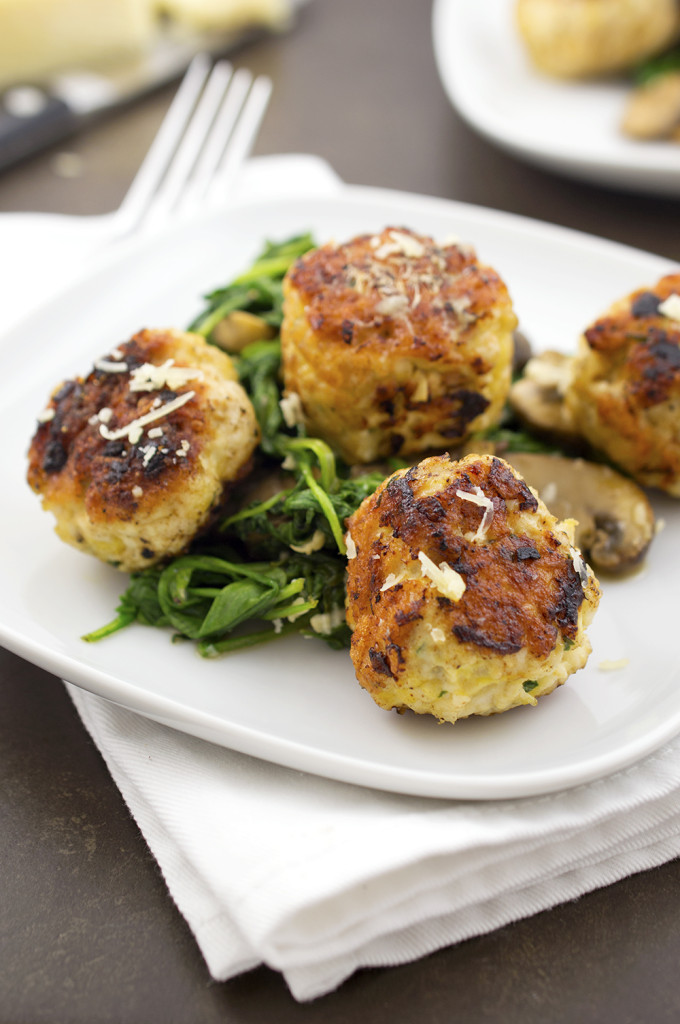 I have been trying to eat a bit healthier these days. At least during the week. (All bets are off for the weekend). I have been swapping out ground beef for turkey in a lot of my recipes.
I was looking for a quick and healthy weeknight meal that could use up extra lean ground turkey. With leftover arugula and mushrooms I decided to saute them up and serve them with my turkey meatballs for a quick meal.

OUR LATEST RECIPES
These turkey meatballs go with anything. I like to serve them alongside spaghetti, salad, or just by themselves. They can be served with or without sauce.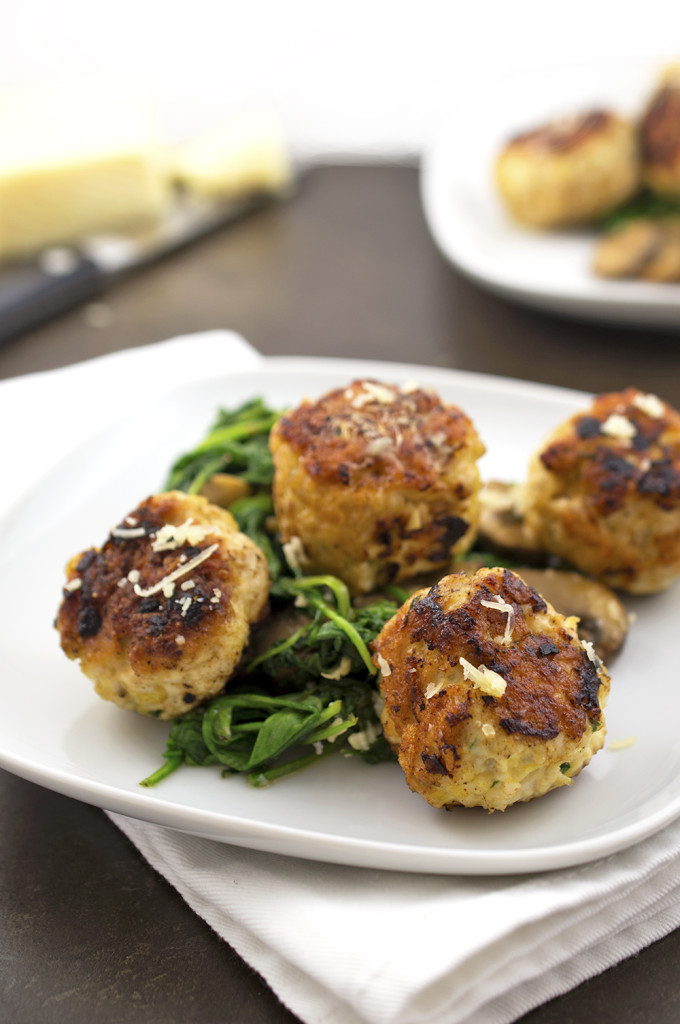 My turkey meatballs are sauteed in a bit of oil. Just enough to get them crispy and caramelized on the outside. While the meatballs are cooking I saute my arugula, garlic, and mushrooms. I then add some white wine and Parmesan cheese. I like to sprinkle a little extra Parmesan cheese for garnish.
The combination of the ground turkey, wilted arugula, and mushrooms are amazing. I love the peppery bite of the arugula and the earthy mushrooms. The onions and parsley give the meatballs such a great flavor! 
There is not much binder in the meatballs just enough to hold them together. I added panko breadcrumbs and an egg yolk as a binder. Ground turkey has the tendency to be a bit dry. The egg yolk adds just enough moisture to the meatball.
The turkey meatballs are super easy to make. They only take about 8 minutes to cook in total. While they are cooking you can saute your mushrooms and arugula.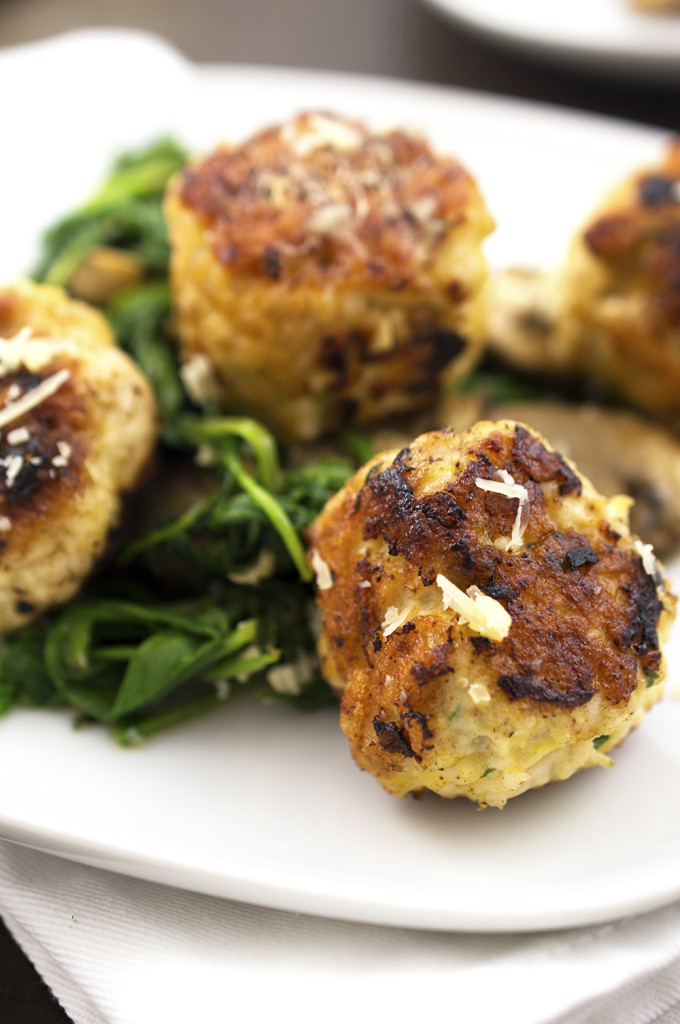 This recipe makes 10 meatballs total. I like to make extra and freeze them to have on hand. 
A quick tip for making your meatballs. Do not over mix. I know it's not like were baking a cake here but meatballs can become tough and chewy is they are over mixed. When you portion the meatballs they tend to get a little sticky. I recommend wetting your hands with water before you start rolling out your meatballs.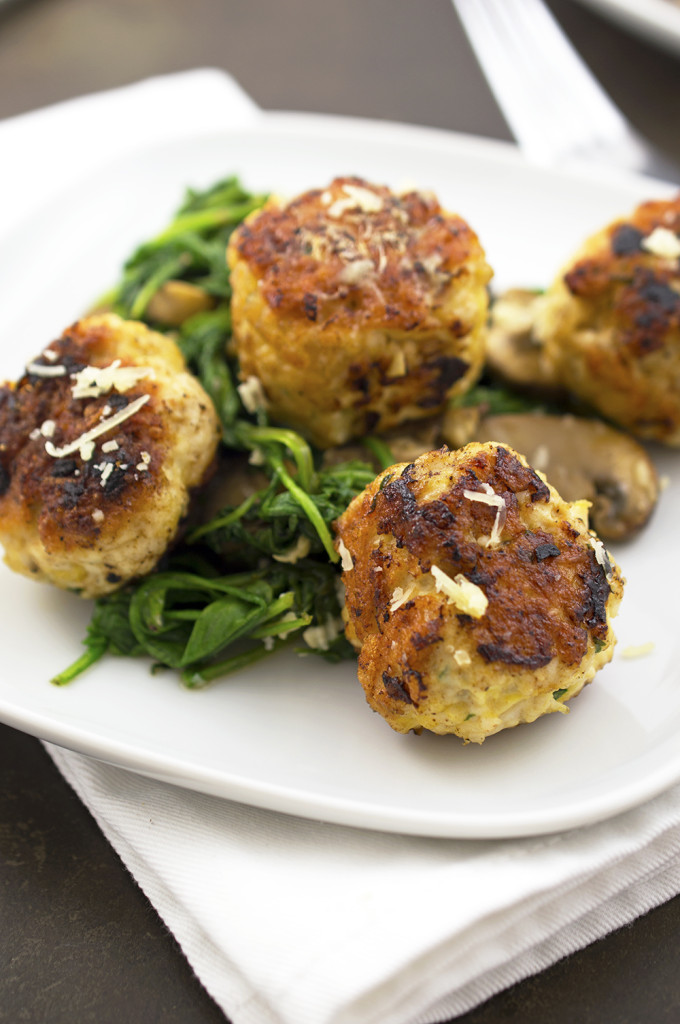 This has turned into one of my favorite go to recipes for a quick week night meal. They will always be a staple in my kitchen. Enjoy!
Turkey Meatballs With Arugula and Mushrooms
Pan fried Turkey Meatballs served on a bed of wilted arugula and sauteed garlic mushrooms. A healthy dinner that can be made in 30 minutes or less!
Ingredients
12 ounces lean ground turkey
3 tablespoons breadcrumbs
1 egg yolk
2 tablespoons onion, minced
⅛ teaspoon salt
⅛ teaspoon pepper
⅛ teaspoon garlic powder
1 teaspoon fresh parsley, chopped
1 tablespoon extra virgin olive oil
½ tablespoon extra virgin olive oil
1 cup mushrooms, sliced
1 garlic clove, minced
½ tablespoon white wine
4 cups of arugula
1 tablespoon Parmesan cheese, grated
pinch of salt
pinch of pepper
Instructions
Combine turkey, breadcrumbs, egg yolk, onion, salt, pepper, garlic powder, and parsley. Mix gently until combined. Do not over mix. Form into 1 inch balls.
Heat a large skillet over medium-high heat with 1 tablespoon olive oil.
Saute meatballs flipping once half way through. They should take about 5-8 minutes to cook. The center of the meatball should not be pink.
Meanwhile, in another saute pan heat ½ tablespoon olive oil.
Add mushrooms and cook for 3-4 minutes until tender.
Add in garlic and cook for an additional minute.
Add in white wine and allow to cook for one minute.
Toss in the arugula and cook until wilted down. This takes about 2 minutes (You may have to do this in batches if it won't all fit in the pan).
Sprinkle with cheese and season with salt and pepper.
To serve plate the arugula and mushroom mixture on the bottom of each plate. Place meatballs on top and sprinkle with more cheese if desired. Serve immediately.
Notes
Original recipe from chefsavvy.com. Please do not publish my recipe or pictures without linking back to the original post. Thank you!
Only Eats