Yellow Cupcakes With Nutella Buttercream
Super moist yellow cupcakes topped with a creamy Nutella buttercream frosting.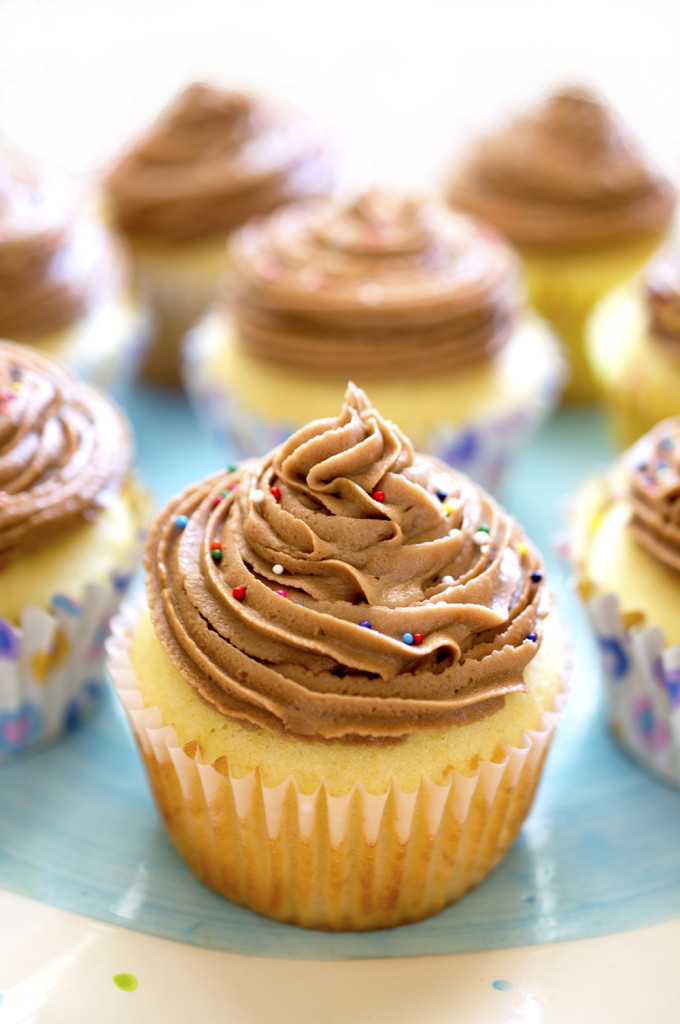 Nothing beats a classic yellow cupcake. Especially when they are homemade and topped with a rich Nutella buttercream.
If you have not had Nutella before you must go try it now! Nutella is a sweetened hazelnut chocolate spread. It's delicious on warm toast or an English muffin.
When I went to Italy a few years ago Nutella was all the rage. We celebrated my friend's birthday with a yellow cake topped with Nutella frosting. This was the first time I was introduced to Nutella and I fell in love.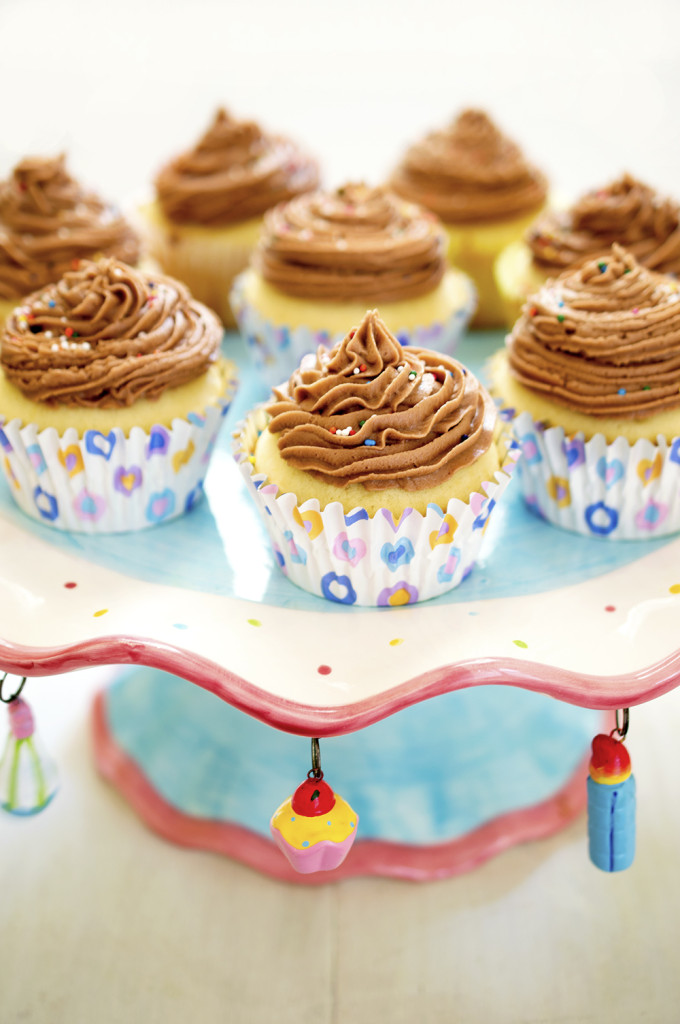 This homemade yellow cake tastes so much better than boxed cake mix.
I added an extra egg and an egg yolk to get the pretty yellow color. The yolk adds moisture to the cupcakes where as egg whites dry them out. The yellow cupcakes are spongy, moist and tender.
These cupcakes are very simple to make. I like to cream the butter and sugar for a couple minutes until they are nice and fluffy.
If you love Nutella you will love this butter cream frosting. The frosting is thick, creamy and not too sweet. There is only butter, sugar, milk, Nutella, and vanilla in this recipe. The frosting has enough Nutella flavor without being to over powering. 
If your Nutella Buttercream is too thick add more milk. If it is too runny add more powdered sugar. You want a nice thick texture that can be easily piped onto the cupcake.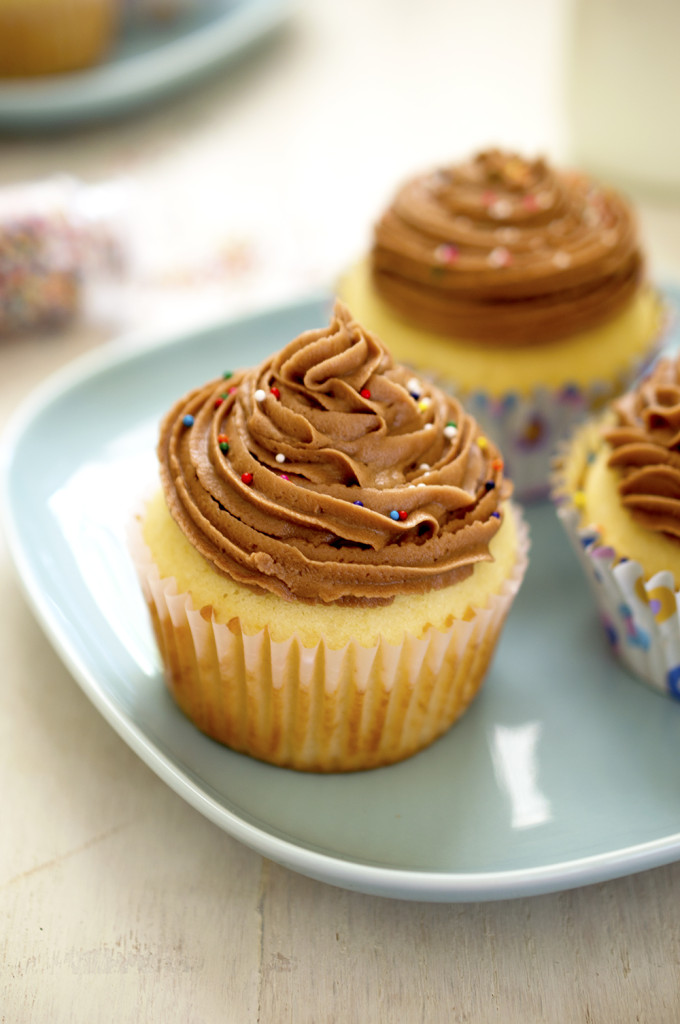 Here are a couple tips for making the perfect cupcake every time:
– Combine ingredients gradually. Do not add all of your dry ingredients at once. Make sure to mix in between each addition.
– Do not over mix your dough after the flour is added. If you over mix you will end up with a tough cupcake.
– Bring ingredients to room temperature. This will result in a smoother consistency in the batter.
– Measure flour properly. To get the correct measurement pour flour INTO the measuring cup instead of scooping. You will get a more accurate measurement.
– Use an ice cream scoop to evenly fill cupcakes about 2/3 of the way full in a cupcake pan.
– Let cupcakes cool in the pan for a minute and then transfer to a wire rack. This will prevent them from continuing to cook and dry out.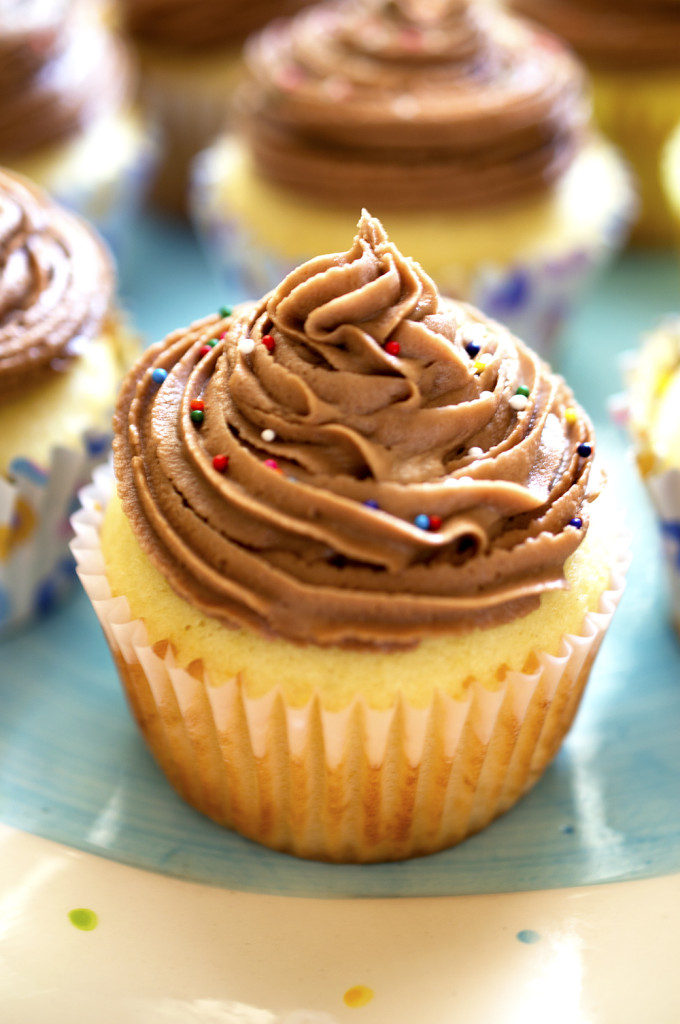 These easy to make yellow cupcakes with Nutella buttercream frosting are sure to amaze! Make them for your next party, birthday, or celebration!
Decorate your cupcakes with sprinkles or candies. I like M & M's or crumbled up Reese's on mine. Yumm!
Put down the canned frosting and box cake mix and give this a try!
Here are some of my other top cupcake recipes you'll enjoy!
Yellow Cupcakes with Cherry Buttercream Frosting
Yellow Cupcakes With Nutella Buttercream
Super moist yellow cupcakes topped with a creamy Nutella buttercream frosting.
Ingredients
Yellow Cupcakes
½ cup unsalted butter, softened
¾ cup sugar
2 eggs plus one egg yolk, room temperature
½ teaspoon vanilla extract
1½ cups all purpose flour
¼ teaspoon salt
1½ teaspoons baking powder
4 ounces milk, room temperature
Nutella butter cream frosting
½ cup butter (1 stick)
2 cups powdered sugar
3 tablespoons Nutella
1 tablespoon milk
½ teaspoon vanilla extract
Instructions
Yellow Cupcakes
Preheat oven to 350 degrees. In a stand mixer with the paddle attachment cream butter and sugar until fluffy. Takes about 5 minutes.
Add in eggs and vanilla extract. Mix to combine.
In a separate bowl mix together the dry ingredients. Combine the flour, salt, and baking powder.
Alternatively add the dry ingredients and milk in two parts to the egg mixture. Make sure to stir in between. Do not over mix. The batter should be thick.
Fill a cupcake lined pan with batter ⅔ of the way up.
Place in the oven and bake for 12-15 minutes. Make sure a knife or toothpick inserted comes out clean.
Nutella Buttercream
In a stand mixer with the paddle attachment cream butter on high for about 2-3 minutes to get a creamy fluffy texture.
Add in the powdered sugar on low speed until combined.
Add in nutella, milk, and vanilla extract. Mix to combine. If the frosting is too runny add more powdered sugar. If it is too thick add some more milk.
Pipe the icing onto cool cupcakes and decorate as desired. Cupcakes can be stored on the counter at room temperature for a day or two and in the refrigerator for up to 5 days.
Notes
Original recipe from chefsavvy.com. Please do not publish my recipe or pictures without linking back to the original post. Thank you!
Only Eats