Melt in your mouth Apple Cider Doughnuts made with fresh apple cider. Easy fall doughnut recipe to make at home!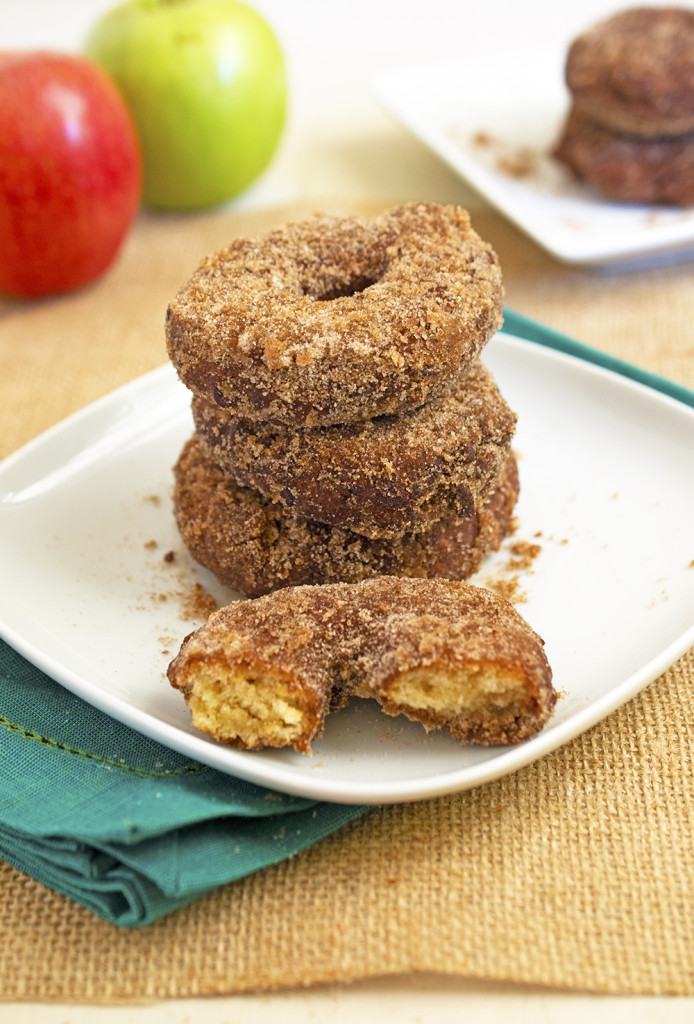 I spent this past Saturday morning making these delicious melt in your mouth Apple Cider Doughnuts. My love affair with these doughnuts didn't start there. I was first introduced to Apple Cider doughnuts at a local farm in Maryland. They make their doughnuts with fresh squeezed Apple Cider from their orchard. They come out piping hot and rolled in cinnamon and sugar.
When I think of Apple Cider Doughnuts I think of Fall. Visiting the orchards, drinking apple cider, and eating these delicious doughnuts. Even if you do not live by an orchard you can still experience all there is to love about Apple Cider Doughnuts with this recipe.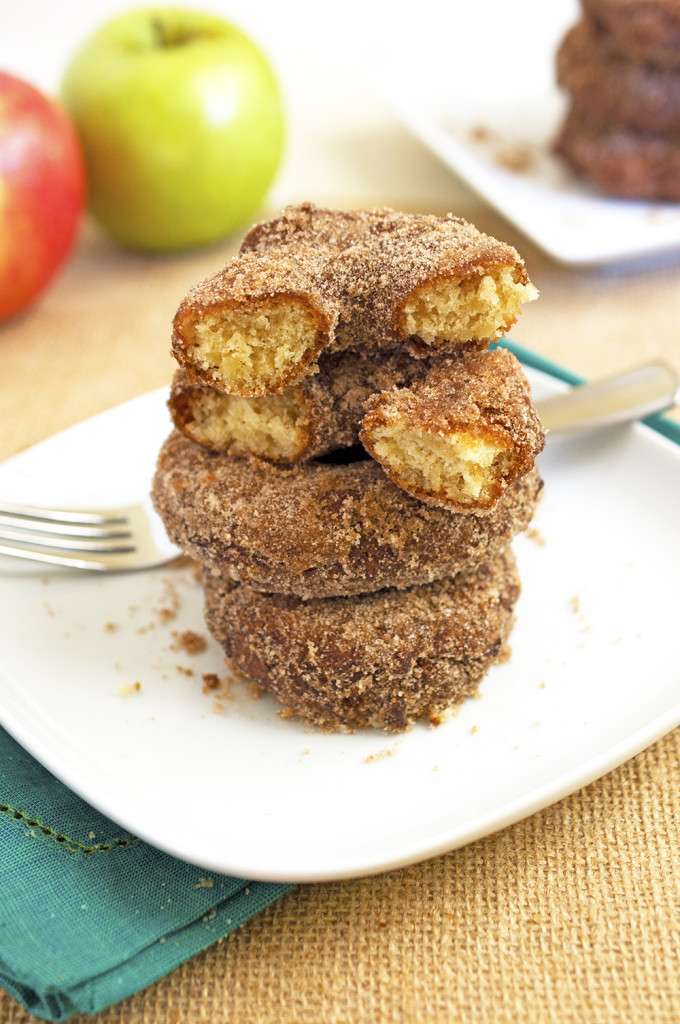 Fresh squeezed apple cider is used to make these cinnamon flavored doughnuts. The cider is reduced to get a concentrated flavor of apple cider. I also added light brown sugar, cinnamon and a pinch of nutmeg to the batter.
These doughnuts are soft and fluffy just like cake. The cider adds a nice tang to the doughnuts and helps them retain moisture.
This recipe makes about 8 doughnuts depending on the size of your doughnut cutter.
I fried my doughnuts but you can bake them if you are looking for a lighter option. This Wilton Nonstick 6-Cavity Donut Pan
 works great for baking doughnuts.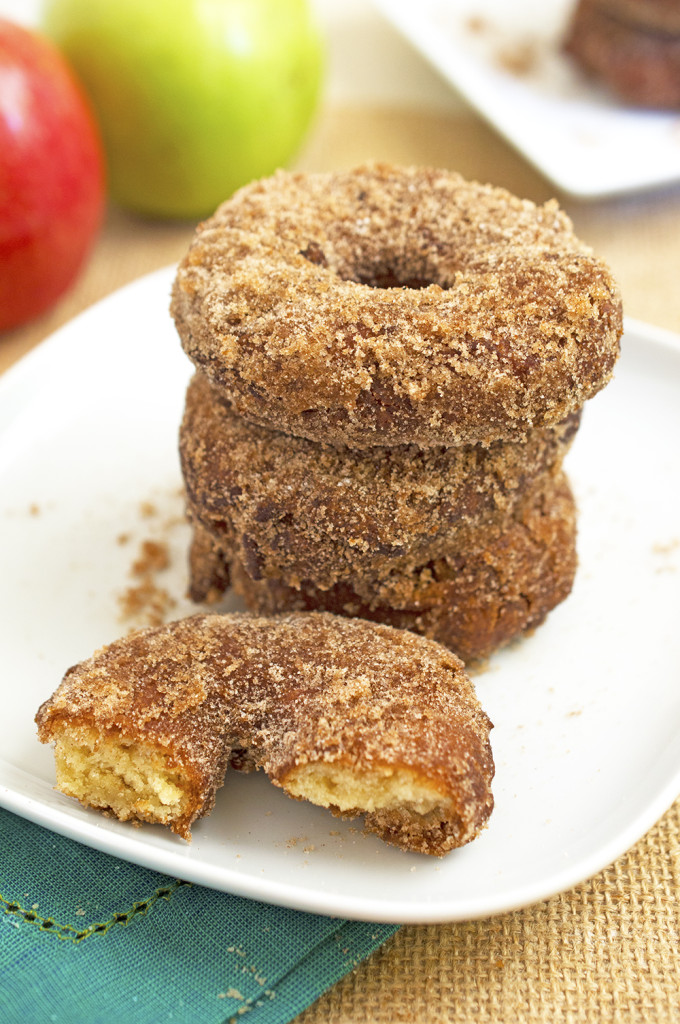 The dough can get pretty sticky which can make it difficult to work with. Therefore I place the dough in the fridge for about 10 minutes before I start rolling it out as well as before frying them. This makes handling the dough a lot easier.
After the doughnuts come out of the fryer they are tossed with a mixture of cinnamon and sugar. It is important to toss the doughnuts in cinnamon and sugar as soon as they come out of the oil.
I used a small biscuit cutter to cut out the apple cider doughnuts. You can always use a doughnut cutter or improvise with a round glass. Just make sure to dip the cup in flour.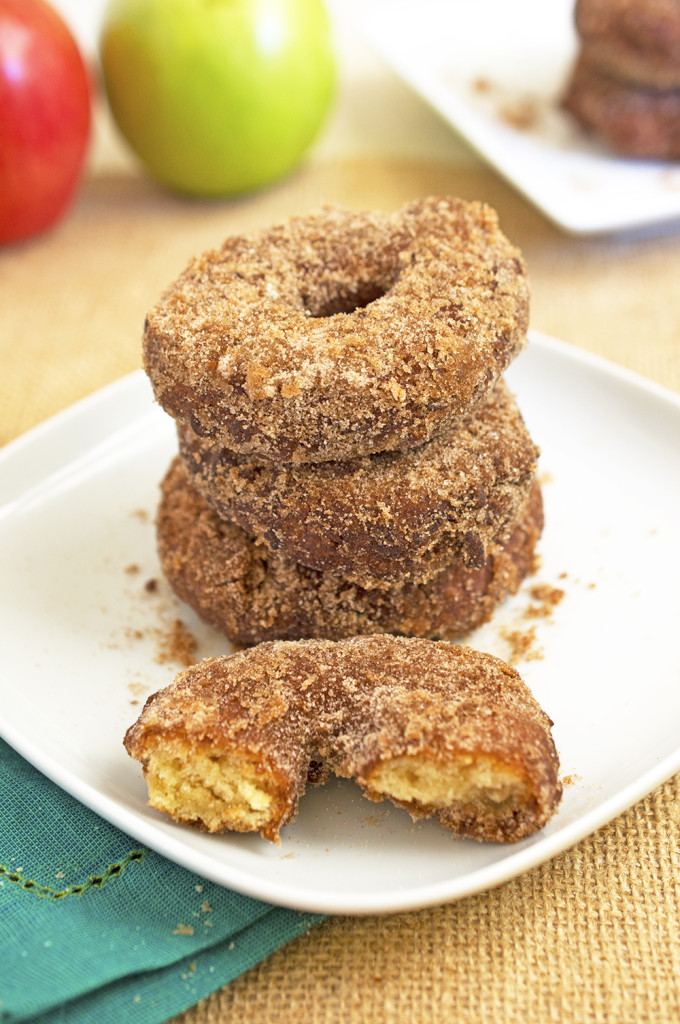 The smell of the apple cider boiling in the house is intoxicating! Stick a cinnamon stick in and your house will smell amazing.
For some extra flavor you can even simmer your apple cider with orange slices.
What better way to kick off the Fall season than with some of these Apple Cider Doughnuts! Enjoy!
Craving more breakfast recipes? Here is a full list of my breakfast recipes!
Apple Cider Doughnuts
Melt in your mouth Apple Cider Doughnuts made with fresh apple cider. Easy fall doughnut recipe to make at home!
Ingredients
¾ cup apple cider
3 tablespoons butter, softened
½ cup light brown sugar
¼ cup sugar
1 teaspoon vanilla extract
1 whole egg plus 1 egg yolk
2½ cups all purpose flour
1½ teaspoons baking powder
¼ teaspoon salt
⅛ teaspoon cinnamon
pinch nutmeg
½ tablespoon cinnamon
5 tablespoons sugar
vegetable oil for frying
Instructions
In a small saucepan over medium heat cook cider until reduced by almost ⅓. You should end up with about ½ cup of reduced apple cider. This should take about 5-10 minutes.
Meanwhile, add butter and both sugars to a stand mixer with the paddle attachment. Cream butter and sugar for 4 minutes until fluffy.
Add in vanilla and whole egg plus egg yolk. Mix to combine.
In a large bowl combine the dry ingredients, flour, baking powder, salt, ⅛ teaspoon cinnamon, and a pinch of nutmeg. Set aside.
Combine the ½ tablespoon cinnamon and 5 tablespoons sugar in a small bowl to coat your doughnuts. Set aside.
Add the dry ingredients to the wet ingredients in two parts. Mix slowly making sure to scrape the sides. Do not over-mix.
Place dough in the refrigerator for 2 hours to firm up. You can even leave it in overnight.
Roll out dough onto a floured surface (about ½ inch thick)
Cut out doughnuts with a lightly floured doughnut cutter or a biscuit cutter (2½ or 3 inch). Cut out the center with a 1 inch cutter for doughnut holes.
Add oil to a large pot with high sides. I do about 6 cups of oil for this recipe. Heat oil to 350 degrees.
Drop your doughnuts in 2 or 3 at a time. Do not overcrowd the oil with too many doughnuts. It will lower the heat of the oil substantially.
The doughnuts take about a minute to cook on each side. If they are browning too easily and not cooking through the center your heat is too high and needs to be turned down.
Place the doughnuts on a paper towel to drain any excess oil.
Immediately dip them in the cinnamon sugar mixture while they are still warm.
Serve immediately. Enjoy!
Notes
Original recipe from chefsavvy.com. Please do not publish my recipe or pictures without linking back to the original post. Thank you!
Only Eats