Super moist and rich Double Chocolate Muffins! The perfect way to start your day!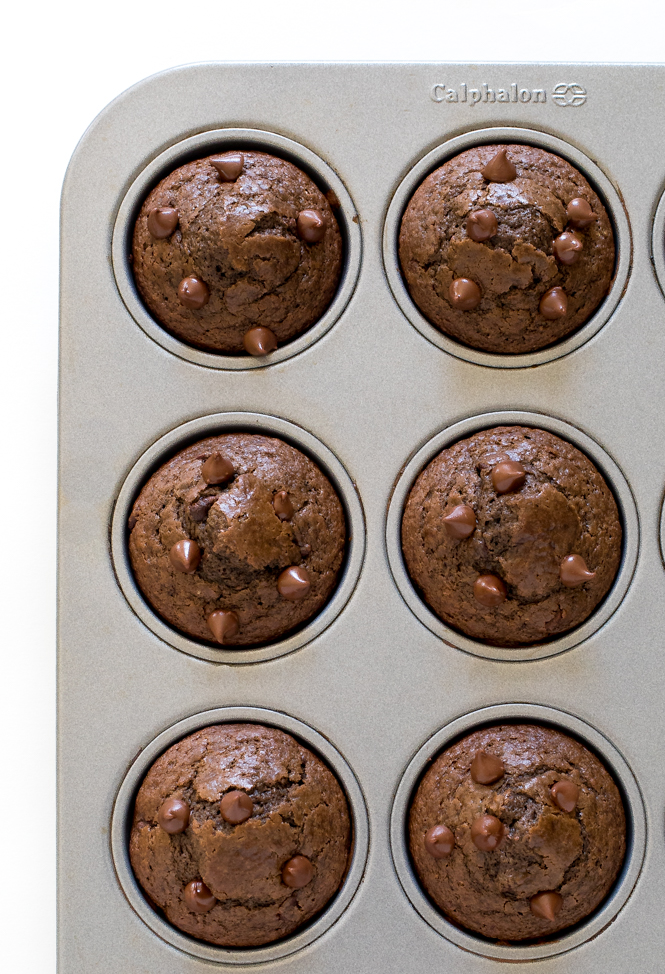 There is nothing better than a breakfast that tastes like dessert. These Double Chocolate Chip Muffins are super rich, fluffy and moist. They are the perfect start to any morning!
These muffins are not too sweet and are loaded with tons of chocolate. I added sour cream to make the muffins super soft and moist. You can always substitute plain greek yogurt as well. I also added in hot coffee to amplify the chocolate flavor of these muffins.

OUR LATEST RECIPES
I like to bake the muffins in a 400 degree oven for 10 minutes then drop it down to 350 degrees for 5-10 minutes. This provides a taller and more domed muffin.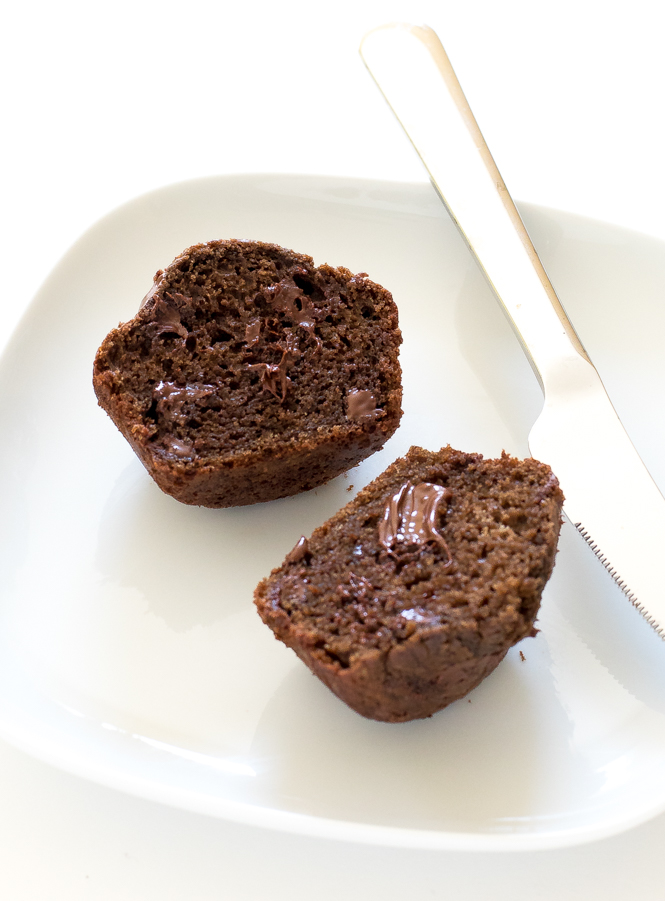 All you need for this recipe is 3 bowls and a whisk. No stand mixer required.
They are wonderful for breakfast or as a dessert. Perfect to go alongside your morning cup of coffee.
Double Chocolate Muffins
Super moist and rich Double Chocolate Muffins! The perfect way to start your day!
Ingredients
1⅔ cup all purpose flour
2 teaspoons baking powder
½ teaspoon baking soda
¼ teaspoon salt
¾ cup light brown sugar
¾ cup sour cream or plain greek yogurt
⅓ cup vegetable oil
2 teaspoons vanilla extract
2 large eggs
⅓ cup hot coffee
⅓ cup unsweetened cocoa powder
1 cup semi sweet chocolate chips
Instructions
Preheat oven to 400 degrees. Grease a standard size muffin pan or line with paper liners and set aside.
In a large mixing bowl combine flour, baking powder, baking soda and salt. Set aside.
In a medium bowl combine brown sugar, sour cream or greek yogurt, vegetable oil, vanilla and eggs.
In a small bowl whisk together hot coffee and cocoa powder to make a smooth paste. Allow to cool for 5 mins.
Slowly add the coffee and cocoa mixture to the wet ingredients and combine.
Next add the wet ingredients and the chocolate chips to the dry ingredients. Fold with a rubber spatula to combine. Do not over mix.
Divide the batter between the muffin tins.
Bake for 10 minutes then lower the oven to 350 and cook for an additional 8-10 minutes.
Allow the muffins to cool for 5 minutes in the pan then transfer them to a wire rack to cool completely.
Only Eats