20 Minute Beef Teriyaki Noodles. Tender stir fried flank steak and noodles tossed in a homemade teriyaki sauce!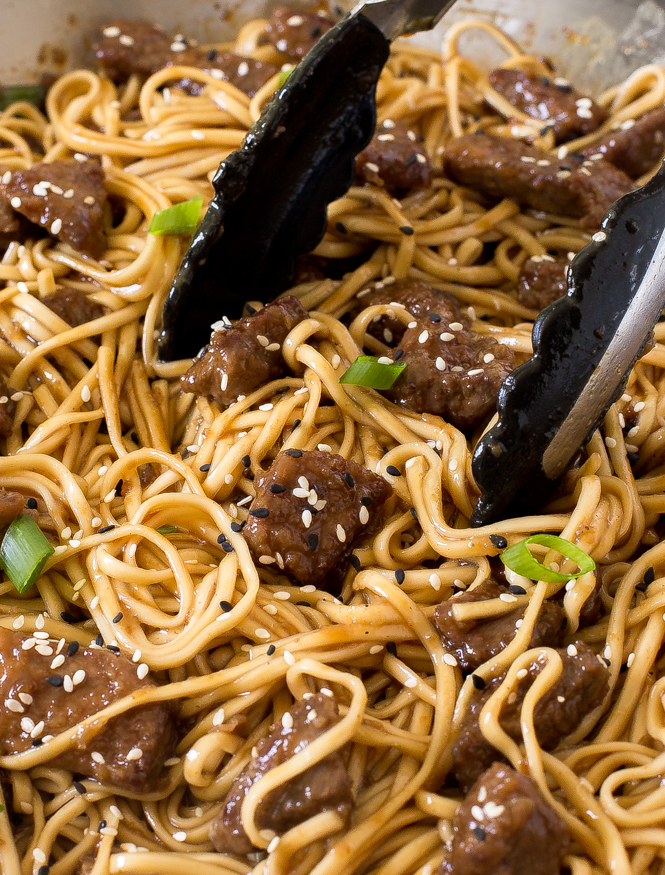 These Beef Teriyaki Noodles are comfort food at it's finest. Tender cubed flank steak sauteed until tender and tossed with noodles and a homemade teriyaki sauce. It's a super easy 20 minute meal!
To keep the beef extra tender I coat it in cornstarch before sauteing. This helps to thicken up the sauce as well as prevents overcooking and toughening of the meat. After it's coated in cornstarch I flash fry the flank steak in very hot oil. I also like to cook my steak in batches to prevent overcrowding of the pan and to make sure the beef caramelizes on the outside.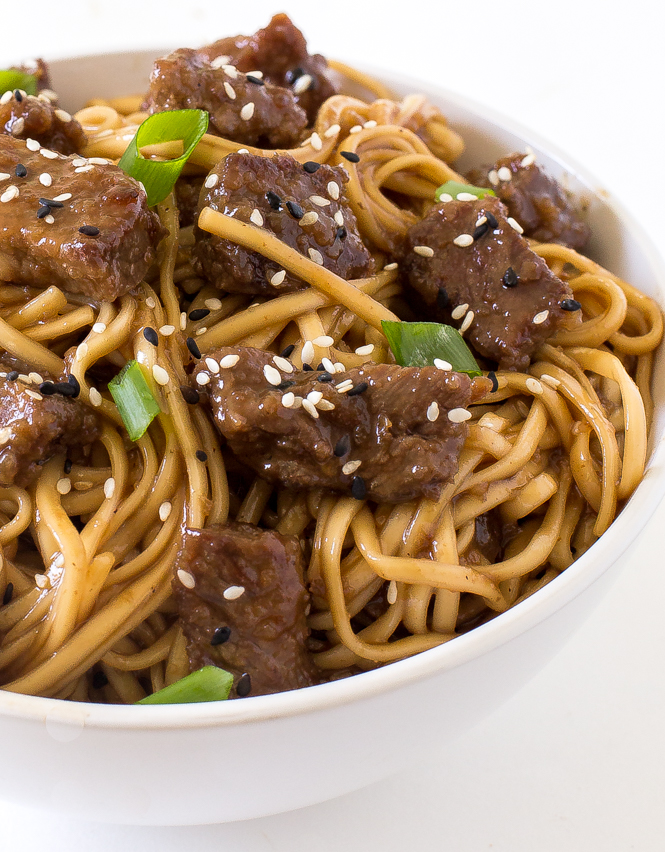 OUR LATEST RECIPES
The steak and noodles are coated in lots of sauce and finished off with sesame seeds and green onions.
Making your own teriyaki sauce at home is so much better! I used the same homemade teriyaki sauce as my Easy Teriyaki Beef Meatballs and my Teriyaki Baked Salmon.
The teriyaki sauce is made of equal parts soy sauce and mirin. Ginger, garlic and brown sugar also get added. The sauce gets nice and thick with a simple cornstarch slurry (1 teaspoon cornstarch + 1 tablespoon cold water).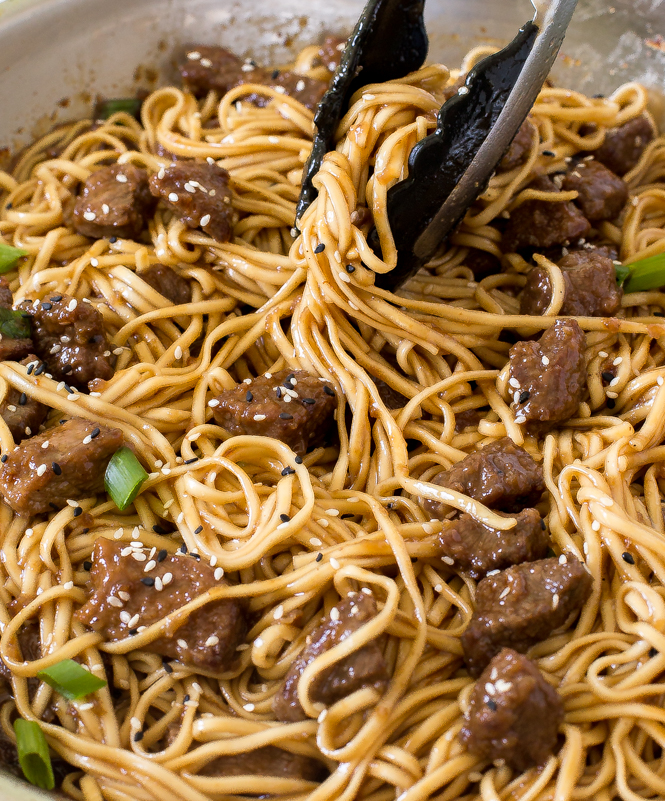 These Beef Teriyaki Noodles are the perfect meal for a busy weeknight. All you need is one pan and 20 minutes! Enjoy!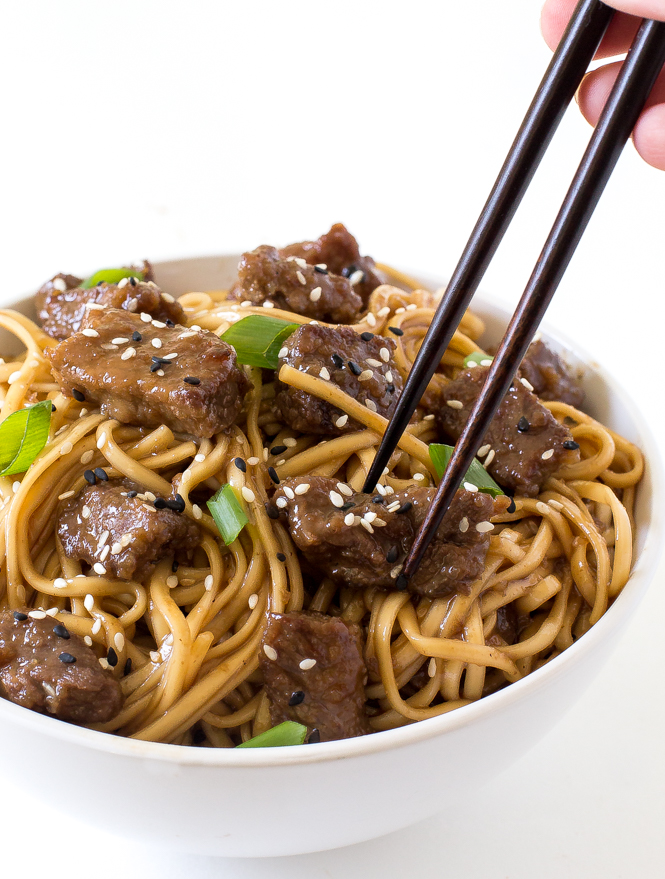 Beef Teriyaki Noodles
20 Minute Beef Teriyaki Noodles. Tender stir fried flank steak and noodles tossed in a homemade teriyaki sauce!
Ingredients
1 pound flank steak, cut against the grain into bite sized pieces
¼ cup cornstarch
1 pound chow mein or lo mein noodles, (can use regular spaghetti too)
2 tablespoons oil, divided
3 cloves garlic, minced
1 teaspoon ginger, grated
½ cup low sodium soy sauce
½ cup mirin
½ cup light brown sugar
2 teaspoons sesame oil
a couple dashes of fish sauce
1 teaspoon cornstarch
1 tablespoon water
green onions for garnish, if desired
sesame seeds for garnish, if desired
Instructions
In a large bowl toss the beef with the cornstarch and set aside.
Cook noodles per package directions, set aside.
Heat 1 tablespoon of oil in a large skillet.
When the oil is nice and hot add in the steak (I had to do two batches to avoid overcrowding the pan, if you do this you will need a bit more oil). Sauté until browned on both side, 3-4 minutes. Remove from the pan and set aside.
Add the remaining tablespoon of oil to the same pan.
Add in garlic and ginger and cook for 1-2 minutes.
In a small bowl combine soy sauce, mirin, brown sugar, sesame oil and fish sauce.
Pour the soy sauce mixture into the pan and bring to a simmer and cook for 2-3 minutes.
In a small bowl mix together the cornstarch and water.
Slowly pour in the cornstarch mixture whisking continuously. Continue to cook until your desired thickness.
Add steak and noodles to the pan and toss to coat with the sauce.
Serve immediately with green onions and sesame seeds if desired.
Notes
Original recipe from chefsavvy.com. Please do not publish my recipe or pictures without linking back to the original post. Thank you!
Only Eats