Amazing Thai Basil Beef. A super easy one skillet meal that can be made in under 20 minutes!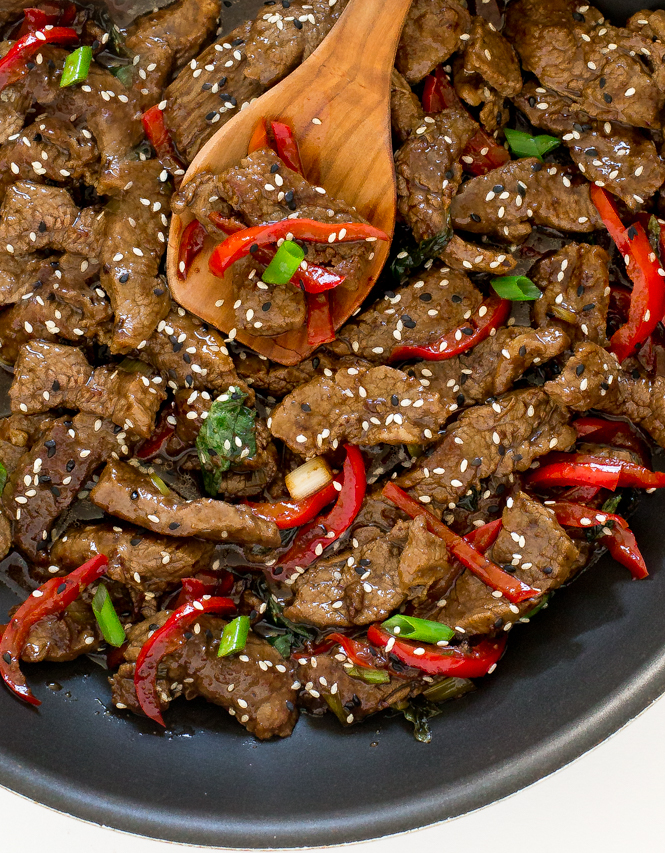 The first time I had this dish I instantly feel in love with Thai basil. It's not as sweet as regular basil and has a minty / liquorice flavor to it.
The Thai Basil makes this dish!  I get Thai basil from my local oriental grocery store. If you can't find Thai basil at your local grocery store or farmers market fresh mint or regular Italian basil would work. It won't be the same flavor but will still be delicious!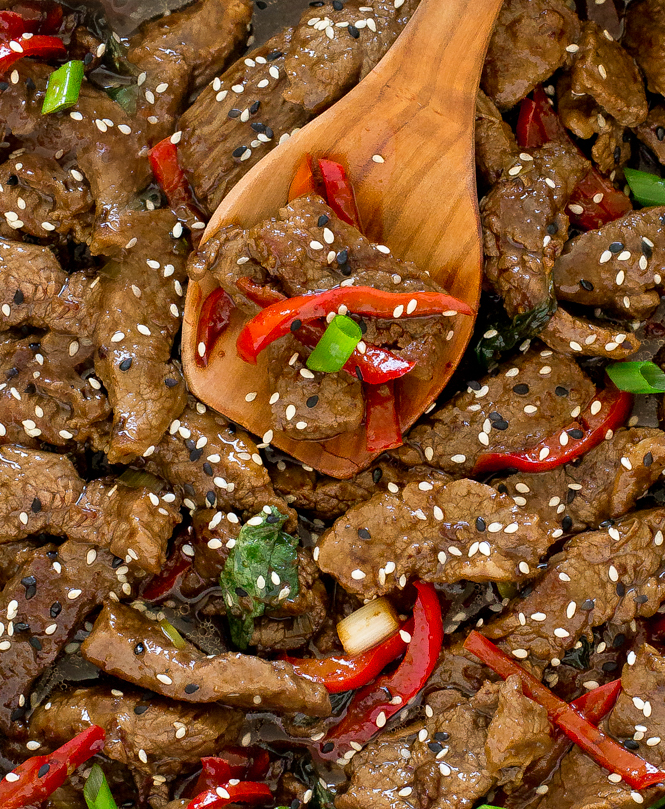 This Thai Basil Beef comes together in minutes. Simply sear the flank steak in a hot pan over high heat. This cooks the steak quickly and provides a nice sear on the outside. Remove the steak from the pan then saute the red bell pepper and green onions. Stir in garlic and thai basil and sauté.
The steak and peppers get tossed in a rich sauce made up of soy sauce, dark soy sauce (you can find this at your Asian grocer too), brown sugar, fish sauce and oyster sauce.
Serve this Thai Beef with a side of rice and a veggie to make it a meal! Enjoy!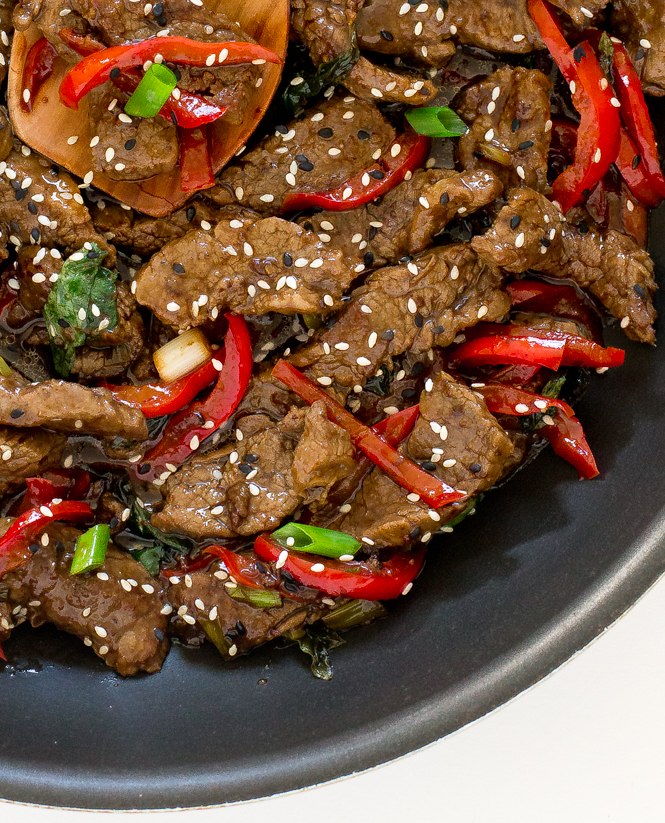 Thai Basil Beef
Amazing Thai Basil Beef. A super easy one skillet meal that can be made in under 20 minutes!
Ingredients
1 pound flank steak, sliced in thin strips against the grain
1 teaspoon water
1 teaspoon cornstarch
1 teaspoon low sodium soy sauce
1 tablespoon oil
1 whole red bell pepper, thinly sliced
1 whole green onion, sliced (green and white parts)
3 cloves garlic, minced
1 cup Thai basil leaves (can sub mint or regular Italian Basil if you are in a pinch)
Sauce
2 tablespoons low sodium soy sauce
1 tablespoon dark soy sauce
1 tablespoon fish sauce
1 tablespoon oyster sauce
¼ cup water
2 tablespoon light brown sugar
Instructions
In a medium bowl add beef, water, cornstarch and soy sauce. Toss to coat.
Heat oil in a large skillet over high heat.
Remove the beef from the marinade and sear the beef until just browned, 2-3 minutes. Remove from the pan and set aside.
Add the red pepper and green onion to the pan and cook for 2-3 minutes or until tender.
Add in garlic and cook for an additional minute.
Add the beef back to the pan along with the sauce. Cook until thickened, 2-3 minutes.
Fold in the Thai basil and cook until it's just wilted.
Serve immediately with green onions and sesame seeds if desired.
Only Eats