Super Easy Pepper Steak. So much better than takeout and ready in under 30 minutes!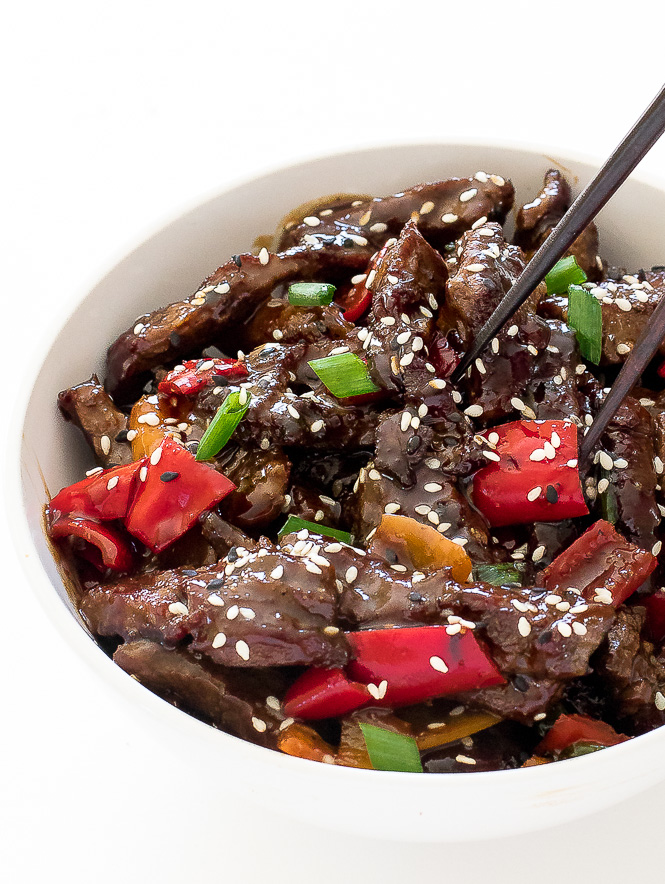 This is the perfect meal for a busy weeknight. Dinner is on the table in less than 30 minutes! This Easy Pepper Steak is a Chinese take out inspired dish that you can make at home! All you need is a few ingredients, most of which you probably already have in your pantry!
To make this Pepper Steak I start by searing the skirt steak in a super hot pan. Searing the steak in a hot pan for a short amount of times keeps the meat super juicy and tender. I cook the beef in two batches to make sure it cooks fast and caramelizes. When there is too much in the pan the steak tends to steam instead of brown.

OUR LATEST RECIPES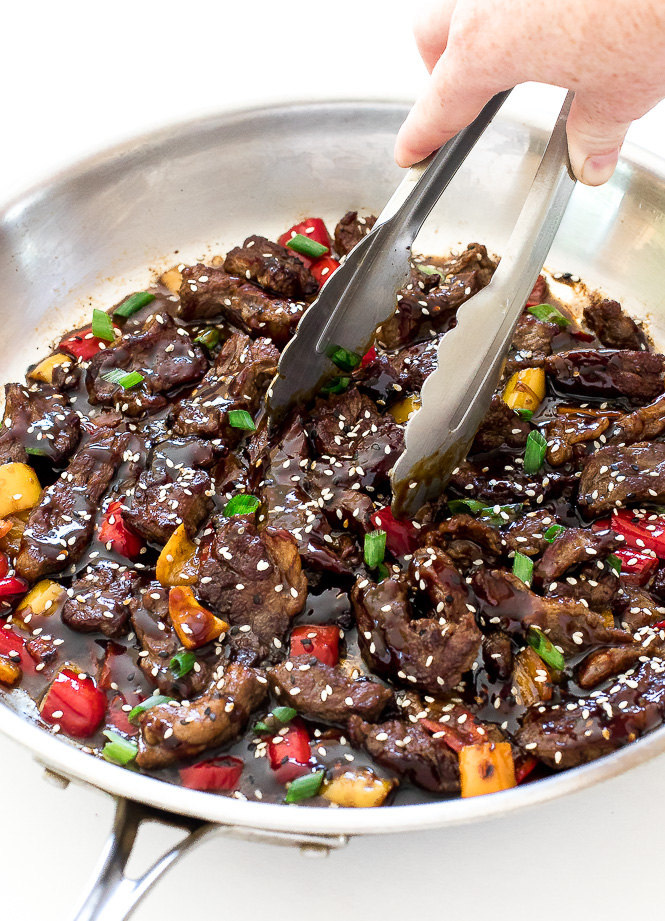 Next I remove the steak from the pan and allow it to rest. Meanwhile I toss in the bell peppers, garlic and ginger and sauté them until tender. I used a mix of mini yellow, red and orange bell peppers for lots of color.
Then everything gets added back to the pan along with the sauce: soy sauce, rice wine vinegar and water. That's it!
I like to serve the Pepper Steak with white or brown rice. Cauliflower rice would also be awesome!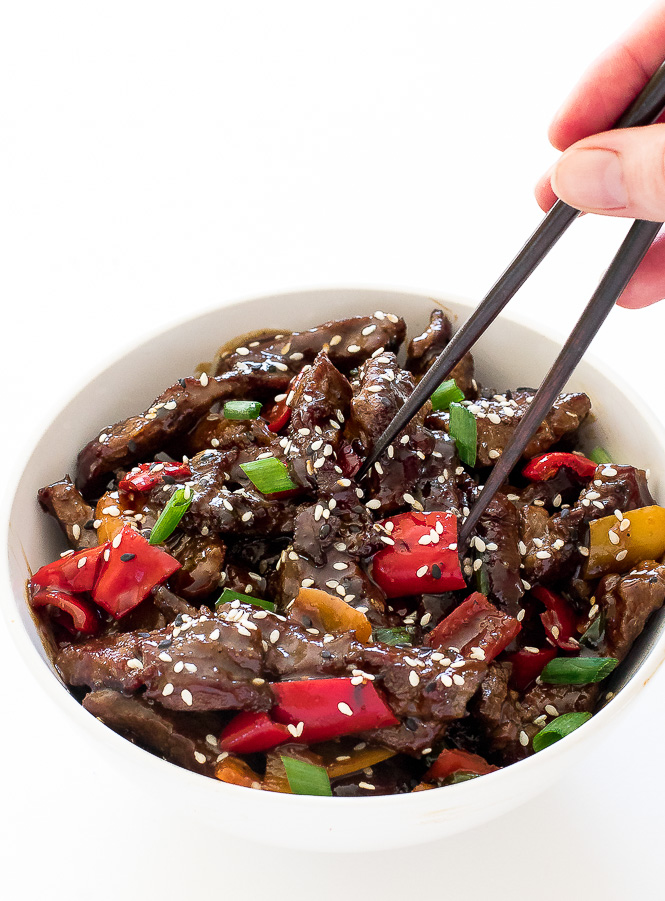 Easy Pepper Steak
Super Easy Pepper Steak. So much better than takeout and ready in under 30 minutes!
Ingredients
2 tablespoons oil
1 pound flank steak or sirloin, cut into thin strips across the grain
1 cup mini bell peppers, diced
1 tablespoon garlic, minced
1 tablespoon ginger, minced
¼ cup low sodium soy sauce
¼ cup water
2 tablespoons rice wine vinegar
¼ teaspoon pepper
2 teaspoons cornstarch
Instructions
Heat 1 tablespoon of oil in a large skillet.
When the pan is nice and hot (almost smoking) add in half of the steak. Cook for 1-2 minutes on each side. Keep an eye on it to make sure it doesn't get too brown.
Remove the steak from the pan. Repeat with the remaining steak and set aside.
If there isn't enough oil left in the pan add a bit more and saute the peppers until tender, 3-4 minutes.
Add in the garlic and ginger and cook for an additional minute.
Stir in the soy sauce, water, rice vinegar and pepper. Bring to a simmer.
Remove 1 tablespoon of the cooking liquid and mix with the cornstarch. Slowly add the cornstarch mixture back to the pan and simmer until thickened.
Serve immediately.
Only Eats
SaveSave
SaveSave
SaveSave
SaveSaveSaveSaveSaveSave
SaveSave
SaveSaveSaveSave
SaveSave