Turkey Meatball Vegetable Soup
Quick and easy one pot Turkey Meatball Vegetable Soup. Loaded with arugula, spinach, broccoli and turkey meatballs.
This is the perfect mix of traditional wedding soup and vegetable soup. Hearty and loaded with arugula, spinach and broccoli. The base of the soup is chicken stock and a hint of lemon juice. Crushed red pepper flakes and Parmesan cheese are added to each steaming bowl.
I was recently getting over a cold and made chicken soup to sooth my sore throat. My boyfriend made wilted spinach, arugula and roasted broccoli to accompany his meal of chicken and vegetables. I decided to spruce up my soup and add some of his roasted vegetables. I ended up with a hearty flavorful soup with lots of texture thanks to the vegetables. Not to mention the added immune boost. I decided to recreate the soup and add turkey meatballs instead of chicken and no pasta or rice. Trust me you will not miss rice or pasta in this soup. The focus of this dish is the vegetables and the meatballs.

OUR LATEST RECIPES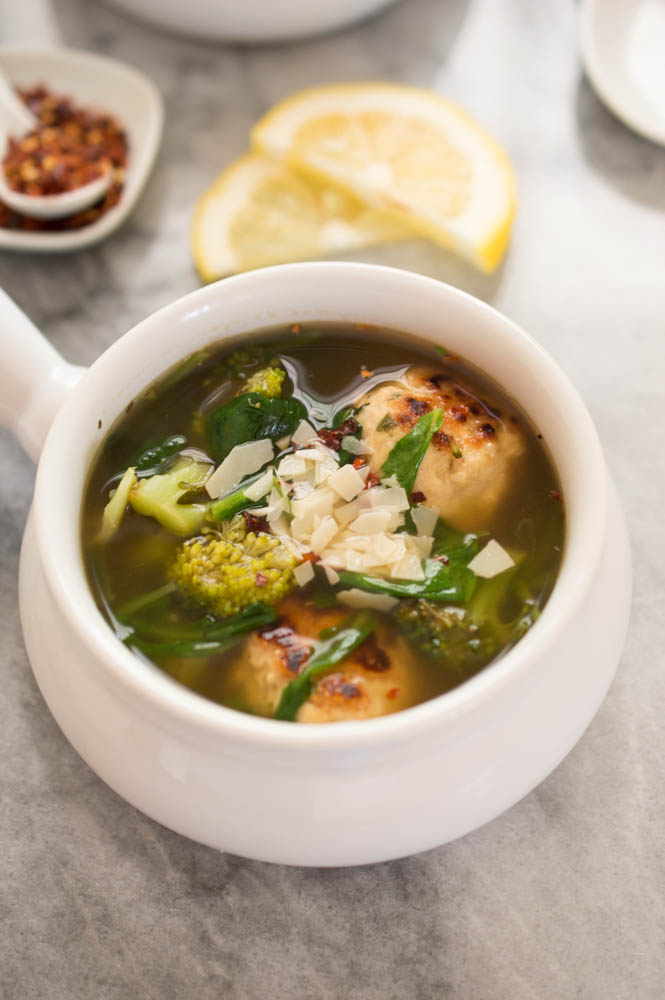 This is a one pot healthy dinner option that can be made in less than 30 minutes! 30 minute meals are always the best. Make ahead and freeze for a quick weeknight meal. You can also make extra turkey meatballs and freeze to use in soups or with spaghetti.
I used one of my favorite turkey meatball recipes for this soup.
This soup is warm, comforting and bursting with flavor.
These healthy greens are loaded with vitamins and antioxidants. Broccoli is full of fiber to keep you full way past bed time. This is the perfect soup to help ward off sickness this cold season.
This soup with be sure to satisfy and warm you up on a chilly night.
Top with Parmesan cheese, red pepper flakes and a squeeze of lemon juice. I like my soup on the spicy side so I serve extra crushed red pepper on the table.
Feel free to add any vegetables you have on hand. Carrots, onion, zucchini, or tomatoes would go great with this!
If you like this soup you will love my Classic Tomato Soup and my Thai Coconut Soup.
Turkey Meatball Vegetable Soup
Quick and easy one pot Turkey Meatball Vegetable Soup. Loaded with arugula, spinach, broccoli and turkey meatballs.
Ingredients
12 ounces lean ground turkey
3 tablespoons breadcrumbs
1 egg yolk
⅛ teaspoon salt
⅛ teaspoon pepper
1 teaspoon dried parsley
2 tablespoons extra virgin olive oil, divided
3 cups broccoli
2 cloves garlic, minced
5 cups low sodium chicken broth
⅛ teaspoon red pepper flakes
⅛ teaspoon pepper
¼ teaspoon salt
¼ teaspoon dried parsley
⅛ teaspoon onion powder
1 tablespoon lemon juice
1½ cups arugula
1½ cup spinach
red pepper flakes, for serving
Parmesan cheese, for serving
Instructions
In a large bowl combine ground turkey, breadcrumbs, egg yolk, salt, pepper and dried parsley to make the meatballs. Mix to combine.
Heat a large pot over medium-high heat with 1 tablespoon olive oil.
Saute meatballs flipping once half way through. They should take about 5-8 minutes to cook. The center of the meatball should not be pink.
Take out of the pan and set aside.
Add 1 tablespoon of oil to the same pot.
Add broccoli and saute until slightly tender, 3-4 minutes.
Add garlic and cook for one minute.
Pour in chicken broth and bring to a simmer. Simmer soup for 5 minutes and turn the heat to low.
Season with red pepper flakes, pepper, salt, dried parsley and onion powder.
Stir in lemon juice, arugula and spinach. Cook until wilted.
Return the meatballs back to the pot and reheat.
Serve with a sprinkle of red pepper flakes and Parmesan cheese.
Notes
Original recipe from chefsavvy.com. Please do not publish my recipe or pictures without linking back to the original post. Thank you!
Only Eats