Super Easy One Hour Focaccia Bread. Made with fresh rosemary, garlic and parmesan cheese!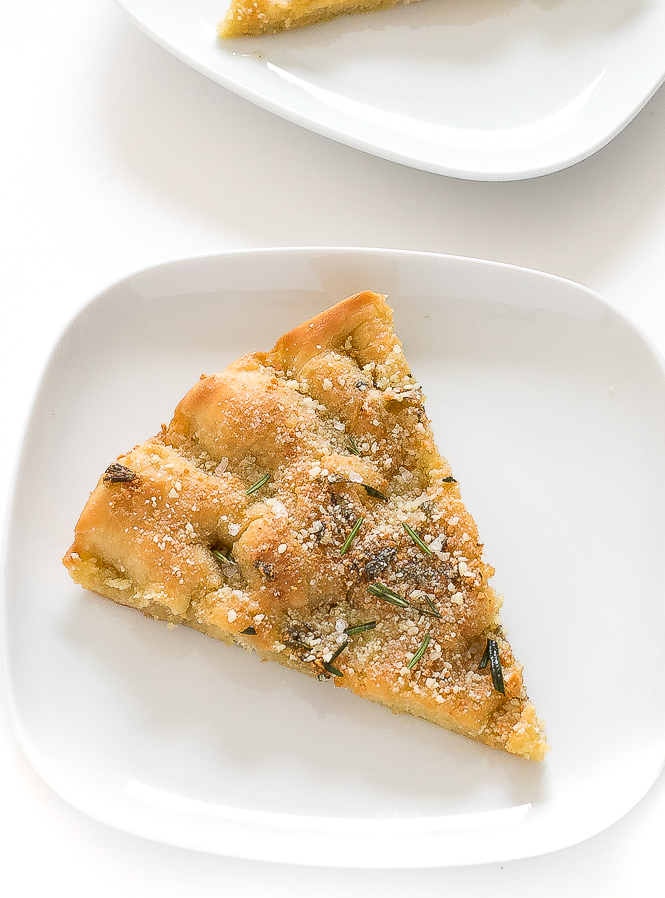 Focaccia bread is alot easier to make at home than you think! All you need is one hour and some pantry staples. To make the dough you need: Flour, sugar, salt, yeast and olive oil. These ingredients get kneaded in a stand mixer until a sticky dough forms.
Once the dough is made it rises for 20 minutes in a warm oven then baked for 20 minutes until crisp and golden brown. The bread comes out light and fluffy on the inside.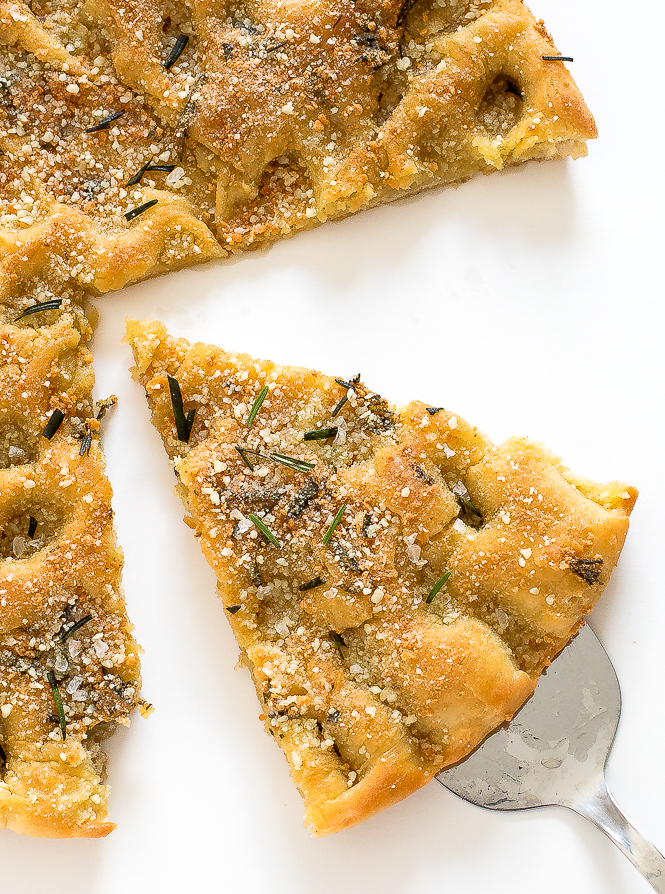 OUR LATEST RECIPES
When the focaccia bread comes out of the oven I drizzle with even more olive oil, sea salt, parmesan cheese and fresh rosemary.
Serve this focaccia with olive oil for dipping or as a side to any dinner. Enjoy!
One Hour Focaccia Bread
Super Easy One Hour Focaccia Bread. Made with fresh rosemary, garlic and parmesan cheese!
Ingredients
¾ cup warm water (I heat mine to about 90 degrees)
½ teaspoon sugar
1½ teaspoons rapid rise yeast
1¾ cups all purpose flour
½ teaspoon kosher salt
4 tablespoons olive oil, divided
1 tablespoon freshly grated parmesan
1 teaspoon garlic powder
1 tablespoon fresh rosemary
olive oil for drizzling, if desired
sea salt for topping, if desired
extra parmesan cheese for topping, if desired
Instructions
Preheat oven to 200 degrees. Grease a cast iron skillet with 1 tablespoon of olive oil, set aside.
Add the water, sugar and yeast to the bowl of a stand mixer with the dough attachment. Stir to combine.
Allow the mixture to sit for a few minutes or until it becomes foamy.
Add in flour, salt and 1 tablespoon olive oil. Mix until the dough begins to pull away from the sides and forms a sticky ball. If it is not pulling from the sides add a bit more flour (a tablespoon at a time).
Lightly flour your hands and form the dough into a ball. Place in the skillet and spread to cover the entire skillet.
Turn off the oven and place the skillet in the oven for 20 minutes to rise.
Remove the skillet from the oven and increase the oven temperature to 400 degrees.
Meanwhile combine the remaining 2 tablespoons of olive oil, parmesan, garlic powder and rosemary.
Brush the mixture ontop of the bread. Using your fingertips make indents over the top of the dough.
Place back in the oven and bake for 20 minutes or until golden brown.
Serve with a drizzle of olive oil, sea salt and parmesan cheese for topping, if desired.
Only Eats
SaveSave
SaveSave
SaveSave
SaveSave
SaveSave
SaveSave