A colorful pasta salad loaded with Italian meats, swiss cheese, spinach and tossed with fresh herbs and olive oil. Perfect recipe for a hot summer day!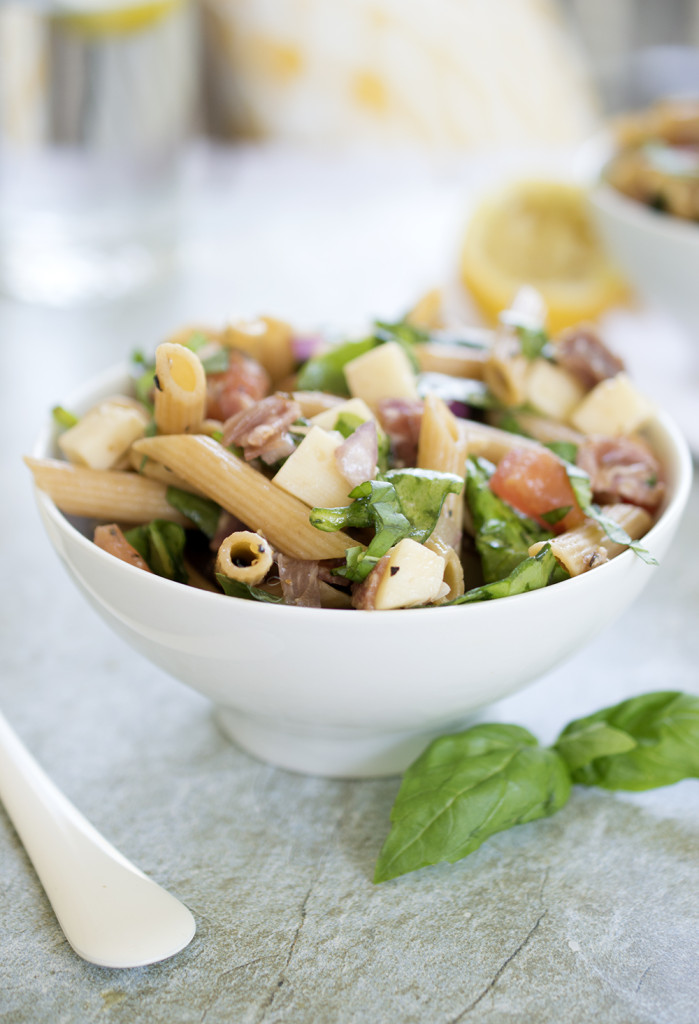 I love a good pasta salad. They are quick, tasty and an easy make ahead dinner. It is also a good recipe for the summer when you want to give the oven a rest.
This salad is loaded with your typical antipasto ingredients. Salami, coppa, swiss cheese, tomatoes, and red onion. It is everything you love in an antipasto salad mixed with whole wheat penne pasta. What's better than that? I also threw in spinach to give the pasta salad a nice crunch. The peppery coppa and salami pair well with the tangy swiss cheese and pasta.

OUR LATEST RECIPES
This is one of those recipes that get better the next day or the longer the flavors have to set.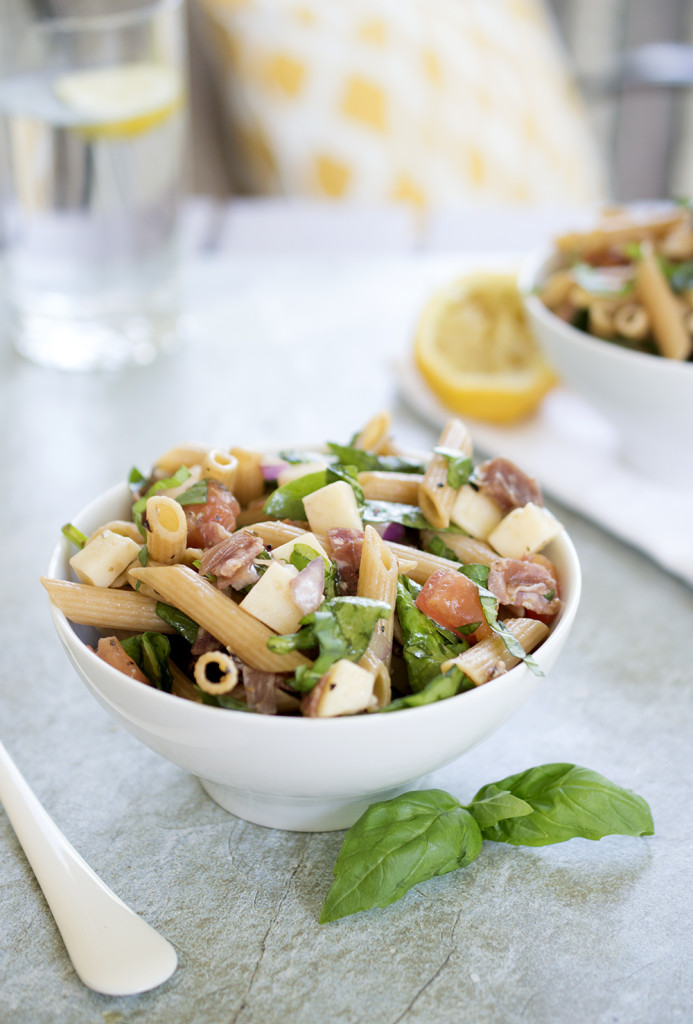 This Antipasto salad is very easy to prepare and is full of flavor.
To make this salad you simply toss your cooked pasta with your meats, cheese, herbs, and homemade vinaigrette. I added the spinach last because I did not want it to get brushed while I was tossing the pasta salad.
I purchased my meats as a trio that also came with prosciutto from the refrigerated section of the deli department. I used the prosciutto to make my Italian BLT Grilled Cheese. I knew the salami and coppa would go great in an Antipasto Pasta Salad.
The salami and coppa I used for this recipe were dried. You can use regular hard salami and coppa from the deli counter if you cannot find the dried version. You will see coppa also referred to as capicola. Use which ever they have available at the deli. If they do not have either of the two feel free to substitute pepperoni or any other meats and cheese.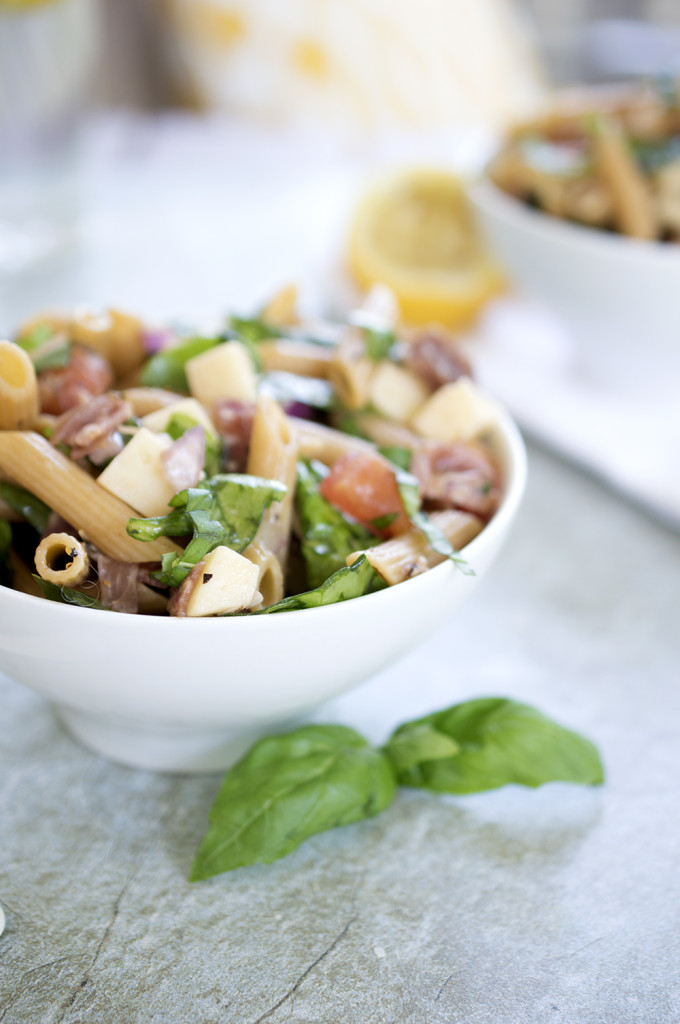 This recipe is a light, fresh and healthier version of your typical pasta salad. There is no mayonnaise in this recipe. I used fresh lemon juice, olive oil, and herbs to flavor the salad without adding tons of calories. I also used whole wheat pasta to make this dish even healthier.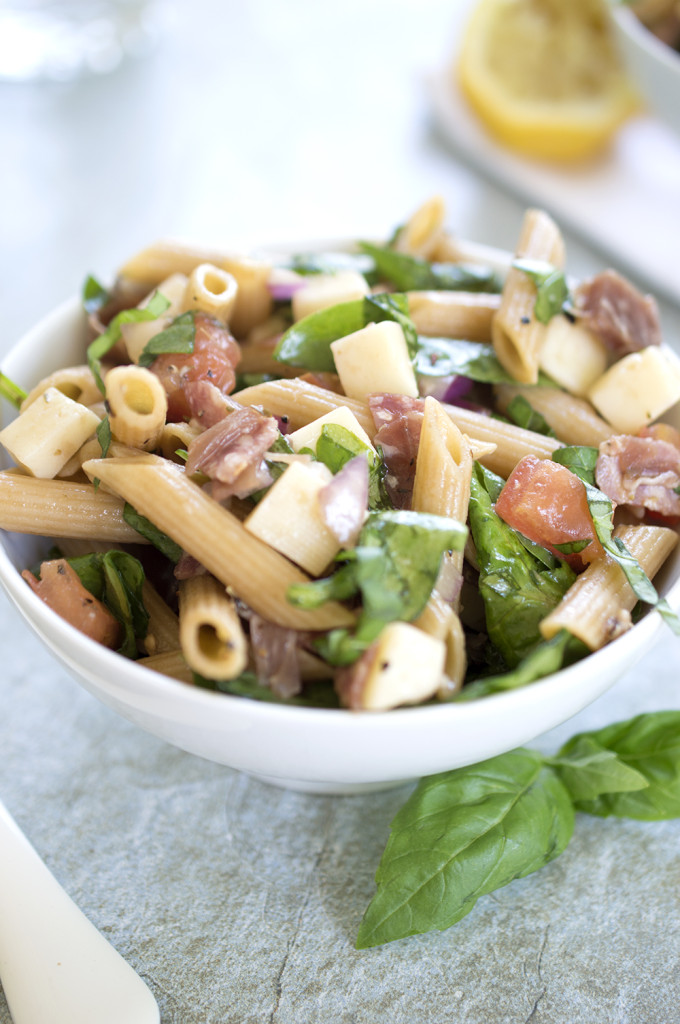 I like to drizzle extra olive oil on the pasta salad before serving as well as a pinch of crushed red pepper.
Serve this recipe family style in a large platter or in a large bowl. Take it with you on your next picnic or outdoor barbecue.
Antipasto Pasta Salad
A colorful pasta salad loaded with Italian meats, swiss cheese, spinach and tossed with fresh herbs and olive oil. Perfect recipe for a hot summer day!
Ingredients
2 cups uncooked whole wheat penne pasta
½ cup swiss cheese, cubed
¼ cup dry coppa, medium dice
¼ cup dry salami, medium dice
1 medium tomato, medium dice
3 tablespoon red onion, medium dice
1 tablespoon lemon juice
1 tablespoon balsamic vinegar
2 tablespoons extra virgin olive oil
1 tablespoon basil, chopped
1 tablespoon parsley, chopped
¼ teaspoon dried oregano
¼ teaspoon black pepper
⅛ teaspoon salt
1 cup spinach
Instructions
Start by cooking the pasta per the box instructions. My pasta took about 8 minutes for al-dente. Meanwhile, add your coppa, salami, cheese, tomatoes, and onion to a large bowl. After pasta is done cooking add to the bowl with the meats and cheeses. Add the lemon juice, balsamic vinegar, and extra virgin olive oil. Toss to combine. Add in basil, parsley, oregano, pepper, salt and spinach. Toss to combine and serve.
Notes
Original recipe from chefsavvy.com. Please do not publish my recipe or pictures without linking back to the original post. Thank you!
Only Eats