30 Minute Greek Kale Quinoa Salad. Loaded with tons of vegetables and tossed with lemon and olive oil!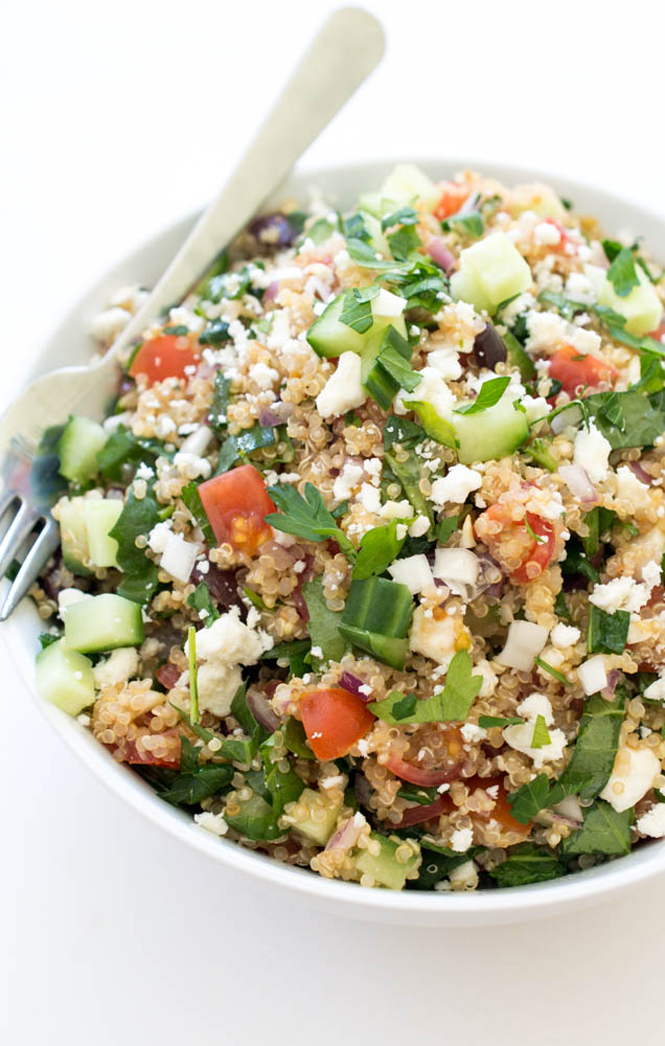 I have been on a kale and quinoa kick every since I made this Chopped Kale Quinoa and Avocado Salad. The crunch of the kale and the protein from the quinoa make this the perfect healthy lunch or light dinner.
This vegetarian salad is loaded with tons of vegetables. Kale, cherry tomatoes, cucumber and red onion. The salad gets drizzled with fresh lemon juice and extra virgin olive oil. This salad takes less than 30 minutes to put together from start to finish.

OUR LATEST RECIPES
All the flavors of a Greek Salad you love with quinoa and kale for added health benefits. Kale is loaded with protein and is full of essential vitamins and minerals. Quinoa is high in fiber and protein.
This Greek Kale Quinoa Salad is light and fresh. It would make a great dish for meatless Monday!
While the quinoa is cooking I like to chop up all of my vegetables. Toss everything together and serve.
Red quinoa can be substituted in this recipe. It would go perfectly in this colorful salad.
Love this Greek Kale Quinoa Salad? Here are a few others you'll love:
Greek Kale Quinoa Salad
30 Minute Greek Kale Quinoa Salad. Loaded with tons of vegetables and tossed with lemon and olive oil!
Ingredients
2 cups water
1 cup quinoa
1 cup baby kale, stems removed
½ cup cherry tomatoes, quartered
½ cup cucumber, diced
¼ cup red onion, minced
2 tablespoons kalamata olives
1 tablespoon fresh parsley, chopped
2 tablespoons extra virgin olive oil
2 tablespoons lemon juice
⅛ teaspoon salt
⅛ teaspoon pepper
feta cheese for topping
Instructions
Add water and quinoa to a medium saucepan. Bring to a boil and reduce the heat to a simmer. Cook until all of the liquid is absorbed, about 15 minutes.
Meanwhile add the rest of the ingredients to a medium bowl. Toss in cooked quinoa.
Serve immediately with a sprinkle of feta cheese or refrigerate until ready to serve.
Notes
Original recipe from chefsavvy.com. Please do not publish my recipe or pictures without linking back to the original post. Thank you!
Only Eats