Mexican Salmon Salad with a Creamy Cilantro Lime Dressing. Full of flavor and ready in less than 20 minutes! Perfect for busy weeknights.

OUR LATEST RECIPES
I am always looking for quick weeknight meals that are also healthy. Something I can throw together in less than 30 minutes that isn't loaded with calories. This Mexican Salmon Salad is the perfect healthy and fast meal for a busy weeknight dinner.
This salad is full of flavor and is so easy to throw together. I seasoned the salmon with a homemade Mexican spice rub. It is a blend of paprika, garlic powder, onion powder, oregano and cumin. The spice blend gets rubbed on the salmon before it's seared in a hot skillet. The base of the salad is a mix of baby kale and arugula. You can use whatever lettuce you have on hand. The salad is then topped off with thin slices of red onion, jalapeno, black beans and fresh cilantro.
I used Alaskan sockeye salmon fillets in this salad. Alaska seafood is high in protein, low in saturated fat, low in sodium and one of the best sources of heart-healthy omega-3 fatty acids.
Alaska supplies nearly 60% of the nation's seafood and about 90% of North America's salmon comes from Alaska. With five species of salmon, several varieties of whitefish, and numerous shellfish species, Alaska offers mouthwatering seafood options for every taste and cooking method and is available fresh, frozen and canned year round.
Now let's talk about this awesome dressing. It is similar to my Honey Jalapeno Dressing without the jalapeno. It's slightly sweet, tart and super creamy.
The dressing gets nice and thick thanks to the Greek yogurt and extra virgin olive oil. I also add fresh cilantro and fresh squeezed lime juice. Honey is added to offset the tart lime juice.
All of the ingredients are added to a food processor and blended until creamy and thick. You will have extra dressing left over. I like to store the extra in the fridge to use throughout the week.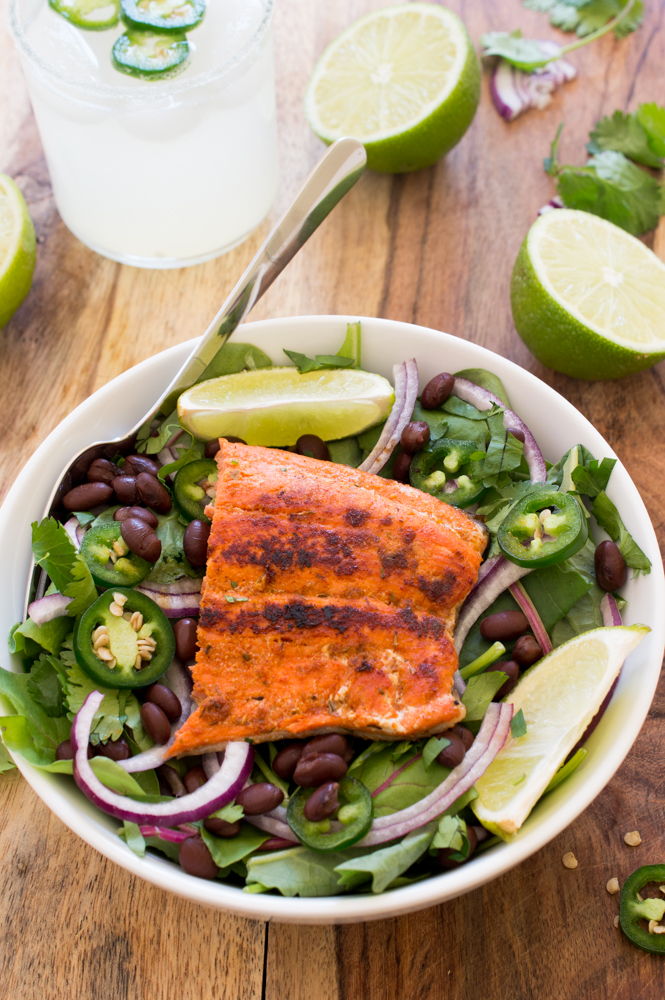 Why I love this salad:
It's easy.
Light and fresh.
Loaded with flavor.
Healthy.
Only requires a few ingredients.
….and is drizzled with the Creamy Cilantro Lime Dressing.
Serve with my classic margarita or add some jalapenos for a spicy twist.
Love this Mexican Salmon Salad? Here are some more salads you'll enjoy!
Mexican Salmon Salad
Mexican Salmon Salad with a Creamy Cilantro Lime Dressing. Full of flavor and ready in less than 20 minutes! Perfect for busy weeknights.
Ingredients
Mexican Salmon Salad
1 tablespoon extra virgin olive oil, plus more for the fish
1 Alaskan sockeye salmon filet
2 cups baby kale and arugula mixed (or your favorite lettuce)
6 slices jalapeno, sliced
1 tablespoon cilantro, chopped
a couple slices of red onion
2 tablespoons black beans, drained and rinsed
Mexican Spice Rub
¼ teaspoon paprika
⅛ teaspoon garlic powder
⅛ teaspoon onion powder
⅛ teaspoon oregano
⅛ teaspoon cumin
Creamy Cilantro Lime Dressing
½ cup cilantro
½ cup plain Greek yogurt
2 tablespoons lime juice
3 tablespoons extra virgin olive oil
1 garlic clove
1½ teaspoons honey
Instructions
Mexican Salmon Salad
Heat olive oil in a skillet over medium heat.
Drizzle a little extra oil on the fish. Add the Mexican Spice Rub to the salmon and rub it in with your fingers.
Add salmon to the skillet and saute until fully cooked, about 3-4 minutes on each side.
To assemble the salad place lettuce in a large bowl and top with jalapeno, cilantro, red onion and black beans.
Top with the cooked salmon and serve with the Creamy Cilantro Lime Dressing.
Mexican Spice Rub
Combine all of the ingredients together in a small bowl. Set aside.
Creamy Cilantro Lime Dressing
Add all of the ingredients to a food processor. Pulse until combined. Place in the refrigerator until ready to serve.
Notes
Original recipe from chefsavvy.com. Please do not publish my recipe or pictures without linking back to the original post. Thank you!
Only Eats
I was selected for this opportunity as a member of Clever Girls and the content and opinions expressed here are all my own.