One Skillet Beef and Broccoli Ramen. Everything you love about beef and broccoli but with ramen noodles!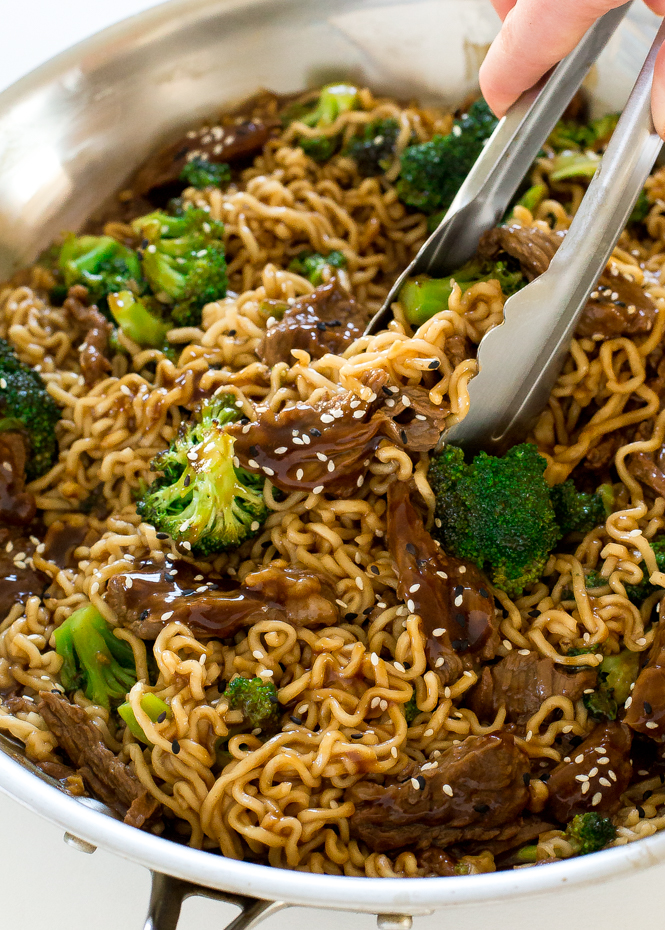 If you are a fan of beef and broccoli you will love this dish! I took my favorite Beef and Broccoli recipe and doubled the sauce and added tons of noodles. To me the noodles are the best part!
I used the ramen noodles found in the international food isle in the grocery store. You can also find these at your local Asian grocer or online. You can also substitute regular ramen soup noodles (just forgo the seasoning packets)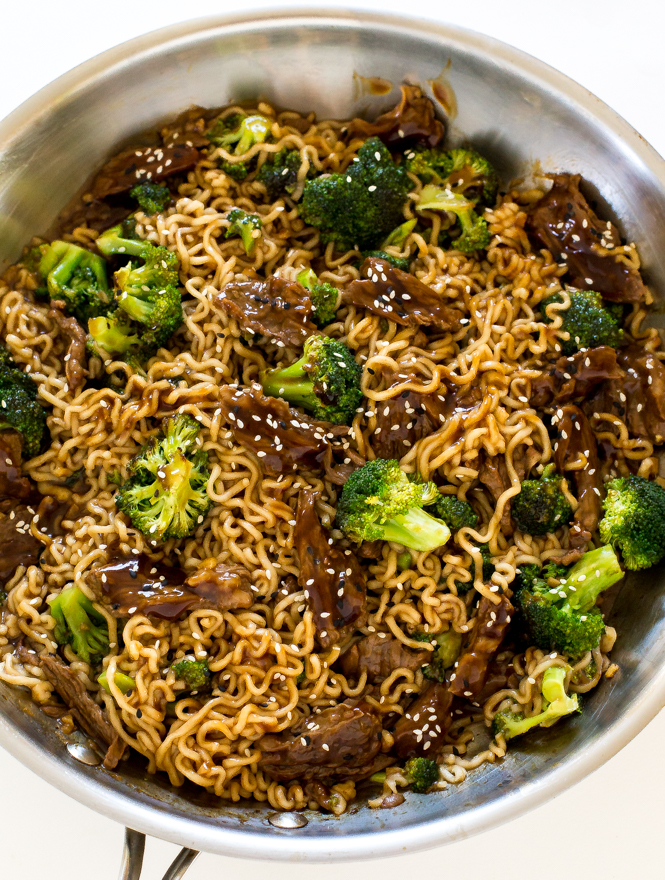 The sauce is made up of water, beef broth, soy sauce, garlic, oyster sauce, brown sugar and sesame oil. Cornstarch is added at the end to thicken up the sauce.
For a little spice I added in some sriracha sauce. You can always add more to taste or add in some crushed red pepper flakes for a kick.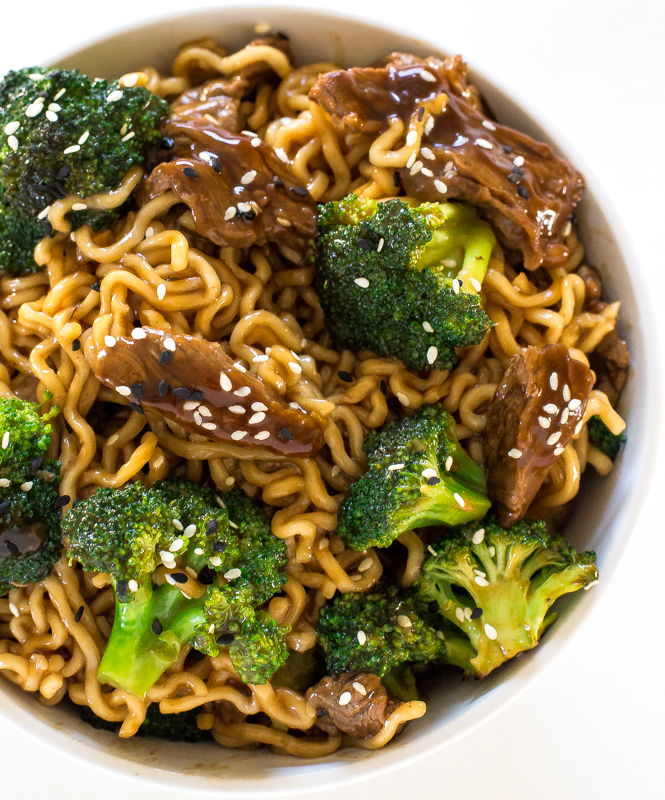 This is a perfect one skillet meal! I like to marinate the beef overnight and toss everything together around dinner time. 15 minutes of prep and dinner is ready. Enjoy!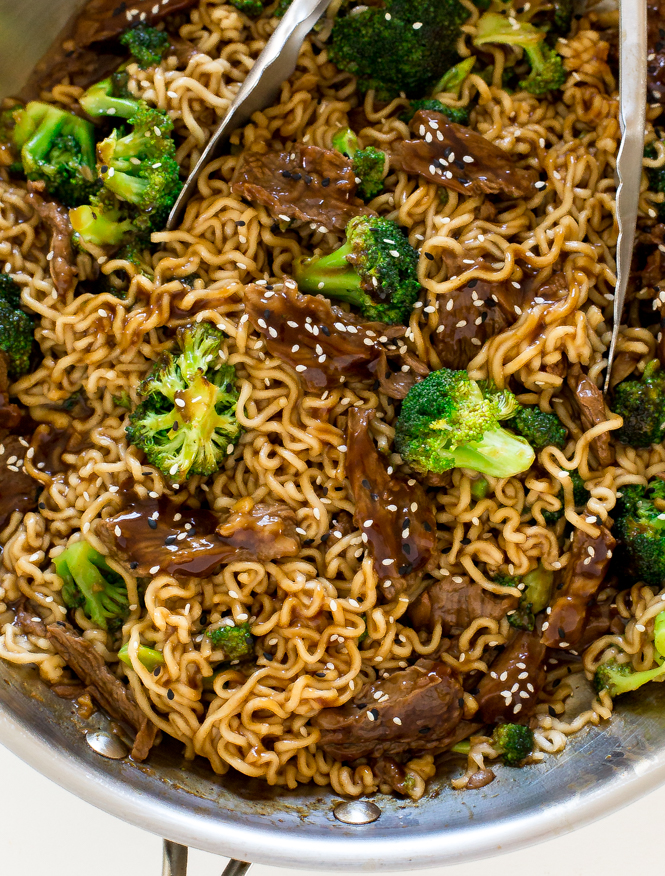 Beef and Broccoli Ramen
One Skillet Beef and Broccoli Ramen. Everything you love about beef and broccoli but with ramen noodles!
Ingredients
2 tablespoons oil, divided
1 pound flank steak or skirt steak, thinly sliced against the grain
1 tablespoon low sodium soy sauce
1 tablespoon rice wine vinegar
3 cups broccoli
4 cloves garlic, minced
3 packets ramen noodles, seasoning packet discarded (3 ounces each)
Sauce
¼ cup water
¾ cup low sodium beef broth
1 tablespoon ginger, minced
2 teaspoons sesame oil
2 tablespoons cornstarch
6 tablespoons oyster sauce
6 tablespoons low sodium soy sauce
2 tablespoons rice wine vinegar
1 tablespoon brown sugar
½-1 teaspoon Sriracha (depending on how spicy you would like it)
sesame seeds for garnish, if desired
Instructions
NOTE: Prep time does not include marinating time.
Add steak, 1 tablespoon soy sauce and 1 tablespoon rice wine vinegar to a medium bowl. Marinate for 1 hour or overnight in the fridge.
Meanwhile, mix together all of the sauce ingredients in a medium bowl.
Cook the ramen noodles according to the package instructions. Set aside.
Add 1 tablespoon of oil to a large skillet. Add in broccoli and sauté over medium heat until tender but still crisp. Remove the broccoli from the pan and set aside.
Add the remaining tablespoon of oil to the pan. When pan is almost smoking add in beef. Sauté for 1-2 minutes.
Toss in garlic and saute for 1 minute.
Add the broccoli back to the pan along with the sauce. Stir and simmer until thickened, 1-2 minutes.
Toss in the noodles and stir to coat.
Serve immediately with sesame seeds if desired.
Only Eats