Hot Chocolate Cookies. Everything you love about hot chocolate but in cookie form!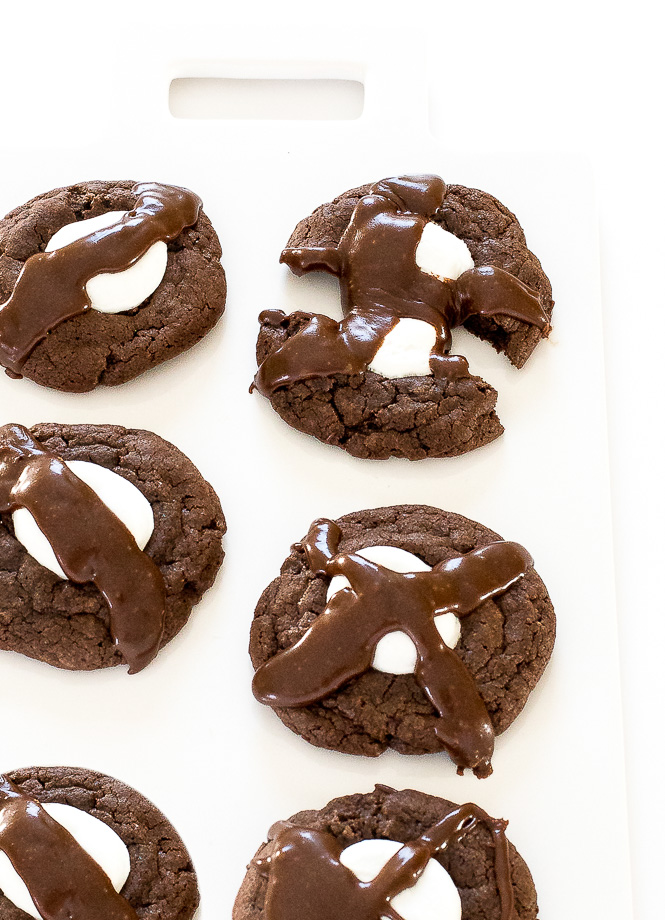 These Hot Chocolate Cookies are perfectly soft and chewy with tons of chocolate flavor. The technique for these cookies is similar to my Brownie Cookie. Melting the butter and chocolate together creates an extra chewy cookie. I also slightly under bake the cookies to get the nice fudgey texture inside.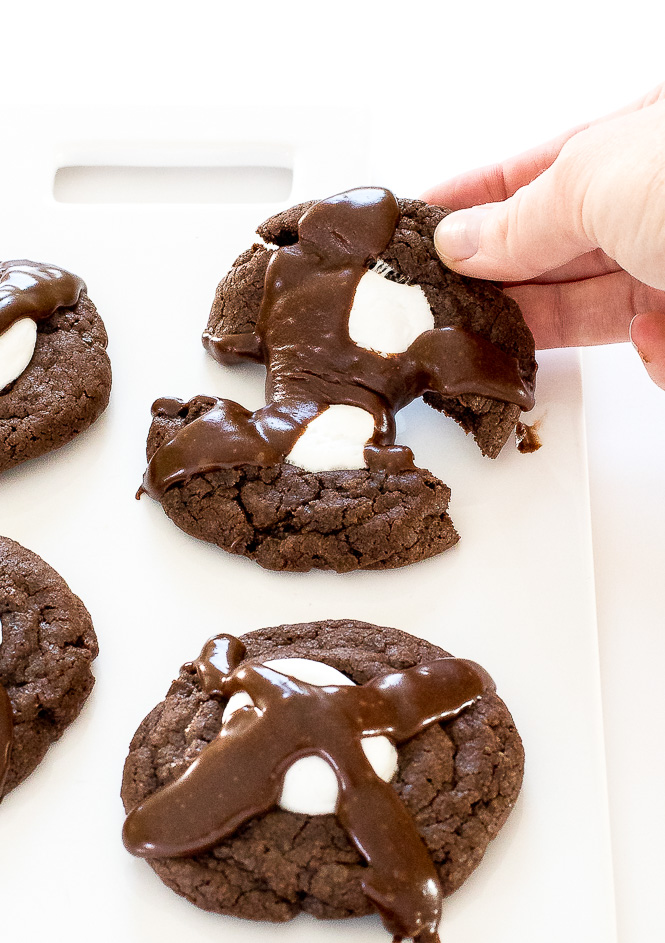 OUR LATEST RECIPES
When the cookies are almost done baking a marshmallow gets set on top then baked for a few more minutes until set.
After the cookies have cooled completely I drizzle them with an easy chocolate frosting. They taste so much like hot chocolate!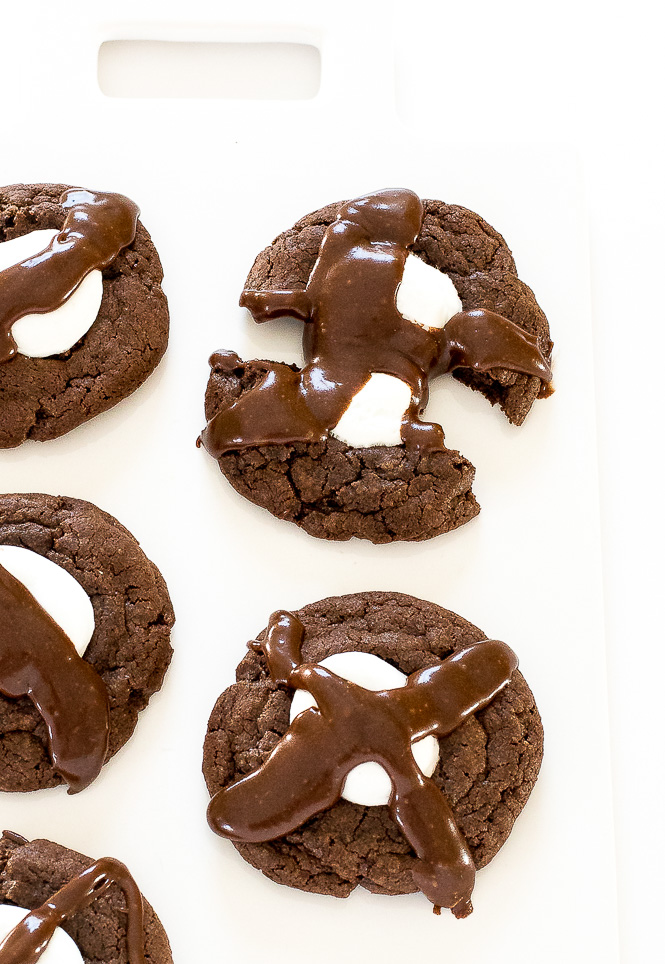 Hot Chocolate Cookies
Hot Chocolate Cookies. Everything you love about hot chocolate but in cookie form!
Ingredients
Hot Chocolate Cookies
½ cup unsalted butter
1½ cups semi sweet chocolate chips
1¼ cup light brown sugar
2 teaspoons vanilla
3 large eggs
1½ cups all purpose flour
¼ cup unsweetened cocoa
1½ teaspoon baking powder
¼ teaspoon salt
Approximately 20 large marshmallows, cut in half crosswise
Chocolate Frosting
6 tablespoons unsalted butter
¼ cup milk
2 tablespoons unsweetened cocoa
1¾ cup powdered sugar
Instructions
Hot Chocolate Cookies
Add butter to a medium saucepan and heat over medium heat. Cook butter stirring continuously until it turns golden brown and smells nutty. This takes about 5-7 minutes.
Pour the butter into a large bowl along with the chocolate chips. Stir until melted. Allow the chocolate to cool for 5 minutes.
Stir in the brown sugar, vanilla and eggs, one at a time until combined.
Fold in flour, cocoa, baking powder and salt. Mix until combined.
Refrigerate the dough for an hour.
When you are ready to bake preheat the oven to 325 degrees. Line baking sheets with parchment paper or a non stick cooking mat.
Roll out tablespoon size cookies and flatten slightly with the palm of your hand.
Bake for 10 minutes or until set. Remove from the oven and add half of a marshmallow cut side down to each cookie.
Place back in the oven and bake for 2-3 additional minutes.
Allow the cookies to cool for 5 minutes on the baking sheet then transfer to a cooling rack to cool completely.
Once the cookies have completely cooled drizzle with chocolate frosting and enjoy!
Chocolate Frosting
Add the butter, milk and cocoa powder to a small saucepan. Bring to a boil and cook for 1 minute.
Remove from the heat and allow the mixture to cool for 5 minutes.
Pour the mixture into a large bowl along with the powdered sugar. Whisk until creamy and clump free.
Immediately spoon glaze over cooled cookies. The longer frosting sits out the harder it becomes.
Only Eats
SaveSave
SaveSave
SaveSaveSaveSave
SaveSave
SaveSaveSaveSave
SaveSaveSaveSaveSaveSaveSaveSave
SaveSave
SaveSave
SaveSave
SaveSave