Skirt Steak with Chimichurri Sauce
Super tender Skirt Steak with Chimichurri Sauce. The perfect summer meal!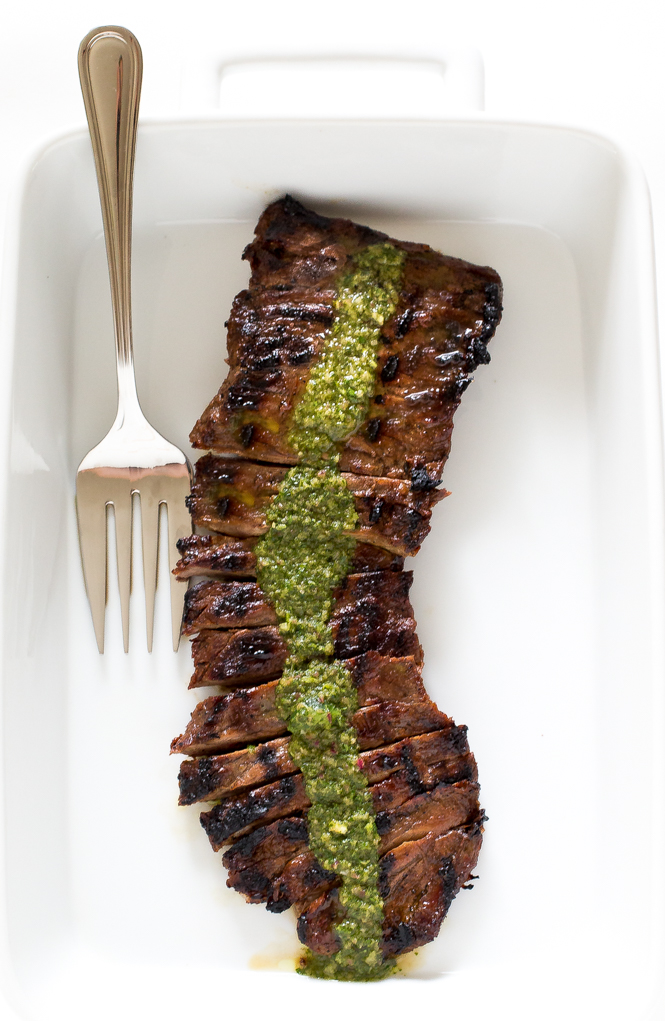 I love grilling season. It makes dinner time so much easier. For this skirt steak I marinate the beef overnight with a blend of lime juice, garlic, soy sauce and honey and throw it on the grill when it's time to eat.  It only takes 10 minutes to throw everything together.
While the steak is cooking I whip up my homemade chimichuri sauce.  It's a combination of fresh cilantro, parsley, onion, garlic and fresh lime juice. This chimichuri sauce is awesome on grilled chicken or salmon.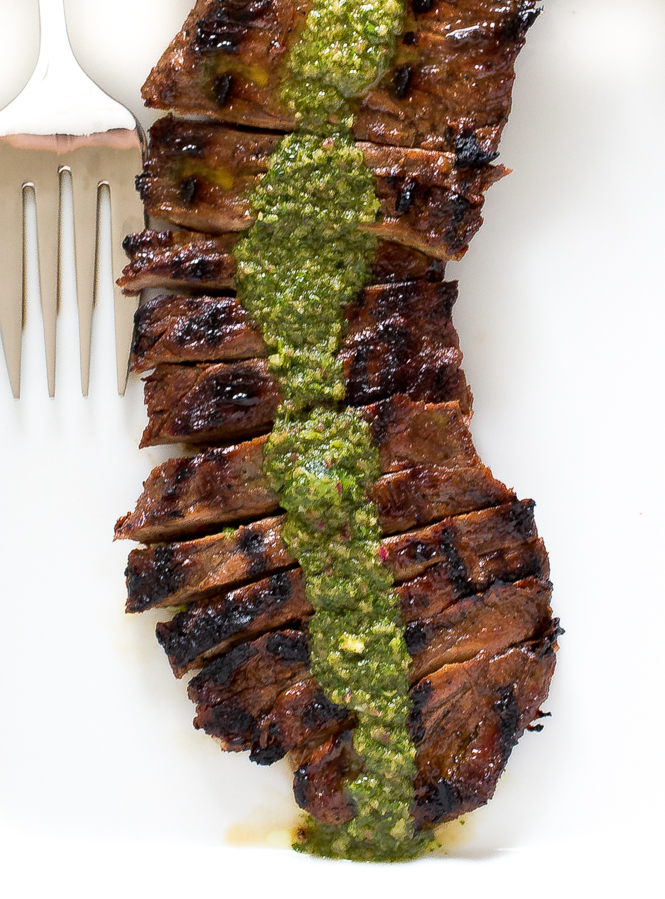 A couple tips for a super tender skirt steak:
✓ Cook the steak over very high heat for a short period of time. Skirt steak is a very thin cut of meat and only needs to be cooked for a few minutes on each side.
✓ Remove the membrane on the meat. Skirt steak has a thin membrane along the underside of the ribs which makes the steak tough. It is best to remove it before cooking for a juicy steak.
✓ After cooking allow the steak to rest for at least 5 minutes before slicing into it. I like to slice thin angled slices against the grain.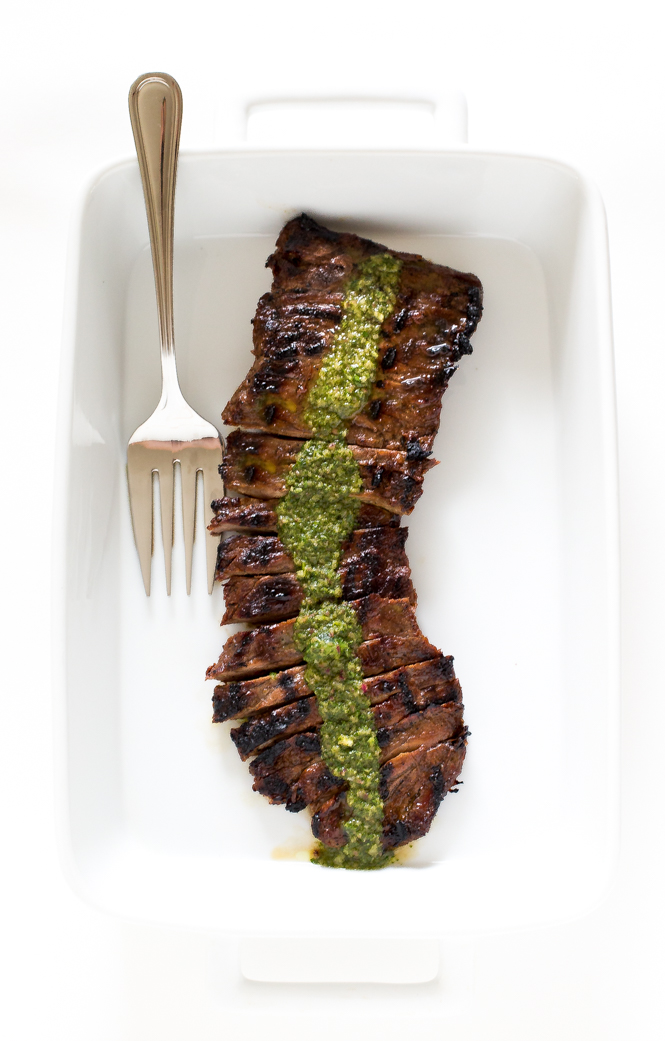 Skirt Steak with Chimichurri Sauce
Super tender Skirt Steak with Chimichurri Sauce. The perfect summer meal!
Ingredients
Skirt Steak
1 pound skirt steak
4 cloves garlic, minced
3 tablespoons lime juice
¼ cup oil (can use olive oil or vegetable oil)
¼ cup worcestershire sauce
¼ cup low sodium soy sauce
¼ cup red wine vinegar
¼ cup honey
Chimichurri Sauce
¼ cup onion
1 cup cilantro
1 cup parsley
½ cup olive oil
3 cloves garlic
3 tablespoons lime juice
2 tablespoons red wine vinegar
salt and pepper
Instructions
*Prep time does not include marinating time*
Skirt Steak
Add all of the ingredients including the steak to a large ziplock bag or pan. Marinade for at least an hour or overnight.
When you are ready to eat remove the steak from the marinade and discard the marinade.
Preheat grill to high and spray the grill with non stick cooking spray. (It is important to make sure the grill is really hot. It's ready when the grill reaches 450-500 degrees)
Cook 3-4 minutes per side until meat is nicely charred.
Transfer steak to a cutting board and allow it to rest for 5-10 minutes. Thinly slice at an angle against the grain. Serve with Chimichurri Sauce.
Chimichurri Sauce
Add all of the ingredients to a food processor and pulse to combine. Season with salt and pepper to taste. Set aside.
Only Eats