Crispy Baked Potato Pancakes stuffed with shredded potatoes, Parmesan cheese, onion, and garlic. A healthier alternative to fried potato pancakes or latkes.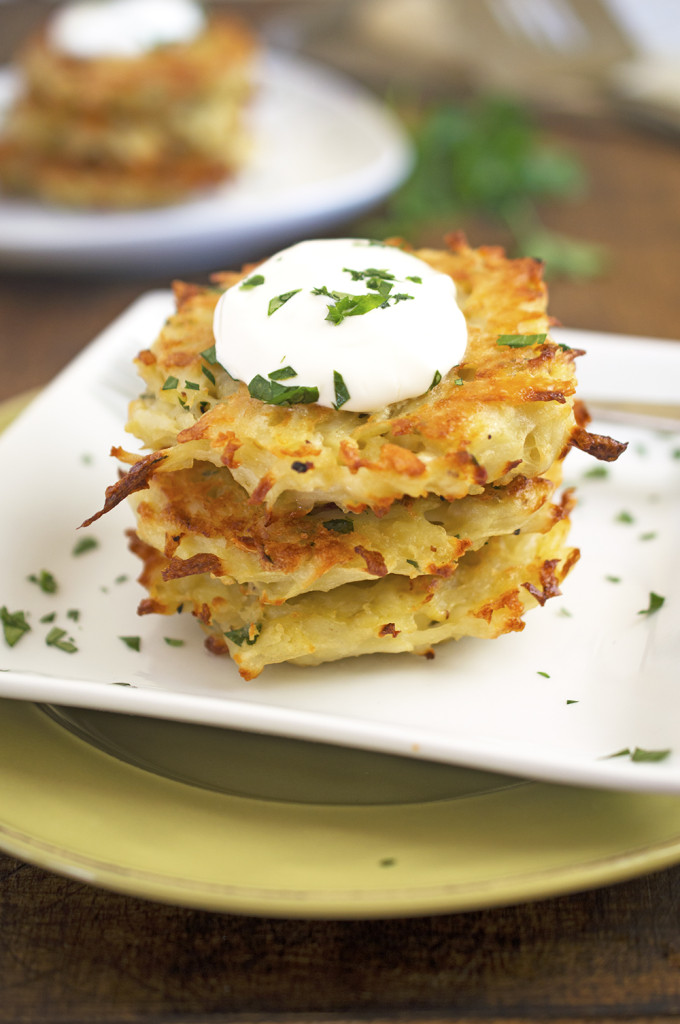 Potato Pancakes also known as latkes are a traditional Hanukkah dish prepared once a year. They are typically fried and served with sour cream or apple sauce. These Baked Potato Pancakes are so good they can be made year round.
Loaded with shredded onion, Parmesan cheese, garlic and fresh parsley. It is a flavorful twist on the original. I added panko breadcrumbs for some crunch. Egg and flour are used as a binder to keep everything together.
The pancakes are baked in a 400 degree oven on an oiled parchment lined baking sheet. It is important to use parchment paper. Without it the pancakes with stick to the baking sheet.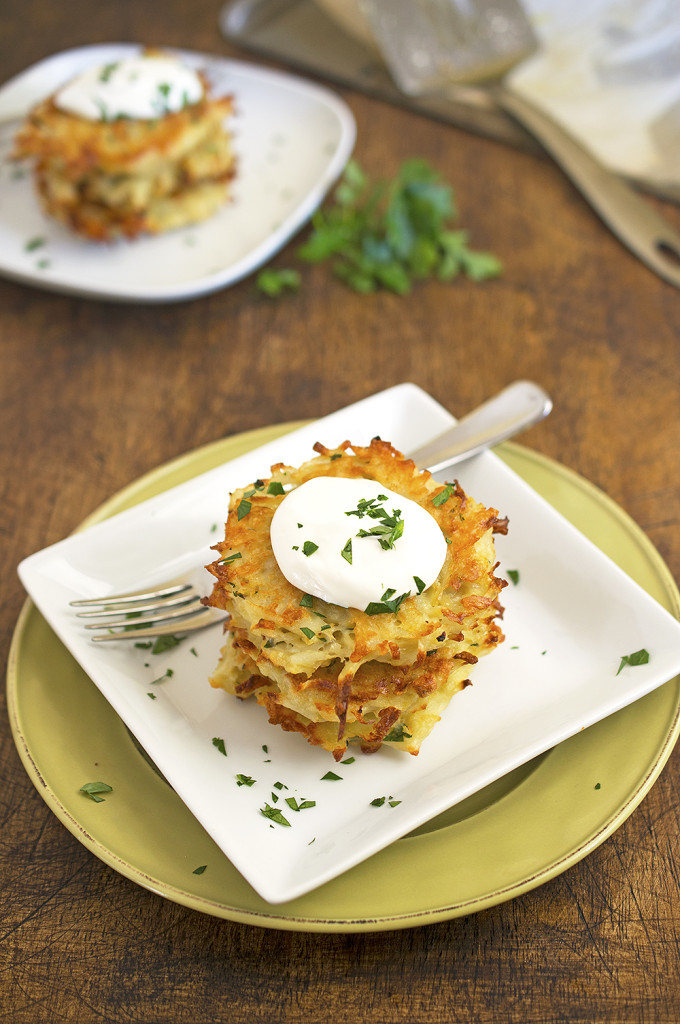 An important step in this recipe is draining as much moisture as you can from the potatoes. This will ensure we have a nice crispy pancake. I place the shredded potato in a colander and push down to extract the water. A sieve or cheese cloth would also work perfectly for this. This step will take a bit of muscle power! When you think you've drained it enough drain it some more.
These pancakes are an easy way to sneak some vegetables into your child's diet. I like adding carrots and zucchini. Shred them with the onions and potatoes.
Potato pancakes are best served warm and with a dollop of sour cream. Garnish with extra fresh parsley. I like to put a little hot sauce on mine as well. Serve these potato pancakes with my slow oven roasted brisket.
For a lighter option you can use greek yogurt instead of the sour cream on top. You can also substitute sweet potatoes for the white potatoes if you prefer.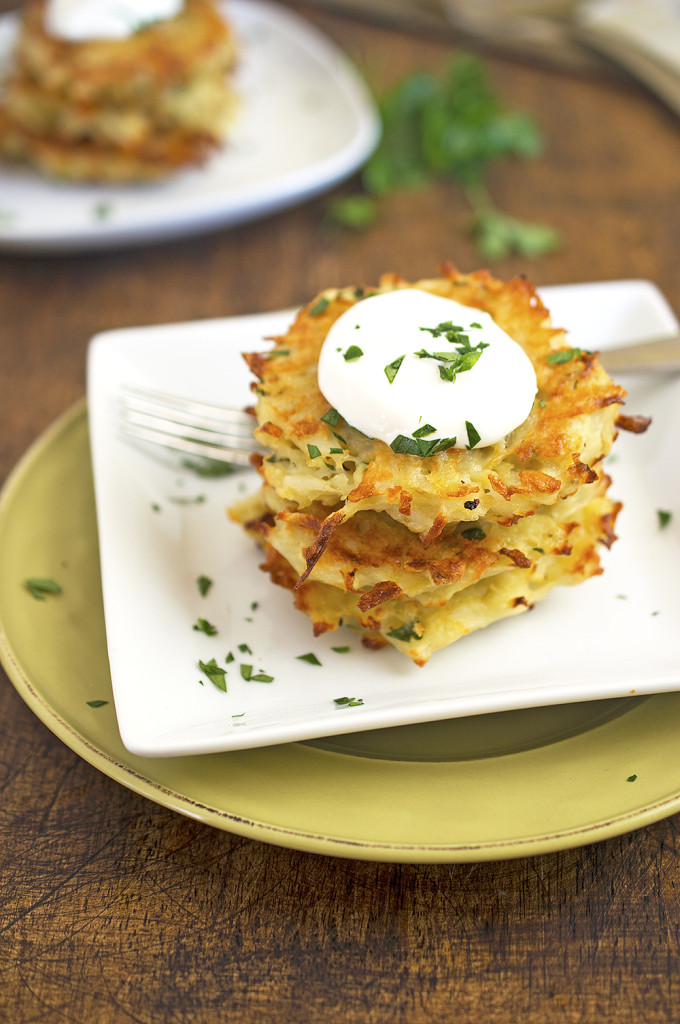 Here are a couple other potato pancake (latkes) recipes I like:
Potato Zucchini Pancakes by My Kitchen in the Rockies
Spicy Carrot Parsnip and Potato Latkes by The New York Times
Craving more recipes? View my full list of recipes!
Baked Potato Pancakes
Crispy Baked Potato Pancakes stuffed with shredded potatoes, Parmesan cheese, onion, and garlic. A healthier alternative to fried potato pancakes or latkes.
Ingredients
4 medium Idaho white potatoes, shredded and drained very well
¼ cup onion, shredded
2 cloves garlic, minced
1 teaspoon parsley, chopped
2 whole eggs
¼ cup all purpose flour
2 tablespoons panko breadcrumbs
¼ teaspoon salt
¼ teaspoon pepper
¼ cup Parmesan cheese
1 tablespoon olive oil
sour cream for serving
extra parsley for garnish
Instructions
Preheat oven to 400 degrees.
Combine potatoes, onion, garlic, parsley and eggs in a large bowl.
Add in all purpose flour and breadcrumbs. Mix to combine. Try not to over mix. We want our pancakes to be light and fluffy.
Add in salt, pepper, and Parmesan cheese. Fold to combine.
Line a baking sheet with parchment paper. Spread 1 tablespoon of olive oil onto the parchment paper. Do not wash your hands.
With your oiled hands portion out 8 potato pancakes. The thinner the better we want them to be crispy. Not to thin were they fall apart.
Place in the oven and cook for 20-25 minutes, flipping halfway. The pancakes should be a nice golden brown color.
Serve immediately with a dollop of sour cream on each and fresh parsley for garnish.
Notes
Original recipe from chefsavvy.com. Please do not publish my recipe or pictures without linking back to the original post. Thank you!
Only Eats