Bourbon Barbecue Sauce. Sweet, tangy and a full of flavor. Incredibly easy to make and requires one pot!
It's not even summer yet and I'm already in BBQ mode. I've been thinking of a million and one ways to use this barbecue sauce. I guess that's what a freezing cold winter will do to a person.
Making your own barbecue sauce at home is super easy. It doesn't require much effort and you can customize it to your liking. This barbecue sauce is on the sweeter side. You can always spice it up by adding some cayenne pepper and paprika.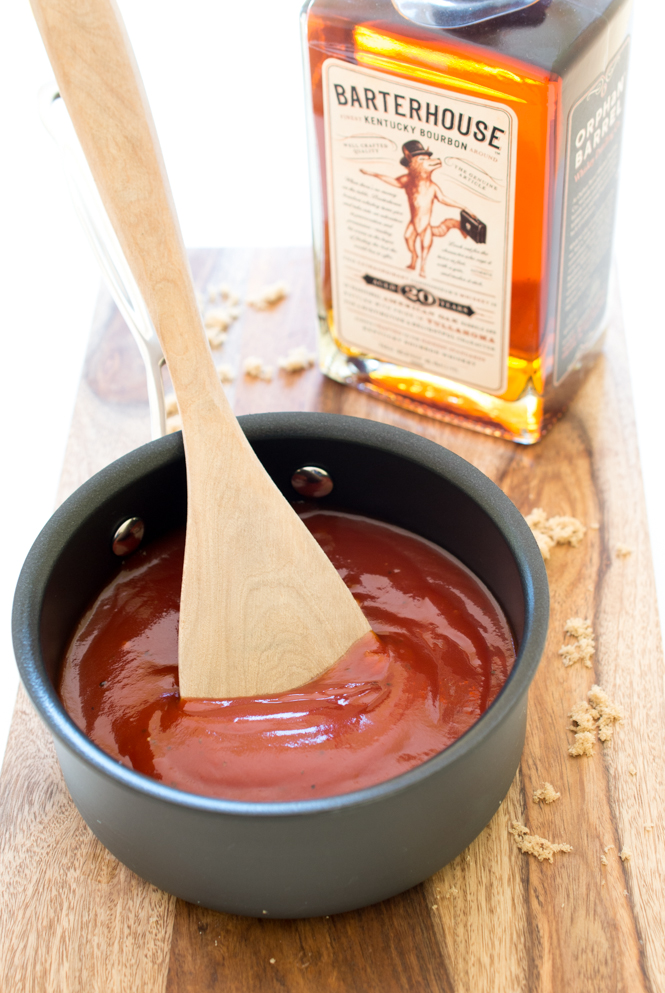 OUR LATEST RECIPES
I am a major condiment lover. I love to dunk and dip everything in sauces. But I have never tried making one of my favorite condiments at home, barbecue sauce.
This barbecue sauce couldn't be simpler. One pot and less than 20 minutes of cooking time. Throw all of the ingredients into a saucepan and let it simmer.
Best of all you should have all of the ingredients for this sauce already in your pantry.
You can use your favorite bourbon in this barbecue sauce. I used Barterhouse Kentucky Bourbon. This bourbon is smooth and buttery with hints of brown sugar. It pairs perfectly with the sauce.
The barbecue sauce starts with onion and garlic sauteed in a bit of oil. Ketchup, Worcestershire sauce, apple cider vinegar, brown sugar and of course bourbon are added.
This sauce has the perfect combination of sweet, tart, smoky and savory.
Make a large batch and keep it in the fridge for up to 4 weeks or freeze any leftovers.
Serve this sauce on wings, sandwiches, fries, or chicken tenders.
Bourbon Barbecue Sauce
Bourbon Barbecue Sauce. Sweet, tangy and a full of flavor. Incredibly easy to make and requires one pot!
Ingredients
1 tablespoon olive oil
¼ cup onion, minced
2 cloves garlic, minced
1½ cups ketchup
½ tablespoon Worcestershire sauce
1 teaspoon apple cider vinegar
¼ cup bourbon
1½ tablespoons brown sugar
⅛ teaspoon salt
⅛ teaspoon pepper
⅛ teaspoon chili powder
Instructions
Heat oil in a medium saucepan.
Add in onion and cook for 2-3 minute.
Add in garlic and cook for 1 minute.
Stir in the rest of the ingredients and bring to a simmer. Simmer for 15 minutes.
Serve with sandwiches, wings, or as a dipping sauce.
Store in the fridge for up to a month or freeze for up to 6 months.
Notes
Original recipe from chefsavvy.com. Please do not publish my recipe or pictures without linking back to the original post. Thank you!
Only Eats