Grilled BLT Wedge Salad with Creamy Blue Cheese Dressing. Everything you love about a BLT sandwich in salad form! Takes less than 20 minutes to throw together!
BLT's are one of my favorite sandwiches. They are so simple and classic but always taste amazing. The crisp lettuce, the crunchy bacon and the fresh tomatoes always make the perfect combination.
I took it a step further and grilled the lettuce wedges to add a nice smokiness to the salad. I topped the wedges with a homemade creamy blue cheese dressing.
So simple yet so amazing.
These wedges are easy to whip up and make a wonderful appetizer or light dinner. You can even add some grilled chicken or steak to serve alongside.
To make the wedges simply cut the head of iceberg in half and cut both halfs in half again. You should end up with four large wedges. You could also make appetizer size portions and make 8 wedges instead of 4.…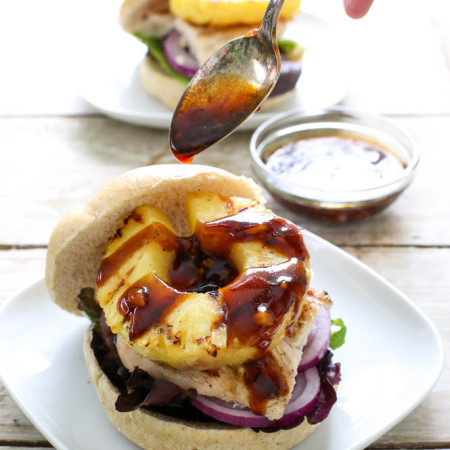 Grilled Hawaiian Chicken Sandwich piled high with grilled chicken, pineapple, lettuce and red onion. Drizzled with a thick, tangy and slightly sweet homemade teriyaki sauce! Ever since the start of summer I have been grilling like crazy. Lot's of corn, grilled veggies and salads. (Yes, grilled salad is totally a thing and it is amazing). I layered this…