Healthy Mexican Quinoa and Turkey Stuffed Peppers
Healthy Mexican Quinoa and Turkey Stuffed Peppers.  A quick, easy and healthy weeknight meal!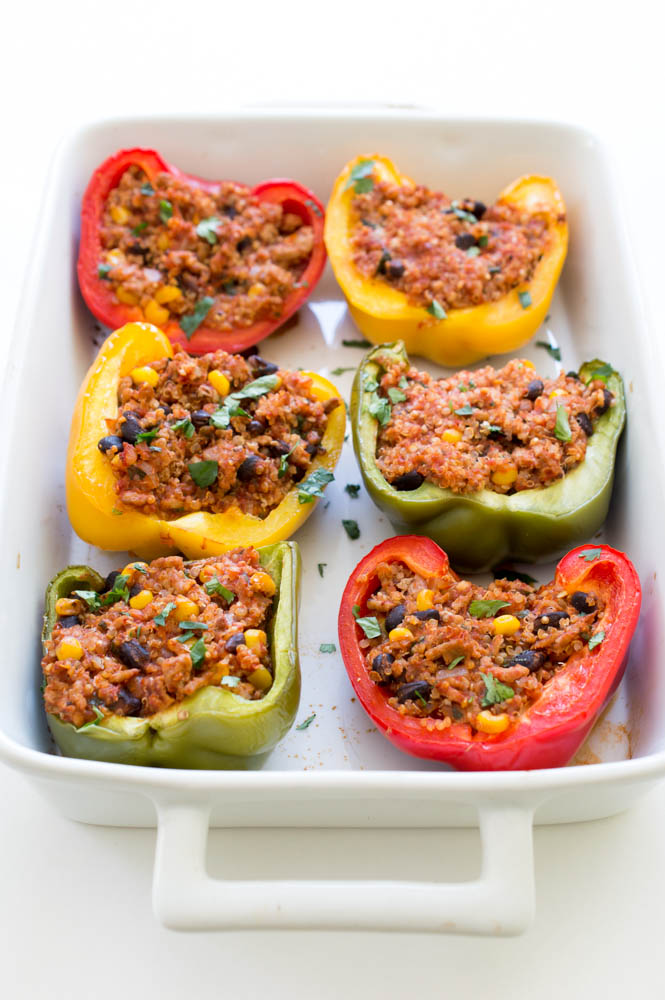 I love replacing pasta or rice with quinoa in some my favorite dishes.  It's loaded with tons of health benefits and is gluten free.  Just as easy to prepare as rice but comes with a lot more health benefits. 1 cup of quiona has 8 grams of protein!
To speed up this recipe I used pre-cooked quinoa. I like to make large batches of quinoa at the beginning of the week to toss into salads.
The stuffed peppers are loaded with lean ground turkey, black beans, corn, crushed tomatoes and quinoa. Cumin, cayenne pepper and paprika give the filling a little kick.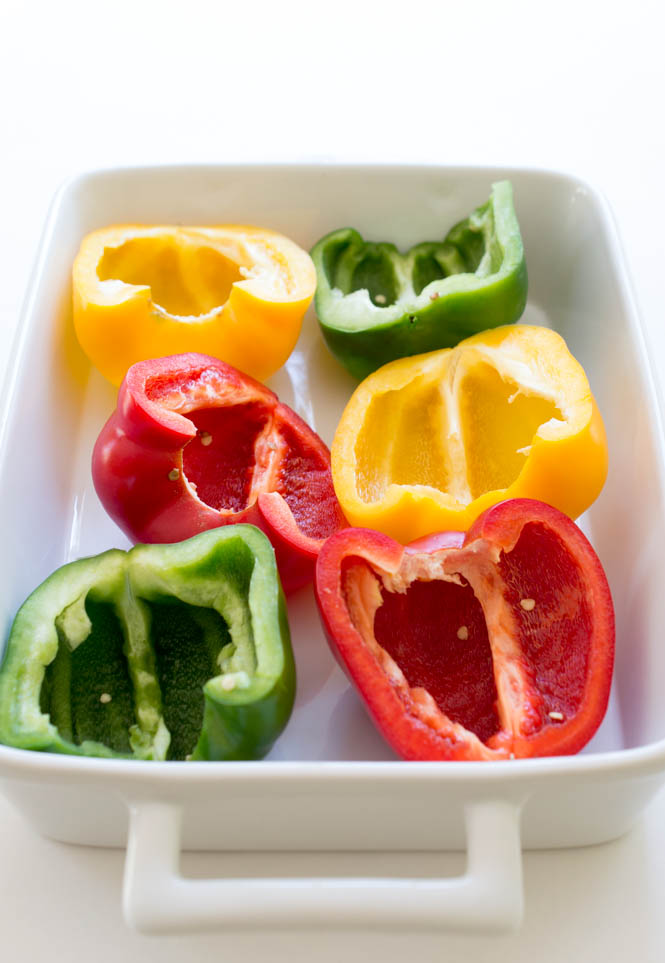 This gluten-free dish takes 35 minutes to make start to finish. Not to shabby for an easy weeknight dinner.
You could add some Mexican shredded cheese on top if you'd like. I wanted to keep this dish as light as possible so I omitted it.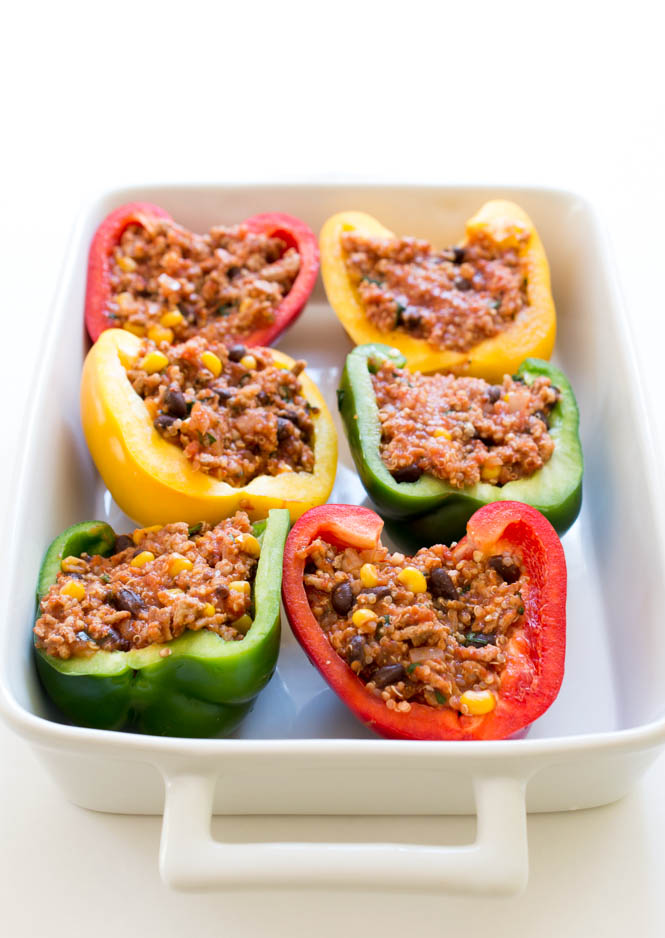 You can leave your pepper whole or cut in half lengthwise. I find cutting the pepper in half makes for an easier and less messy eat.
I love how colorful these peppers are. Any color or type of pepper will do. I love the presentation of the tri-color peppers.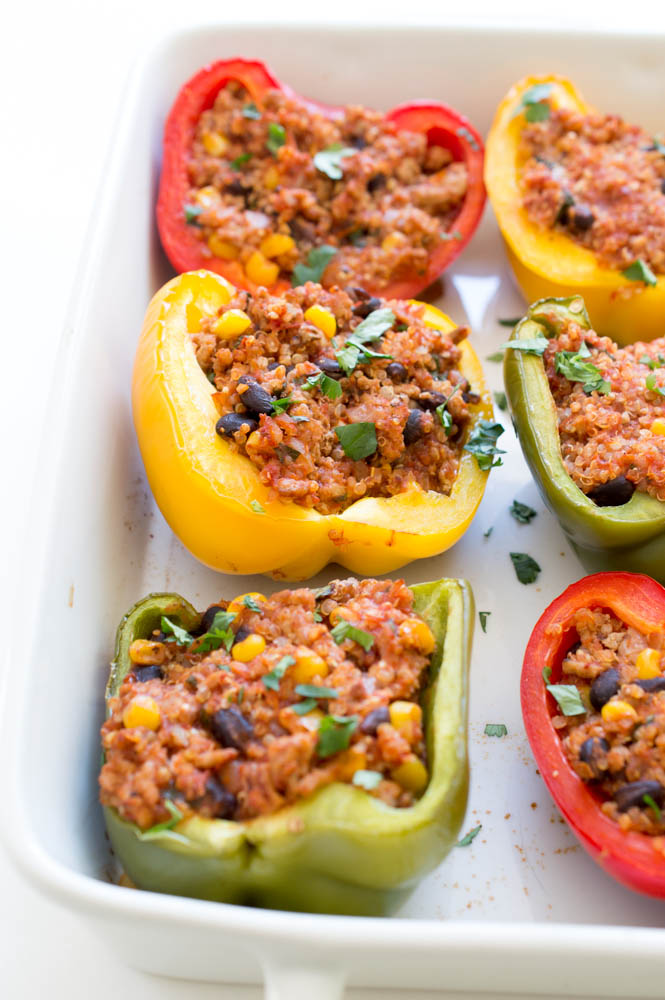 Healthy, satisfying and loaded with flavor. The stuffed peppers are cooked in the oven until perfectly tender. A filling, hearty and flavorful meal.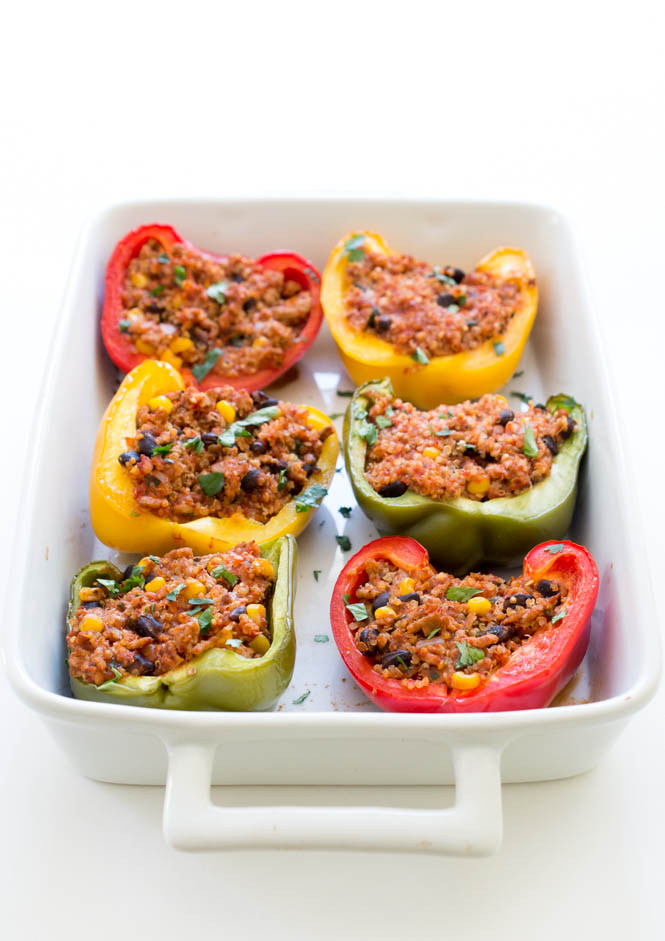 Serve the peppers as is or with a side of enchilada sauce. Before serving top with extra cilantro for garnish if desired.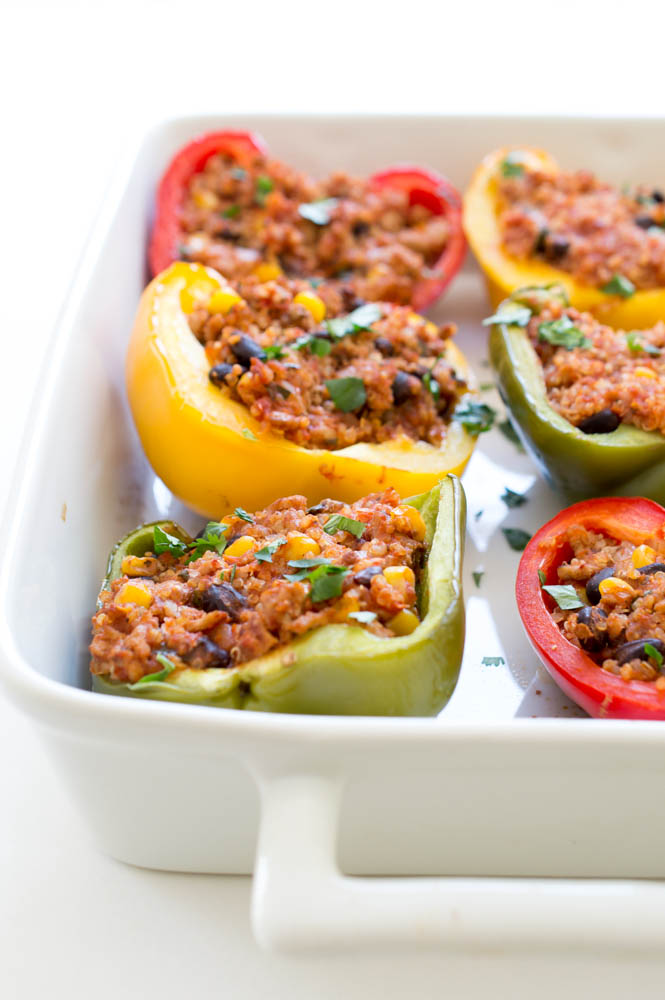 Love this recipe? Here are some more of my favorite recipes featuring quinoa:
Healthy Turkey and Quinoa Mexican Stuffed Peppers
Healthy Mexican Quinoa and Turkey Stuffed Peppers. A quick, easy and healthy weeknight meal!
Ingredients
1

tablespoon

extra virgin olive oil

8

ounces

lean ground turkey

1/4

cup

onion

chopped

2

garlic cloves

minced

3/4

cup

crushed tomatoes

1/2

cup

chicken stock

1/4

cup

frozen corn

1/4

cup

black beans

drained and rinsed

1/2

teaspoon

cumin

1/2

teaspoon

chili powder

1/2

teaspoon

paprika

1/8

teaspoon

pepper

1/8

teaspoon

salt

1/2

cup

cooked quinoa

1/2

tablespoon

lime juice

2

tablespoons

cilantro

chopped

3

bell peppers

cut in half and seeded
Instructions
Preheat oven to 350 degrees.

Meanwhile, add oil to a large skillet.

Add in ground turkey and saute until fully cooked, 4-5 minutes.

Add in onion and cook for 2-3 minutes.

Toss in garlic and cook for an additional minute.

Stir in tomatoes, chicken broth, corn, beans, cumin, chili powder, paprika, pepper and salt. Bring to a simmer. Cook for 2-3 minutes until slightly thickened.

Take off the heat and stir in cooked quinoa, lime juice and cilantro.

Stuff peppers with the filling and place in a 9 x 13 pan. Cover with aluminum foil. Bake for 20-25 or until the peppers are tender and the filling is hot.

Serve immediately.
Recipe Notes
Original recipe from chefsavvy.com. Please do not publish my recipe or pictures without linking back to the original post. Thank you!