Easy 30 Minute Chicken Stir Fry loaded with vegetables and tossed in a spicy Asian sauce.
Who doesn't love a good stir fry. Crisp vegetables mixed with an Asian inspired sauce. All cooked in one pan and made in less than 30 minutes? Count me in.
This stir fry is super healthy thanks to all of the vegetables. I also added lean chicken breast for some protein. This stir fry isn't loaded with tons of sauce making it a light weeknight meal you won't feel guilty about eating.
Stir fry's are so easy. That's why I love them. They are also very versatile and can be made in many different ways depending on what you have on hand. I made this vegetable stir fry with mushrooms, onions, broccoli and carrots.
This is a super easy meal that can be made in under 30 minutes! Everything is made in one pan making for an easy clean up.
Make this a quick vegetarian meal by omitting the chicken and the fish sauce. Non-vegetarians can mix it up and use shrimp in this stir fry.
When stir frying it is important to work with a hot pan. This way the vegetables get nice and caramelized on the outside but still have a nice crunch. You don't need special equipment for this stir fry just a large skillet will do.
To make this simple Chicken Stir Fry start by sauteing chicken in a large skillet. Saute until fully cooked, about 4 minutes on each side. Take out of the pan and add the vegetables. Saute for 3-4 minutes and return the chicken back to the pan. Next add in our ingredients for our Asian inspired sauce. Soy sauce, fish sauce, sesame oil, sriracha and peanut butter are added to the pan.
It is the perfect combination of sweet and spicy. If your like me and you like a little extra spice toss in some more red pepper flakes and sriracha.
Serve this dish with a side of white or brown rice.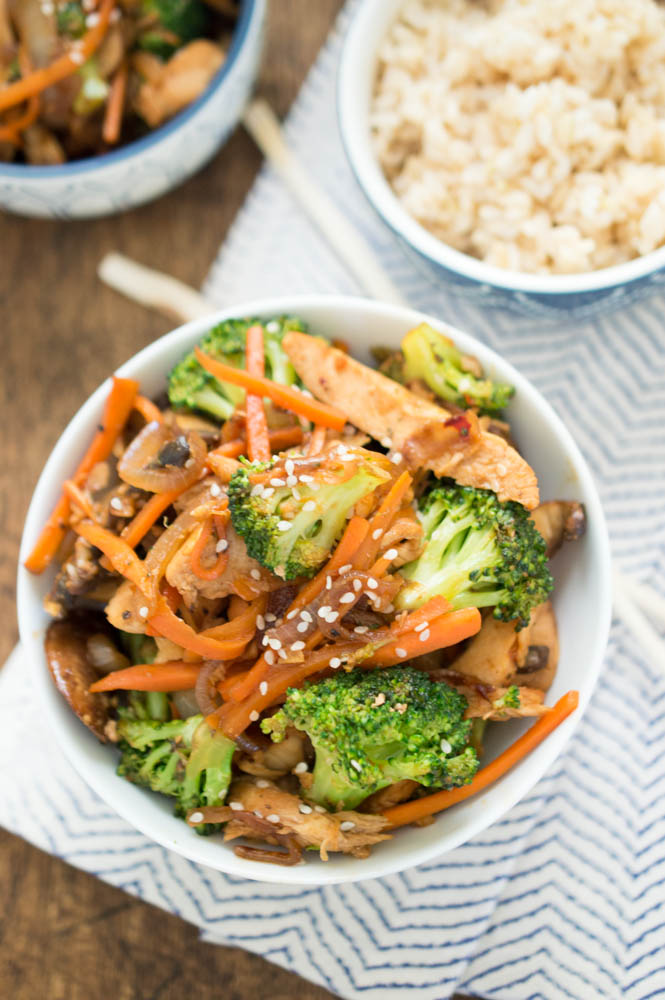 Add this Easy Chicken Stir Fry to your dinner rotation and skip takeout!
Easy Chicken Stir Fry
Easy 30 Minute Chicken Stir Fry. Loaded with vegetables and tossed in a spicy Asian sauce.
Ingredients
½ tablespoon extra virgin olive oil
3 lean chicken breasts
½ tablespoon extra virgin olive oil
½ onion, sliced
2 cups broccoli
1 cup carrots, julienne
1 cup mushrooms, sliced
2 cloves garlic, minced
½ tablespoon peanut butter
1 tablespoon soy sauce
½ teaspoon sriracha
couple dashes of fish sauce
¼ teaspoon sesame oil
⅛ teaspoon red pepper flakes
⅛ teaspoon sesame seeds
Instructions
Add oil to a large skillet.
Add chicken and saute until fully cooked, 4 minutes on each side. Take out of the pan and set aside.
In the same pan heat another ½ tablespoon of oil.
Add onions, broccoli, carrots and mushrooms. Saute for 3-4 minutes until slightly tender.
Add in garlic and saute for 1 minute.
Stir in peanut butter, soy sauce, sriracha, fish sauce, sesame oil, red pepper flakes and sesame seeds. Bring to a low simmer and cook for 1-2 minutes.
Slice cooked chicken and add back into the pan. Toss to coat the chicken. Cook until chicken is warmed through (1-2 minutes).
Garnish with extra sesame seeds and serve immediately.
Notes
Original recipe from chefsavvy.com. Please do not publish my recipe or pictures without linking back to the original post. Thank you!