Super Easy Chicken Burrito Bowls. Made with homemade salsa, cilantro lime rice and grilled chipotle chicken. Perfect for meal prep!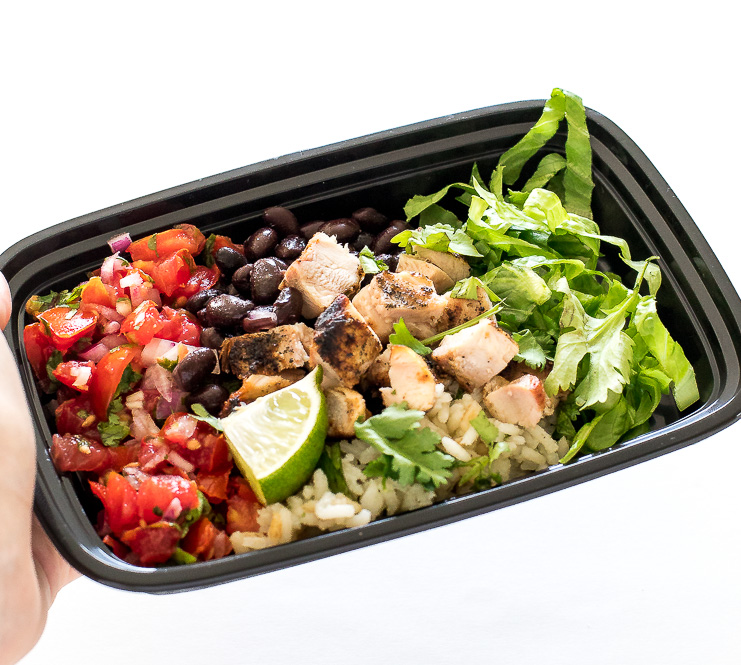 This Chicken Burrito Bowl is way better than Chipotle's. It is loaded with flavor and tons of fresh ingredients. It's also the perfect meal to prep for lunches!
I loaded the burrito bowls up with homemade salsa, black beans, cilantro lime rice, grilled chipotle chicken and shredded lettuce. Everything you love about a burrito without the tortilla.

OUR LATEST RECIPES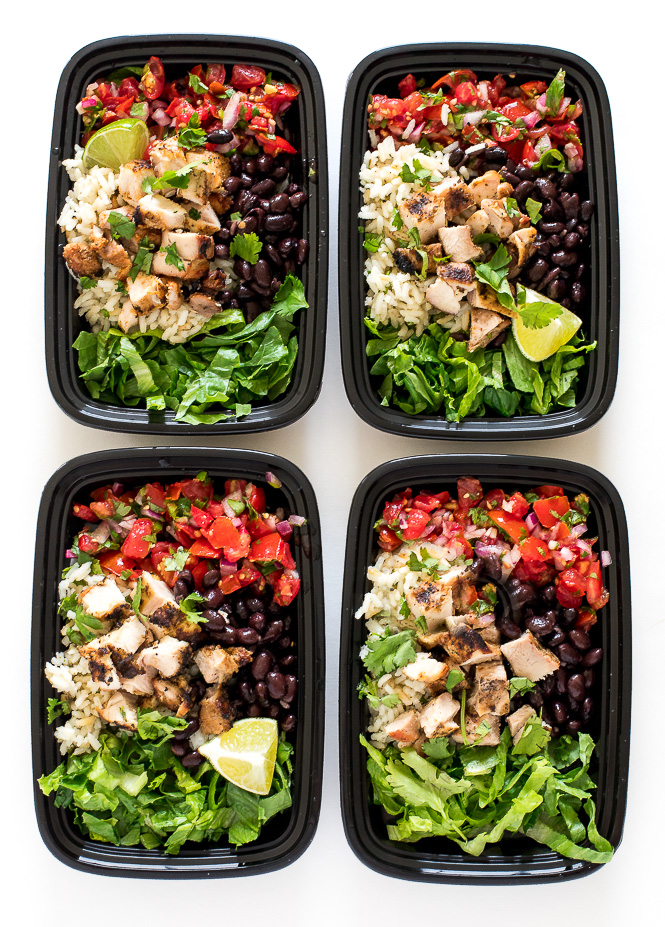 The base of this burrito bowl is my Cilantro Lime Rice. I brown the rice in hot oil then toss in lot's of garlic. The rice simmers for 20 minutes in chicken broth then gets tossed with fresh squeezed lime juice and cilantro.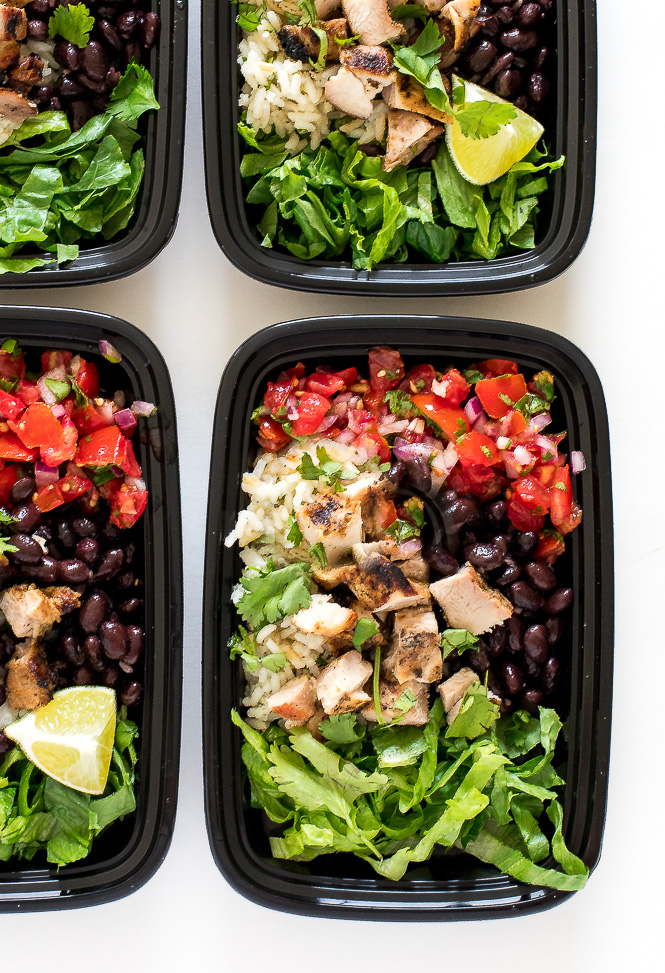 I marinate the chicken overnight with some chilies in adobo, lime juice, seasoning and a bit of oil. The chicken is amazing! Little effort for tons of flavor! The chicken has a smokey spicy flavor thanks to the chiles in adobo sauce.
When everything is prepped I assemble into meals and store in the fridge for up to a week. It is the perfect grab and go lunch or a delicious dinner!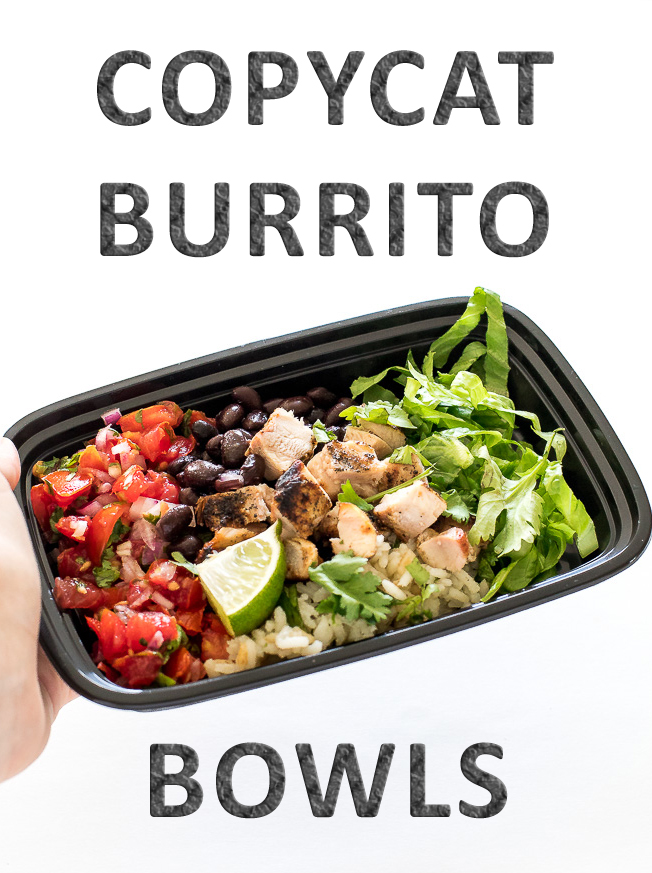 Chicken Burrito Bowls
Super Easy Chicken Burrito Bowls. Made with homemade salsa, cilantro lime rice and grilled chipotle chicken. Perfect for meal prep!
Ingredients
Chicken Burrito Bowls
1 can (15.5 ounce) black beans, rinsed and drained
2 cups romaine lettuce, washed and shredded
Cilantro lime rice, recipe follows
Salsa, recipe follows
Chicken, recipe follows
Cilantro Lime Rice
1 tablespoon olive oil
1 cup long grain white rice
3 cloves garlic, minced
2 cups chicken broth
3 tablespoons cilantro, roughly chopped
2 tablespoons lime juice
Salsa
2 cups diced tomatoes
½ cup red onion
3 cloves garlic, minced
⅛ teaspoon cumin
¼ cup cilantro, chopped
salt and pepper, to taste
Chicken
1½ pounds boneless skinless chicken thighs
2 tablespoons chipotle in adobo sauce
½ lime
2 tablespoons oil
1 teaspoon onion powder
1 teaspoon garlic powder
½ teaspoon cumin
1 teaspoon oregano
salt and pepper
Instructions
Cilantro Lime Rice
Heat the oil in a medium saucepan.
Add rice and cook until golden brown, 3-4 minutes.
Add in garlic and cook for an additional minute.
Stir in chicken broth, cover and simmer until tender about 20 minutes.
Fluff with a fork and stir in cilantro and lime juice.
Salsa
Combine all of the ingredients in a medium bowl. Season with salt and pepper to taste. Refrigerate until ready to serve.
Chicken
Add all of the ingredients including the chicken thighs to a large ziplock bag. Sprinkle with a little salt and pepper. Toss to coat the chicken and marinade for at least and hour or overnight.
When you are ready to cook preheat the grill to 400 degrees and spray the grill with non stick cooking spray.
Remove the chicken from the marinade and grill flipping halfway until fully cooked.
Allow the chicken to rest on the cutting board before cutting into it, I usually wait 5 minutes.
Cube the chicken into bite size pieces and set aside.
Assembly
When you are ready to assemble layer the cilantro lime rice, black beans, chicken, salsa and shredded lettuce. Top with any other favorite topping. I like jalapeños and sour cream. Serve immediately or package into airtight container for meal prep.
Only Eats
SaveSave
SaveSave
SaveSave
SaveSave
SaveSave
SaveSaveSaveSave
SaveSaveSaveSave
SaveSaveSaveSave
SaveSaveSaveSaveSaveSave
SaveSave
SaveSave
SaveSaveSaveSave
SaveSave
SaveSave
SaveSave
SaveSave
SaveSave
SaveSave
SaveSave
SaveSaveSaveSave