Heart healthy fiber packed Pumpkin Banana Smoothie made with Greek yogurt, milk, and pumpkin puree! Perfect way to start your day.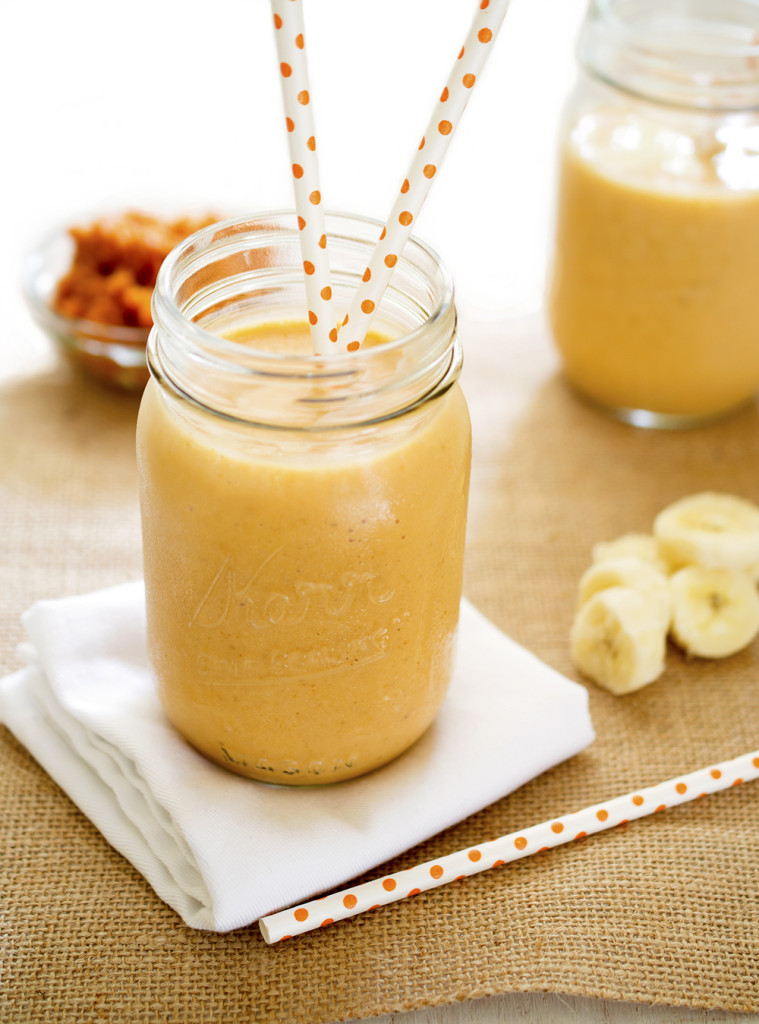 I know what your thinking another pumpkin recipe and it's not even fall yet. I know. But I love everything fall has to offer including pumpkin.
I have been drinking a smoothie at least once a day and I wanted to change things up from my standard Strawberry Banana Smoothie. With all of the canned pumpkin I have at home I decided to make a smoothie with this vitamin packed fruit.
I made this recipe a lot of different ways with more yogurt and without banana. I found that the frozen banana gave the smoothie a creamy, dessert like texture.
This recipe can be made with real pumpkin. The process takes a bit longer but it is well worth the effort. To make your own pumpkin puree at home simply cut the pumpkin in half, scrape out the seeds, and roast in the oven. Then peel the skin and puree in a blender or food processor. Done!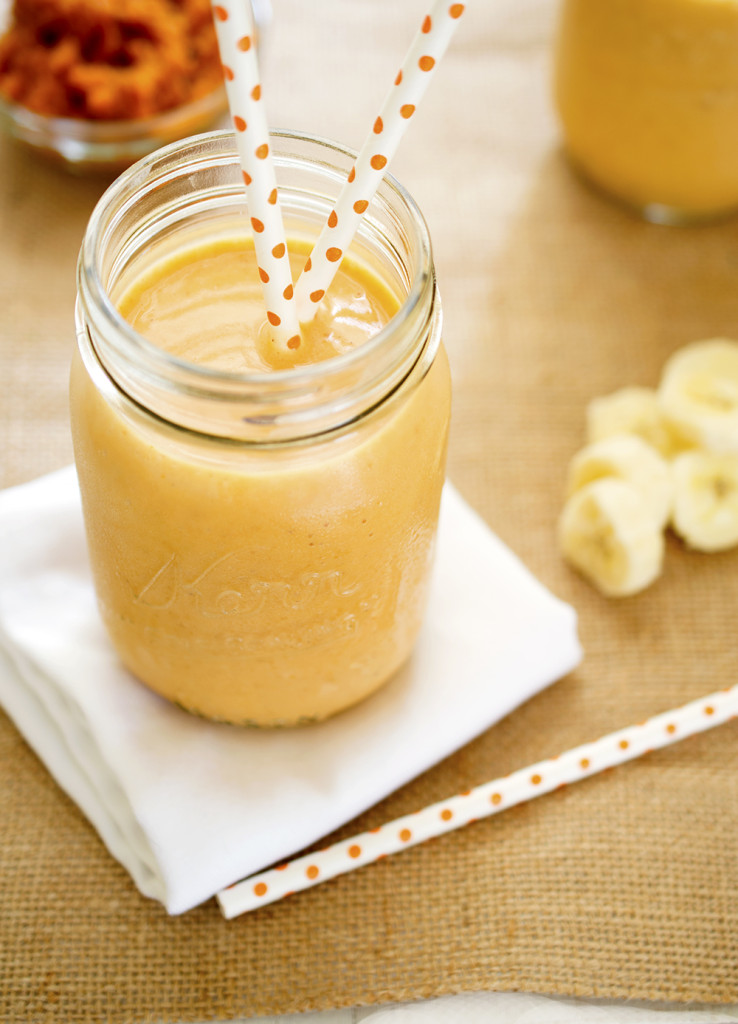 The trick to this recipe is using a frozen banana. That way you can use less ice and have more pumpkin and banana flavor! This Pumpkin Banana Smoothie is the consistency of a milkshake. You may have to break out your spoon.
This smoothie has all of the flavors of fall I love. The cinnamon, nutmeg, and pumpkin puree. There is just a hint of honey to sweeten the smoothie.
Pumpkin has tons of fiber and protein which makes this a healthy power smoothie. Loaded with enough nutrients to fuel your day. Perfect for breakfast or a midday snack.
The Pumpkin Banana smoothie has 4.6 grahams of fiber and almost 7 grahams of protein. Enough to keep you full for hours. Here's a break down on the health benefits of some of our ingredients.
Canned Pumpkin

: Loaded with t

on's of protein and fiber! Rich in antioxidants and high in Vitamin A.
Frozen Banana

: Don't skip the banana. They are a good source of potassium. Helps to regulate blood pressure and is heart healthy. 
Greek Yogurt

: Packs a lot of protein. Great for digestive health and controlling blood pressure. Do not substitute regular yogurt. Greek yogurt has twice as much protein as regular yogurt.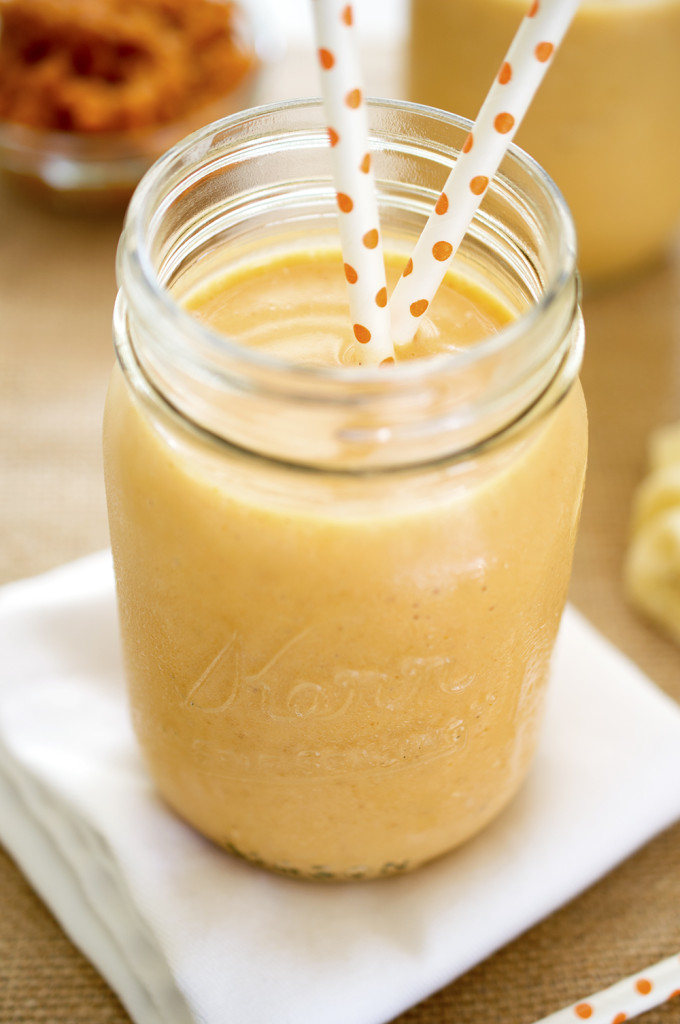 This smoothie can be made in less than 5 minutes. It's the perfect breakfast on the go.
This recipe makes one smoothie. However it is very easy to double or triple this recipe. I like to make a large batch and keep it in the fridge to have in the mornings. You can also freeze the smoothie if you won't be eating it right away.
I like to freeze the leftover canned pumpkin. It lasts for about 7 days in the fridge and 3-4 months in the freezer. Just make sure to transfer the pumpkin from the can to an airtight container.
This Pumpkin Banana Smoothie deserves to be sipped year round. It is too good to just be for fall! 
Pumpkin Banana Smoothie
Heart healthy fiber packed Pumpkin Banana Smoothie made with Greek yogurt, milk, and pumpkin puree! Perfect way to start your day.
Ingredients
2

tablespoons

canned pure pumpkin

5

tablespoons

milk

2

tablespoons

plain Greek yogurt

1/2

teaspoon

honey

1

banana

frozen

1/8

teaspoon

cinnamon

pinch

of nutmeg

1/4

cup

ice
Instructions
Add all of the ingredients together in a blender. Pulse for about 30 seconds and stir the ingredients making sure to scrape the sides. Pulse for another 30-60 seconds or until blended.
Recipe Notes
Original recipe from chefsavvy.com. Please do not publish my recipe or pictures without linking back to the original post. Thank you!