Super Tender Beef Stew cooked low and slow for hours! Loaded with carrots and potatoes! Warm, comforting and hearty.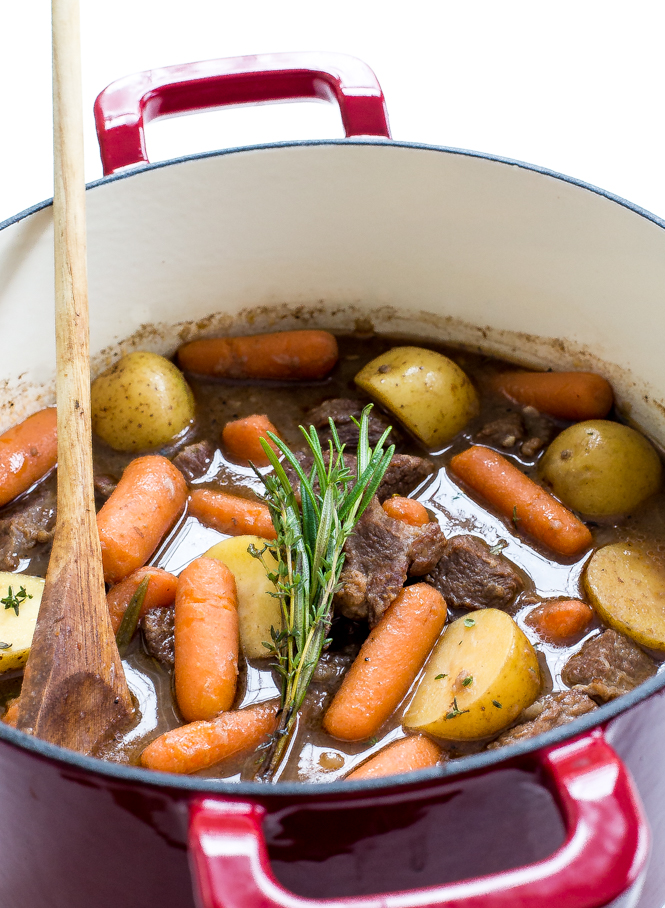 Thank you Rioja Wine for sponsoring this post! The onions and text are all mine!
Beef Stew is one of my all time favorite comfort foods. Tender beef roast cooked low and slow in wine and beef broth. I added carrots and potatoes to make it a meal.
This Beef Stew is AMAZING! Super comforting, hearty and perfect for winter. Best of all everything is made in one pot!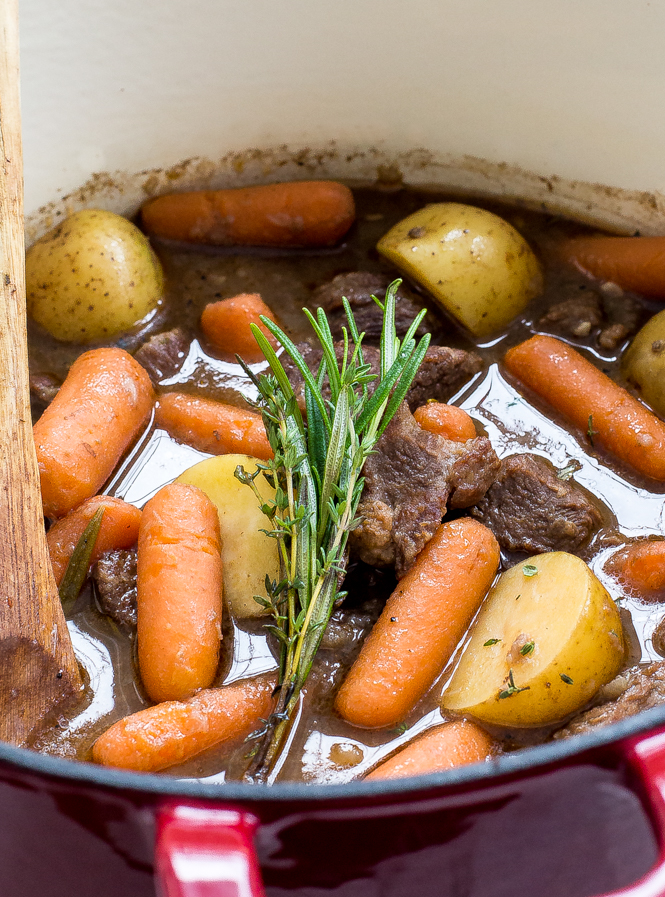 A couple tips for making this stew
Sear the meat in batches. Overcrowding the pan with steam the meat instead of browning. Browning the meat gives it a nice caramelization and helps to keep the juices inside.
Make sure to use wine that you would actually drink not cooking wine off the grocery shelf. This makes a huge difference.
Pair this stew with some crusty bread and a glass of Rioja wine!
Rioja wine is the perfect pairing for the holidays! Hailing from North-Central Spain, Rioja refers to the wine as well as the region it comes from. Made mainly from the Tempranillo grape, Rioja wines are one of only two D.O.C regions in Spain. Rioja wines are versatile and affordable. You don't have to break the bank on wine for your holiday dinner. Choose from juicy rosado wines, crisp blancos, or elegant reds ranging from lighter to robust with spice.
Beef Stew
Super Tender Beef Stew cooked low and slow for hours! Loaded with carrots and potatoes! Warm, comforting and hearty.
Ingredients
3

pound

chuck roast

cut into 1-2 inch cubes

1/2

cup

all purpose flour

salt and pepper

2

tablespoons

extra virgin olive oil

divided

1

onion

chopped

4

garlic cloves

minced

1

cup

good quality red wine

not cooking wine

1

tablespoon

tomato paste

4

cups

low sodium beef broth

a couple dashes of worcestershire sauce

1

bag baby carrots

1

pound

potatoes

halved or quartered depending on size

1

bay leave

1

sprig of thyme

1

sprig of rosemary

salt and pepper
Instructions
Preheat oven to 325 degrees.

In a large bowl toss beef in flour and season with salt and pepper.

Heat 1 tablespoon oil in a cast iron pot.

Once hot add in beef in batches making sure not to overcrowd the pan. (I did 3 batches)

Brown meat on all sides, 2-3 minutes. You may need to add more oil as you go.

Take beef out of the pot and set aside.

Add the remaining 1 tablespoon olive oil to the same pot.

Add in onion and cook until browned and slightly tender, 2-3 minutes.

Add in garlic and cook for an additional minute.

Pour in wine and deglaze the pan. Scraping up the bites on the bottom of the pan.

Stir in tomato paste, beef broth and worcestershire sauce. Bring to a simmer.

Add beef back into the pan along with the carrots, potatoes, bay leave, thyme and rosemary.

Cover and place in the oven. Cook for 1 hour and 45 minutes.

Skim off some of the excess fat on the top and take out of bay leaf and sprigs of herbs. Serve warm!