Homemade Pretzel Rolls baked to perfection and topped with sesame seeds, salt and poppy seeds. They are a lot easier to make at home than you think!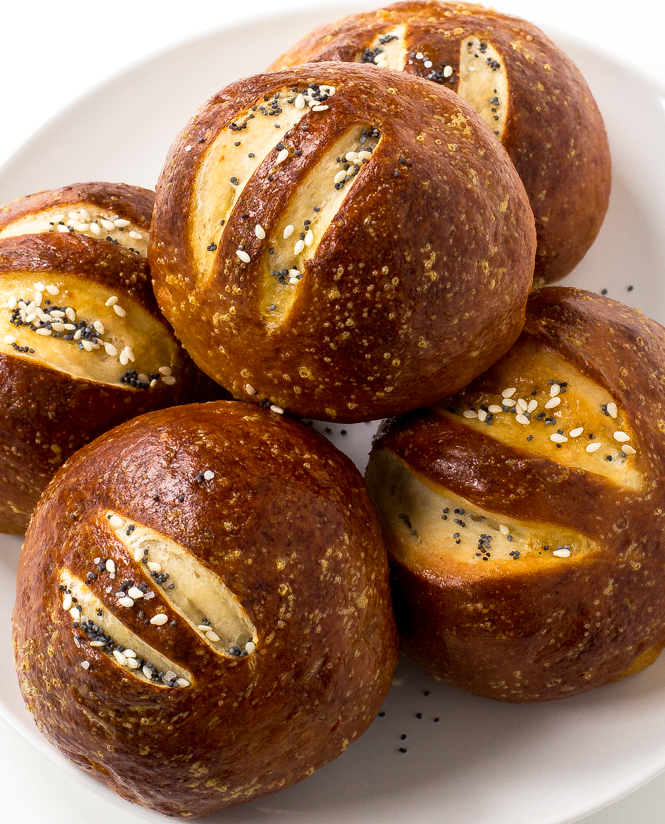 Whenever I see a sandwich on a menu made on a pretzel roll I always have to have it. I love pretzel rolls! Perfectly soft, chewy and golden brown. They always make a sandwich 10 x better.
Making pretzel rolls at home are a lot easier to make than you think! They take about 1-2 hours total rising time and 20 minutes in the oven. These Pretzel Rolls are totally worth the effort.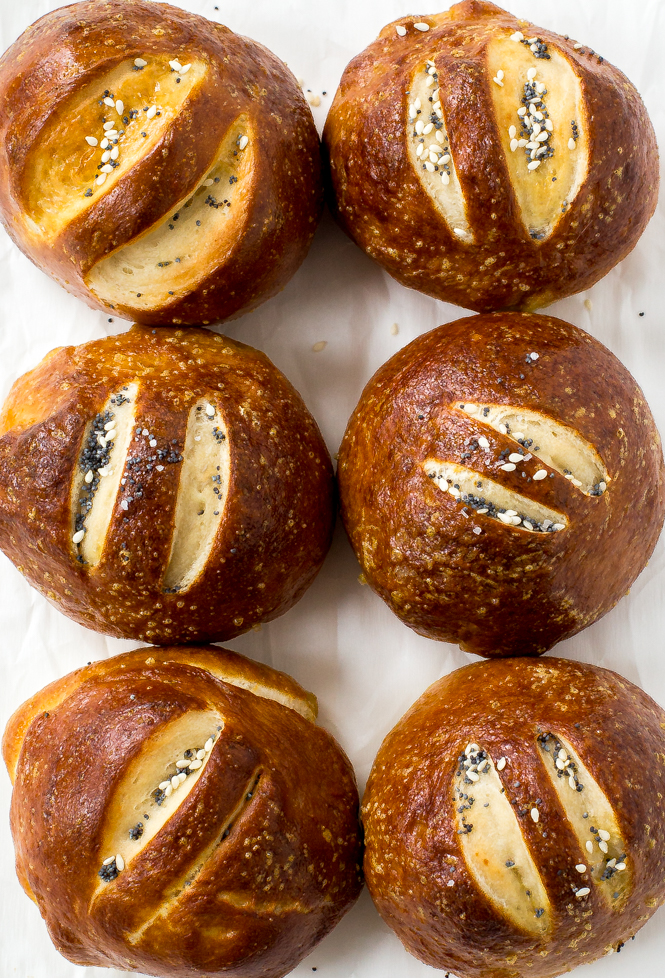 These pretzel rolls are chewy, golden brown, salty with a bit of sweetness from the honey. Sprinkle on your favorite toppings. I love poppy seeds, sesame seeds and a good helping of coarse salt.
The secret to the pretzel flavor is the boiling water + baking soda mixture. Make sure to use a pot big enough to hold the water and give you a little extra room for the baking soda. The water can overflow when the baking soda gets added.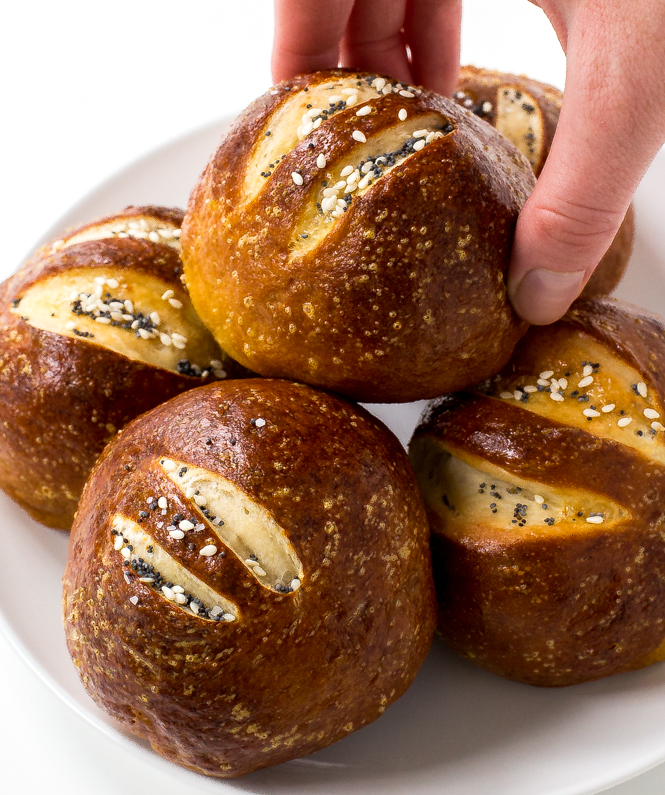 Load these pretzel rolls up with your favorite sandwich topping. I love these served warm with butter or with shredded cheese sprinkled inside. Either way these rolls are amazing!!
I also recommend whipping up a cheese sauce to serve these with as well! Enjoy!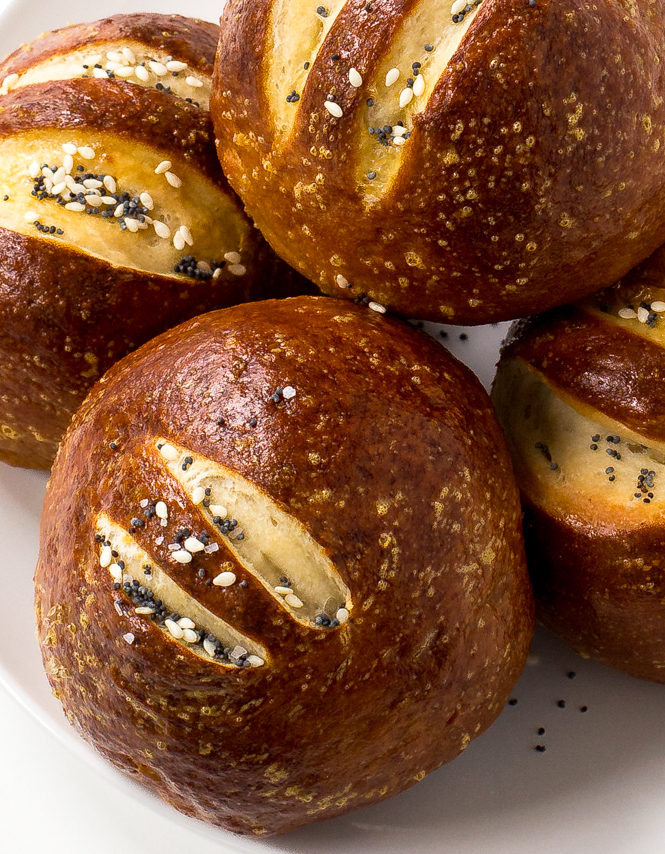 Pretzel Rolls
Homemade Pretzel Rolls baked to perfection and topped with sesame seeds, salt and poppy seeds. They are a lot easier to make at home than you think![/i
Ingredients
1

cup

milk

I used 1%

2

tablespoons

unsalted butter

1

tablespoon

honey

1

envelope active dry yeast

1

teaspoon

salt

3

cups

all purpose flour

12

cups

water

1/2

cup

baking soda

1

egg

whisked

1

tablespoon

water
Optional Toppings
coarse salt

poppy seeds

sesame seeds

shredded cheese
Instructions
Heat milk and butter in a saucepan or the microwave until the temperature reaches 130 degrees.

Add the heated milk and butter to a stand mixer with the dough hook attached.

Add in honey, yeast and salt and stir to combine.

Add in flour, 1 cup at a time on low speed. If dough is still sticking to the bottom add more flour.

Knead the dough for 5 minutes in the stand mixer. (If you do not have a stand mixer knead by hand)

Shape into a ball and place the dough in a large bowl lightly coated in oil.

Cover with a kitchen towel and place in a warm area until the dough doubles in size. Usually takes about an hour.

Divide the dough into 6 rolls. (You can do smaller or larger rolls depending on your use). Cover and let the rolls rest for an additional 15 minutes.

Meanwhile preheat oven to 400°F. Line a baking sheet with a silicone baking mat. Set aside.

Boil water in a large pot. (Make sure to give yourself extra room. Baking soda will make the water foam up and rise) Add in baking soda.

Drop rolls into the water making sure not to over crowd the pot. Cook for 2 minutes and remove with a slotted spoon and place onto the prepared baking sheet. Make sure the rolls do not touch.

Combine the egg and water and whisk until combined.

Brush the rolls with egg wash.

Cut two slits in the top of each roll. You can do crosswise or side by side.

Sprinkle the rolls with salt, poppy seeds and sesame seeds (if using) and bake for 15-20 minutes or until golden brown.

Remove from the oven and allow them to cool for a couple of minutes on the baking sheet and serve!
Adapted from Allrecipes.com