Homemade Pretzel Bites with a creamy cheddar cheese dipping sauce! Popable and super addicting these homemade pretzel bites will go fast!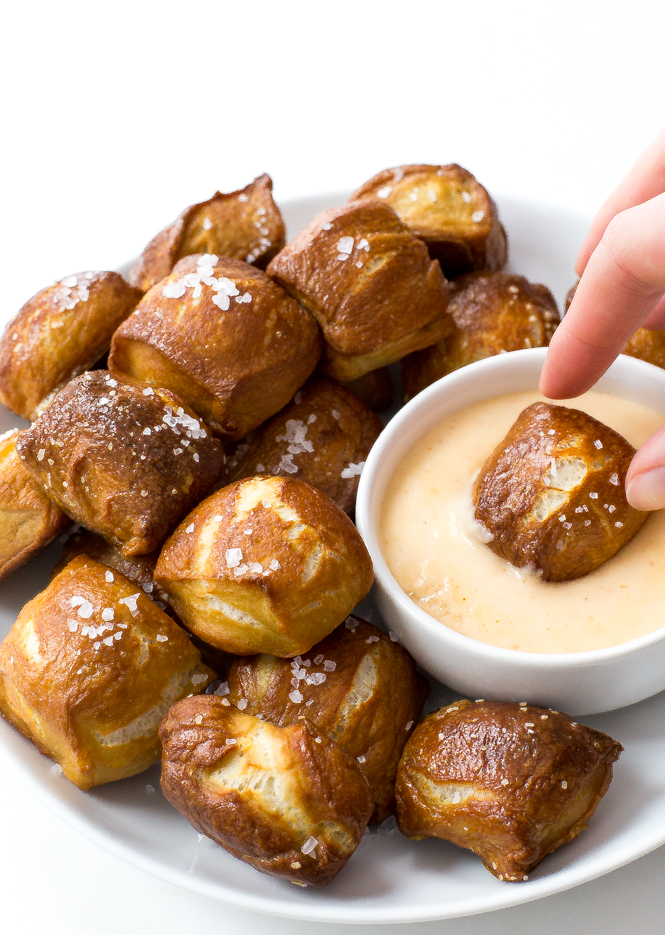 There is seriously nothing better than a homemade pretzel. Especially when it's in bite sized form. These homemade pretzel bites are popable and totally addicting. They make an awesome party appetizer or a fun snack for kids!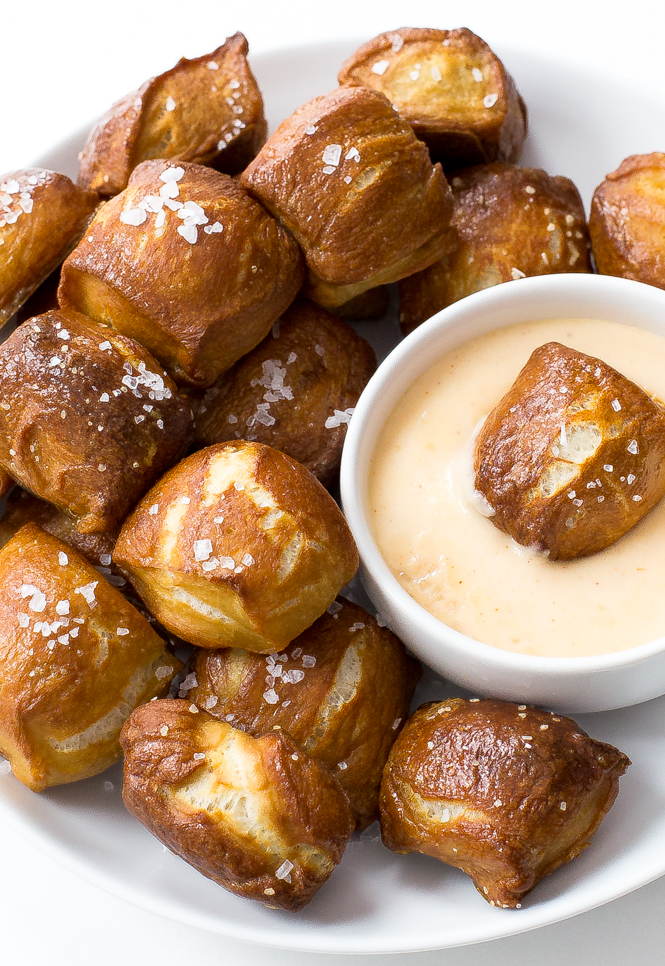 These pretzel bites do take some prep time but are totally worth the effort.
I made these bites with fast acting yeast so you only need about 10 minutes of rising time. You can subsitute active dry yeast just make sure to add an extra hour of time to allow the dough to rise.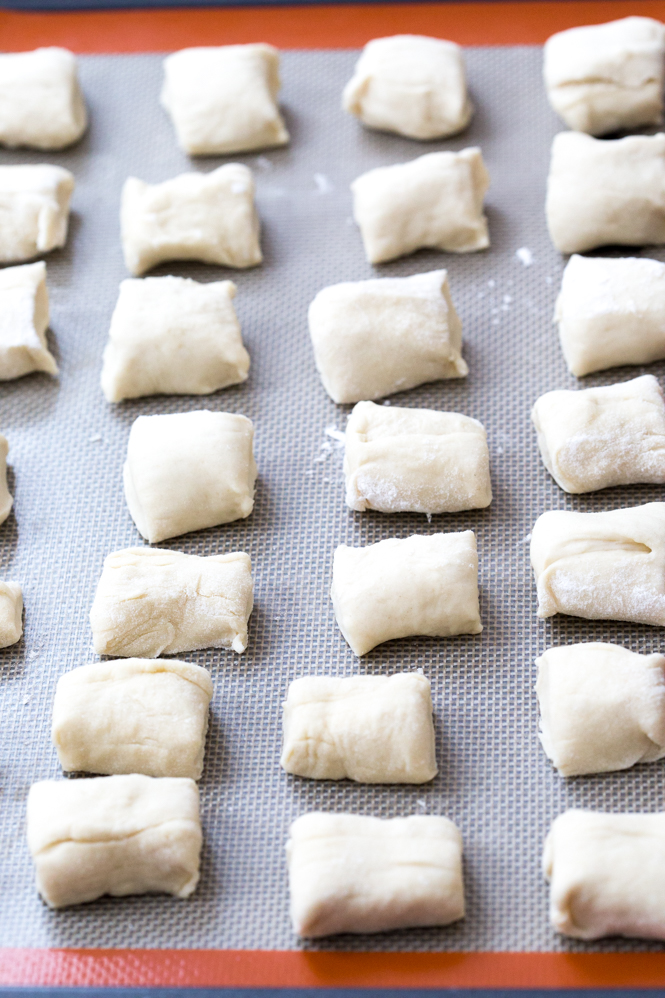 Now for the cheese sauce! It's thick, creamy and only requires 4 ingredients: Butter, flour, milk and cheese. For a little kick add a couple of splashes of hot sauce or cayenne pepper. You can even dice up some jalapeños and add them in. If you are making these for a party I would suggest making the cheese sauce and serving it in a dip warmer!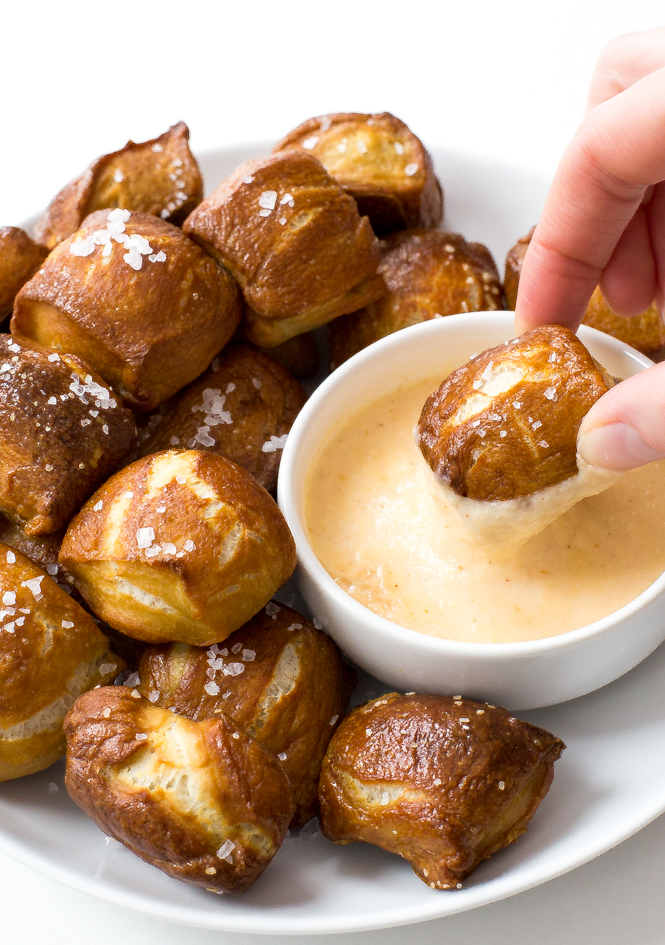 With my leftovers I popped them in the microwave for a couple of seconds, toss them in some melted butter then cinnamon and sugar for a sweet dessert. These would go awesome with chocolate sauce or a cream cheese dipping sauce!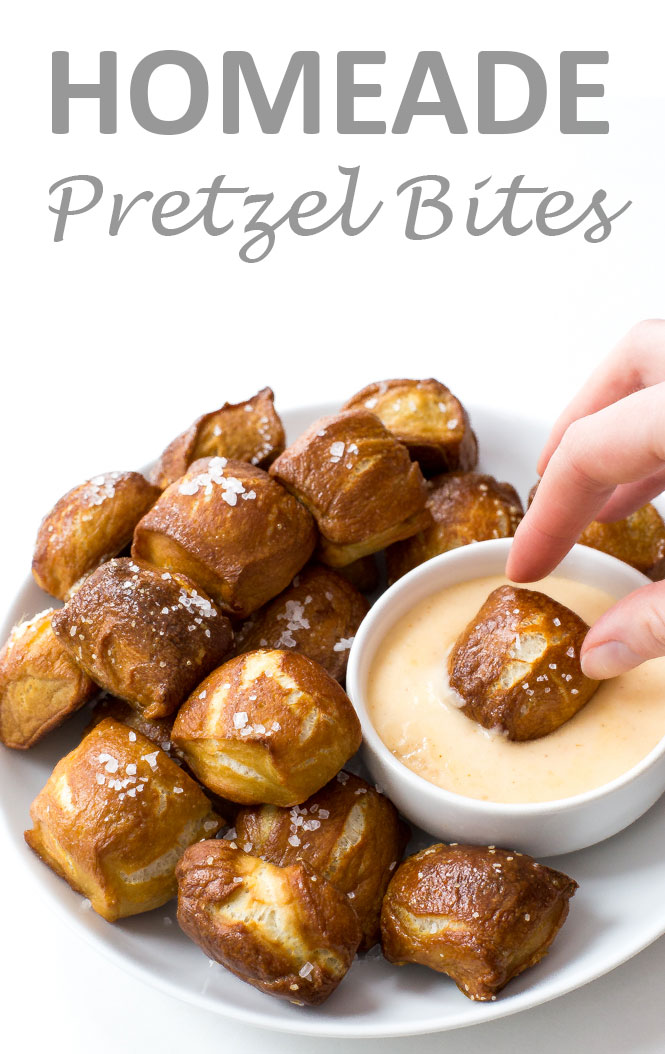 Homemade Pretzel Bites
Homemade Pretzel Bites with a creamy cheddar cheese dipping sauce! Popable and super addicting these homemade pretzel bites will go fast!
Ingredients
Homemade Pretzel Bites
1½ cups warm water
2¼ teaspoon fast acting yeast
2 teaspoons salt
2 teaspoons light brown sugar
4½ cups all purpose flour, plus more if needed
5 tablespoons unsalted butter, melted and cooled
½ cup baking soda
1 egg
1 tablespoon water
Cheese Sauce
2 tablespoons unsalted butter
2 tablespoons flour
1 cup milk
1 cup shredded cheddar cheese
salt and pepper
Instructions
Homemade Pretzel Bites
Add yeast and water to a stand mixer with the dough hook attached or a large bowl if mixing by hand. Stir and allow to rest for 1 minute.
Add salt, sugar and butter to the stand mixer and stir until combined.
Add in flour, 1 cup at a time on low speed. If dough is still sticking to the bottom add more flour. I do a tablespoon at a time.
Knead the dough for 5 minutes in the stand mixer. (If you do not have a stand mixer knead by hand)
Shape into a ball and place the dough in a large bowl lightly coated in oil.
Cover with a kitchen towel and place in a warm area for 10 minutes.
Preheat oven to 425°F. Line two large baking sheets with silicone baking mats. Set aside.
Cut dough into 6 sections.
Roll each section into a long rope. (About 20 inches long)
Cut into 1½ inch bite size pieces.
Boil 9 cups of water with the baking soda.
Drop 8-10 pretzel bites into the water at a time making sure not to over crowd. Cook for 20 seconds. Remove with a slotted spoon and place onto the prepared baking sheet. Make sure the bites aren't touching.
Combine the egg and water and whisk until combined.
Brush egg wash over each pretzel bite.
Sprinkle with sea salt and bake for 15 minutes or until golden brown.
Remove from the oven and allow them to cool for a couple of minutes on the pan.
Serve with cheese sauce and enjoy!
Cheese Sauce
Melt butter in a medium saucepan.
Add in flour and whisk until combined. Continue to whisk for 1 minute.
Slowly pour in the milk while whisking continuously until thickened, 2-3 minutes.
Take off of the heat and stir in cheese.
Season with salt and pepper to taste.
Notes
Adapted from Sallys Baking Addiction Only Eats