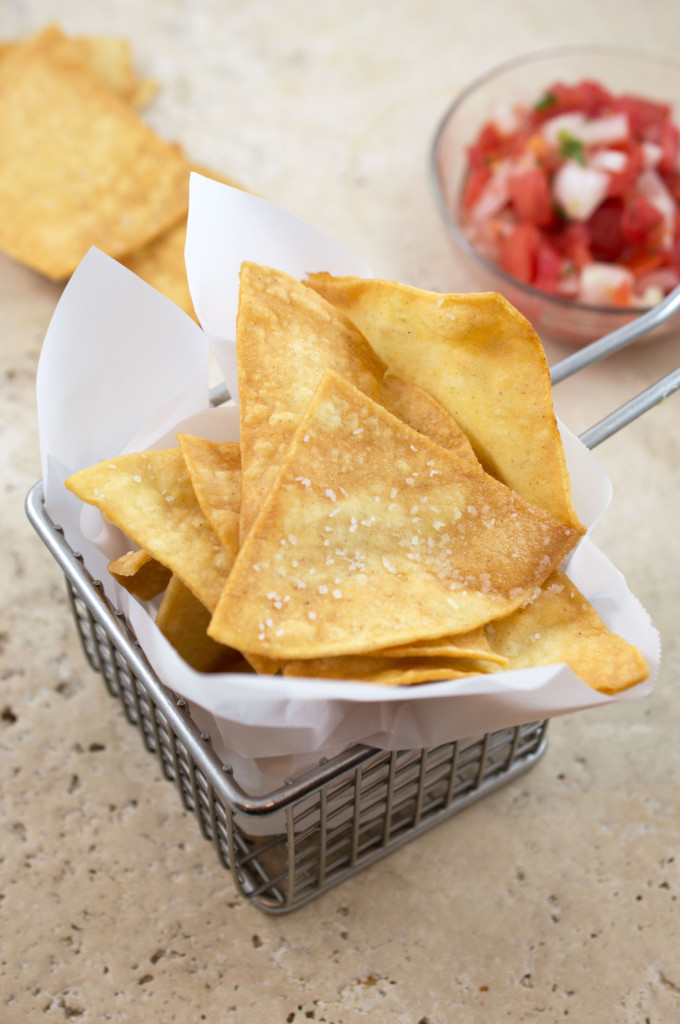 I am always on the search for a dish I can replicate at home. Tortilla chips are one of my favorite snacks to buy pre-made at the store or to get out at a restaurant. Once a novice tortilla maker, the thought of cooking tortilla chips at home always seemed to be too much work. The oil would spatter everywhere and I would be left with the annoying task of disposing the leftover grease.
After making tortilla chips many times at home I have found it is not that bad after all. It is in fact EASY. Trust me, your effort is well worth the reward. There is nothing better then these crunchy, salty, homemade tortilla chips! Let's get started..
Begin by cutting the tortillas into half.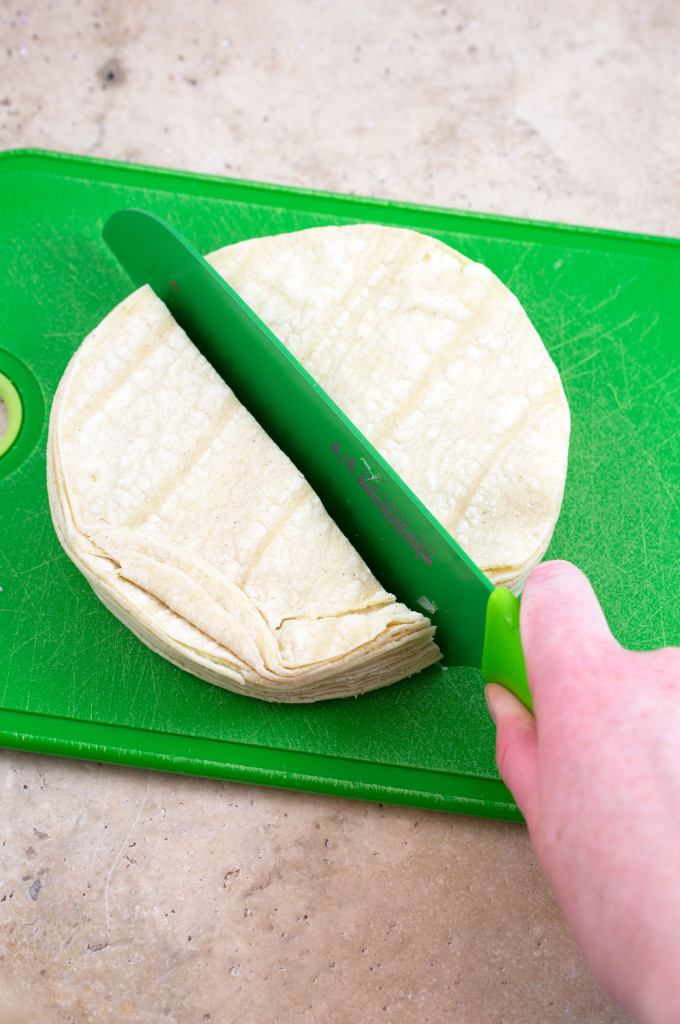 Turn tortillas 90 degrees and cut again. You will be left with four equal pieces.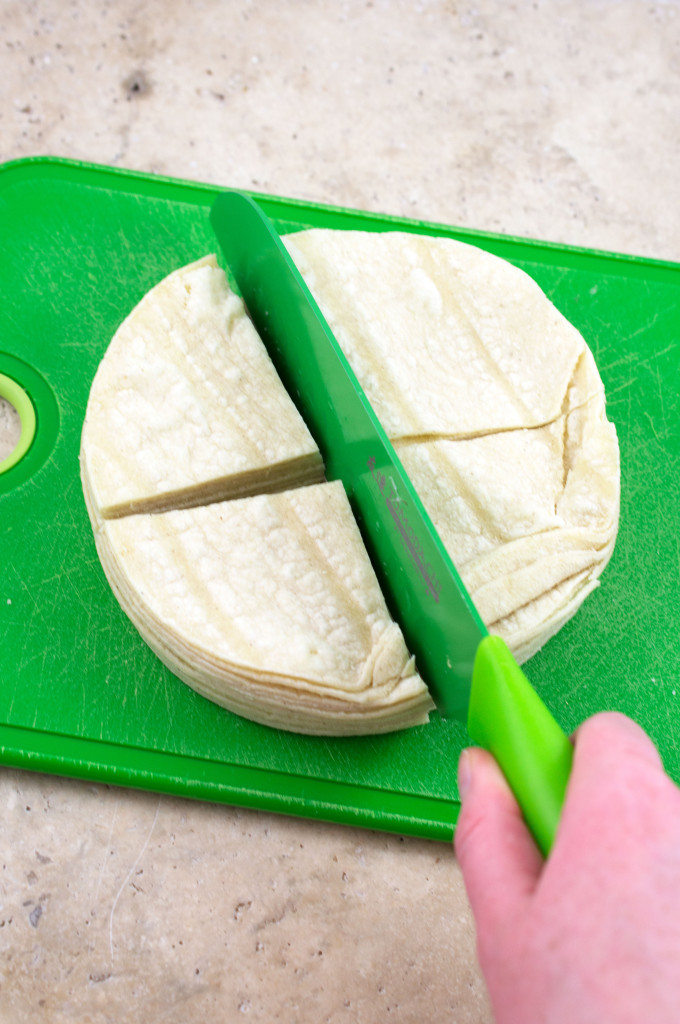 Separate tortillas to make sure they are not sticking to one another.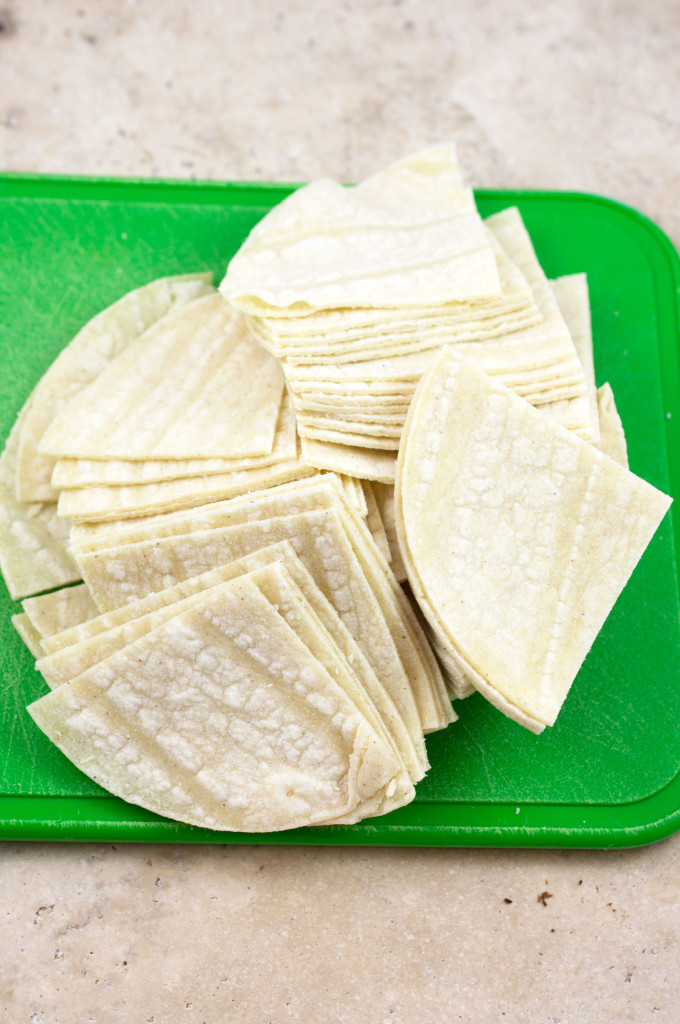 In a large saucepan add in canola oil and heat over medium-high heat until it reaches a temperature of 350 degrees.
Tip: Don't have a thermometer? Add a pinch of flour to the oil and see if it sizzles. If it does your oil is ready.
Add in tortilla chips leaving enough room for them to move around and not stick to one another. Let them cook about a minute on each side or until golden brown.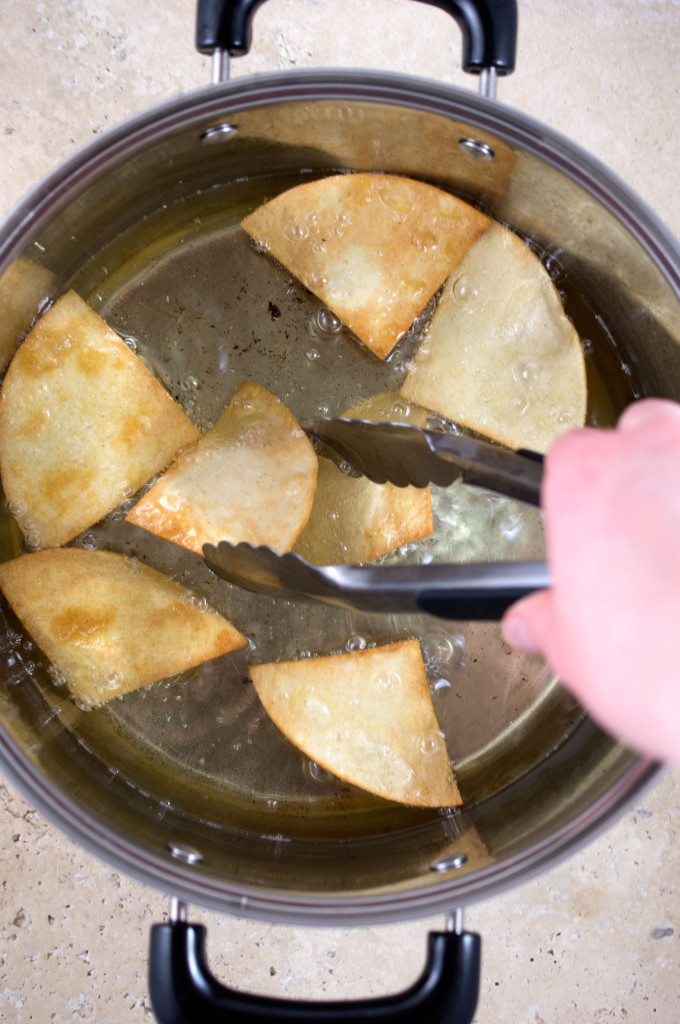 Lay your tortilla chips out on a plate lined with paper towels in one layer.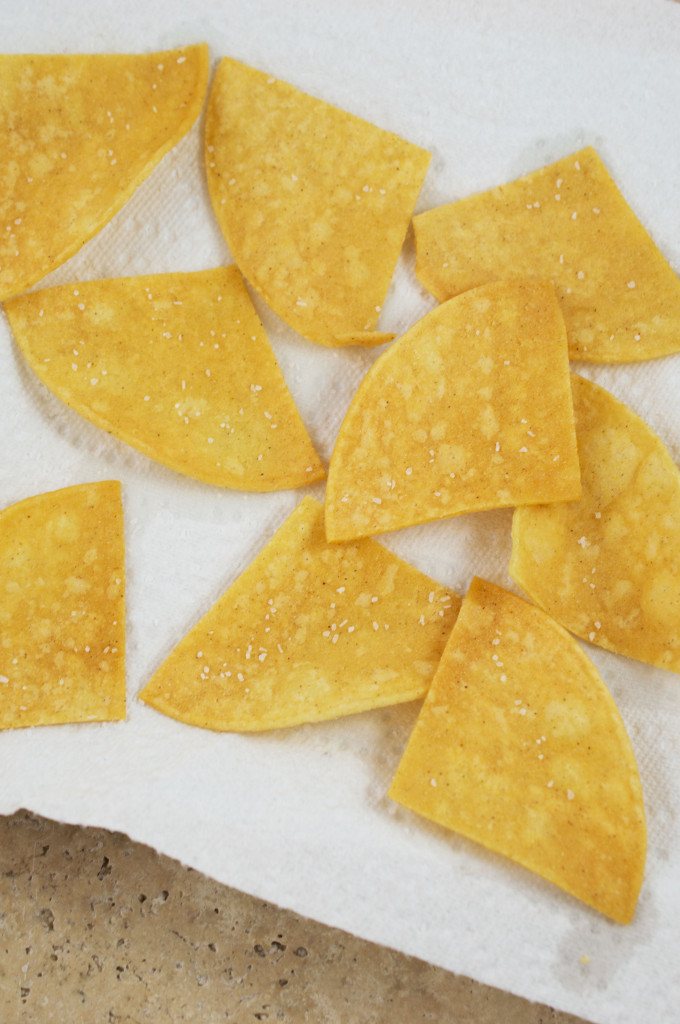 Immediately after the chips come out of the oil sprinkle with salt. I use kosher salt because I like the larger salt crystals, but table salt will also do the trick. It is very important to salt the tortilla chips immediately after they are taken out of the oil. If you wait even a minute the tortilla chips will cool and the grease will drain off giving the salt nothing to adhere to.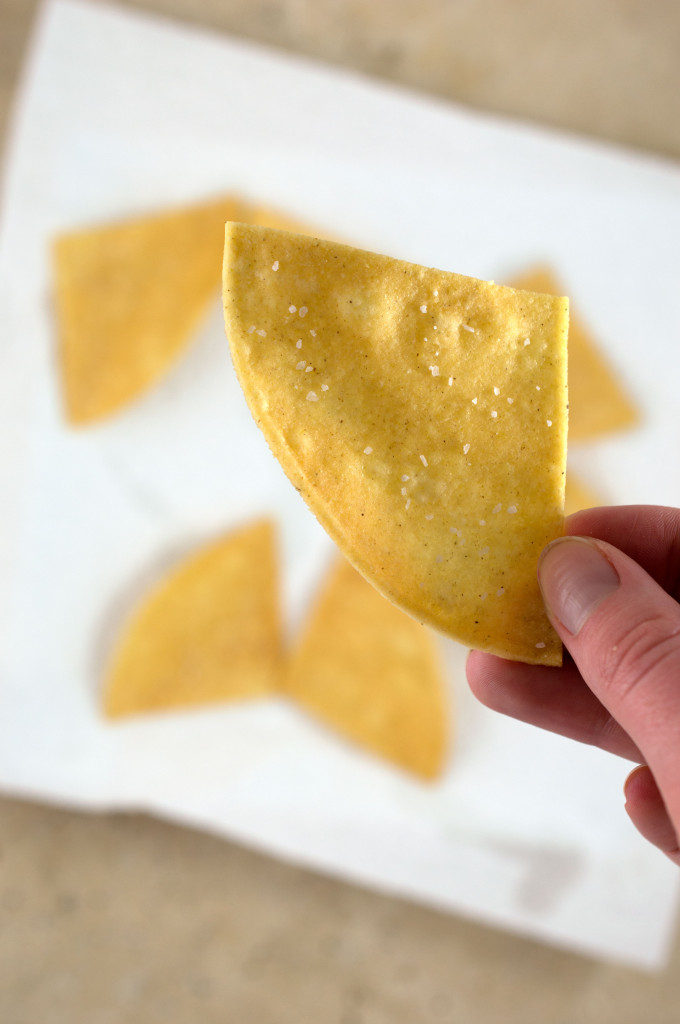 Serve with salsa, guacamole or my favorite queso with your homemade tortilla chips!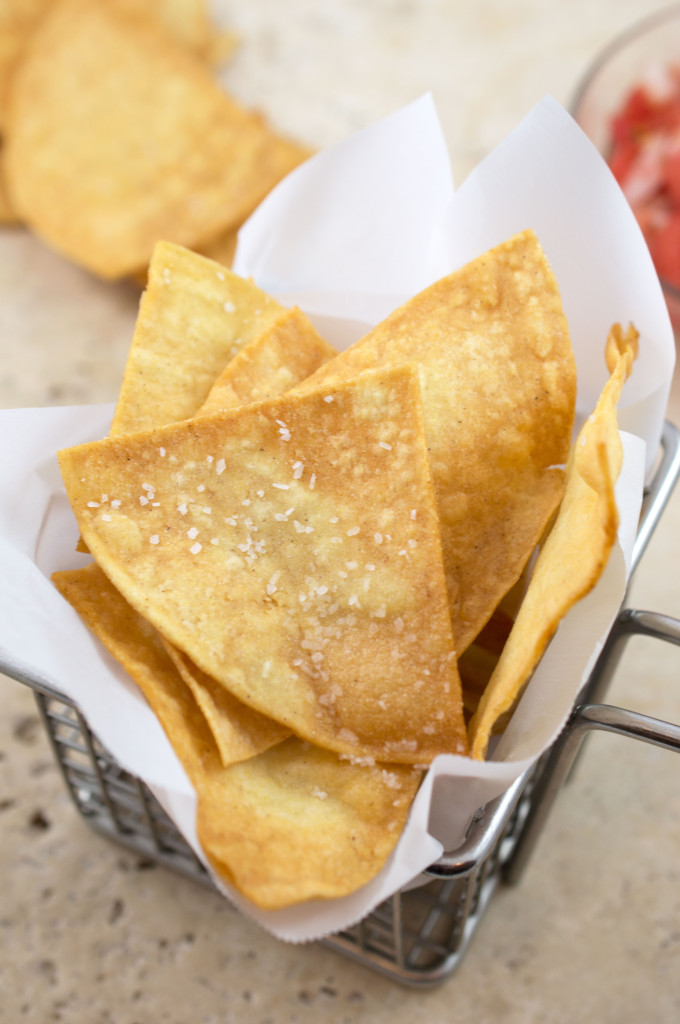 How to make homemade tortilla chips
Ingredients
3

cups

canola oil

4

cups

corn tortilla

Kosher Salt
Instructions
Begin by heating canola oil in a large saucepan with high sides. Heat oil to 350 degrees. When oil is ready add in tortilla chips making sure not to crowd the pan (tortillas will stick together). The tortillas take about 1 to 2 minutes on each side until golden brown. Take out tortilla chips and place on paper towels. Season with salt immediately. Allow to cool for one or two minutes and enjoy!