Spicy Pepper Jack Mac and Cheese
Spicy Pepper Jack Mac and Cheese. A fun twist on the original made in less than 15 minutes!
Macaroni and cheese has to be one of the best comfort foods there is. Creamy, rich and loaded with tons of cheese. This is not your ordinary mac and cheese though. This SPICY Pepper Jack Mac and Cheese is a twist on the original. Loaded with Jalapenos, tomatoes, red pepper flakes, Tabasco and cayenne pepper. Spicy but not TOO spicy.
A quick stove top mac and cheese that can be made in less than 15 minutes.

OUR LATEST RECIPES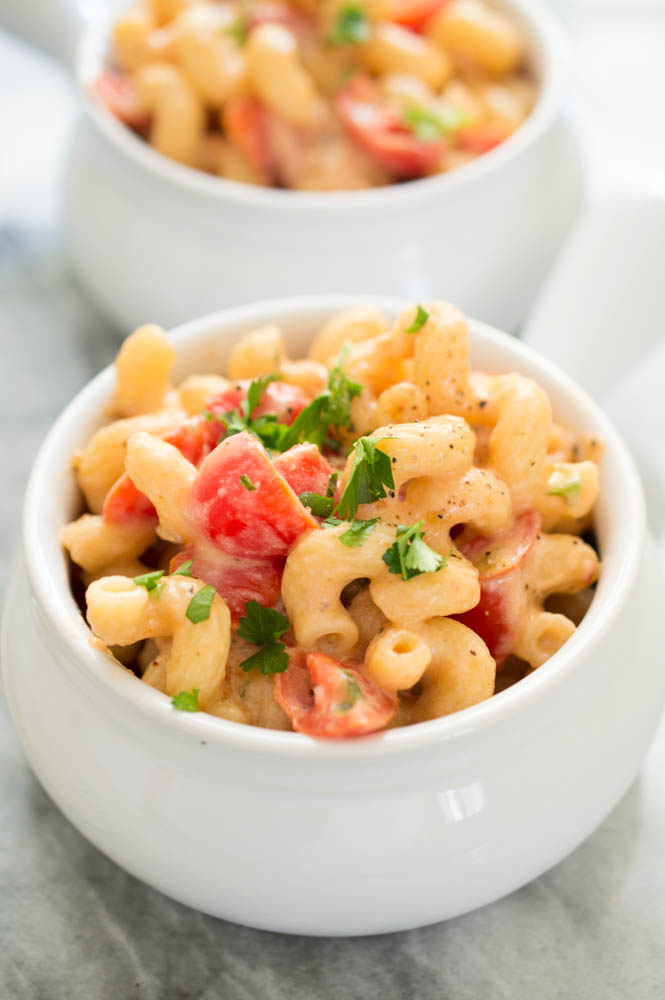 I love spicy foods. For me the spicier the better. If my nose is not running and my eyes are not watering it is not spicy enough. I made this pasta with just enough kick to add some spice but not enough to make you cry.
This spicy mac and cheese is made with a creamy pepper jack cheese sauce.
This mac and cheese starts off with a typical roux (butter and flour whisked together). This helps thicken up our cheese sauce. Milk is then added and simmered until bubbly and thick. Cook pasta until al-dente so it still has a nice bite to it. Stir in cheese, diced jalapenos, cayenne pepper, and Tabasco and pour over noodles.
You can add more spice to this recipe if you like by adding the seeds of the jalapeno. I omitted them. You can also give your jalapeno a quick taste test to see how hot it is. This will help determine how much to add.
You can't go wrong with mac and cheese as a side dish especially one with a kick like this. Make this alongside a salad or grilled chicken!
Spicy Pepper Jack Mac and Cheese
Spicy Pepper Jack Mac and Cheese. A fun twist on the original made in less than 15 minutes!
Ingredients
2 cups Cavatappi pasta, uncooked
1 tablespoon unsalted butter
1 tablespoon all purpose flour
1 cup milk
½ cup pepper jack cheese, shredded
¾ cup cherry tomatoes, quartered
1 teaspoon jalapeno, minced
1 teaspoon Tabasco
¼ teaspoon salt
¼ teaspoon pepper
⅛ teaspoon cayenne pepper
fresh parsley chopped for garnish
Instructions
Boil pasta until al-dente.
Meanwhile add butter to a small saucepan. Heat until melted.
Stir in flour and whisk constantly for 1-2 minutes.
Add milk and simmer whisking constantly for another 3-4 minutes until thick.
Take off of the heat and whisk in cheese until fully melted.
Stir in tomatoes, jalapeno, Tabasco, salt, pepper and cayenne pepper.
Pour cheese sauce over the cooked noodles and toss to combine.
Serve with a sprinkle of parsley for garnish.
Notes
Original recipe from chefsavvy.com. Please do not publish my recipe or pictures without linking back to the original post. Thank you!
Only Eats