Incredibly Tender Slow Cooker Korean Beef. Cooked low and slow for 8 hours!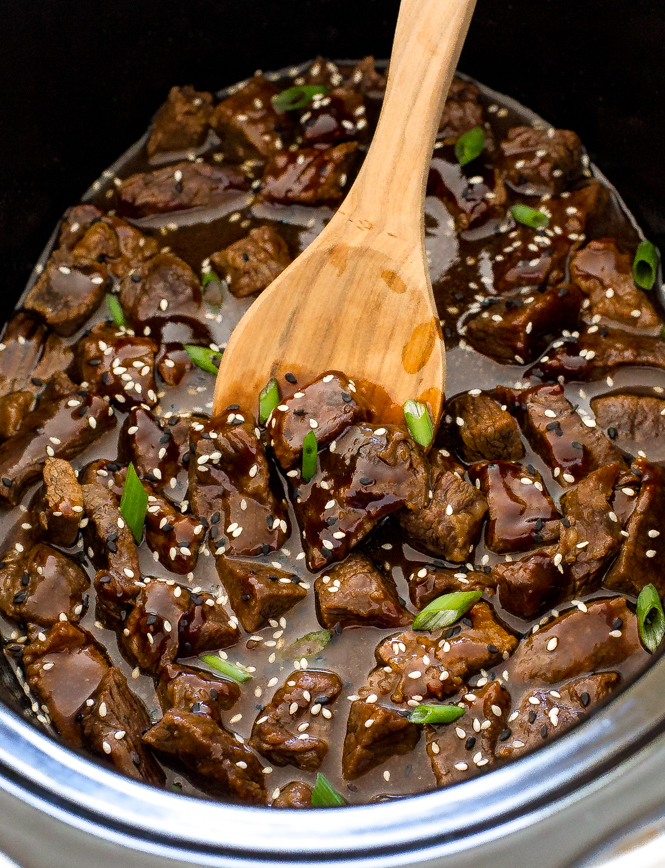 I love cooking chuck roast in the slow cooker. It always produces super tender fall apart meat. The tender chuck roast gets cooked in a Korean inspired sauce.
The sauce is made up of brown sugar, soy sauce, sesame oil, Sriracha, ginger and garlic. Both the sauce and cubed chuck roast get added to the slow cooker. The prep time is less than 10 minutes. You can even prep all the ingredients the night before and throw it into the slow cooker in the morning!

OUR LATEST RECIPES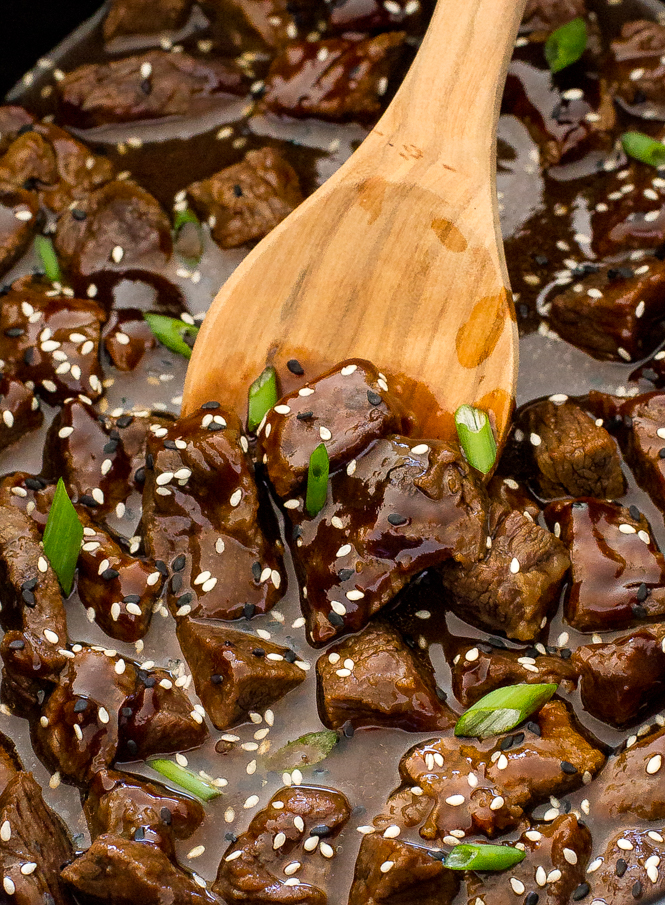 After the Slow Cooker Korean Beef has finished cooking I mix cornstarch and some of the cooking liquid together to thicken it up.
To serve I garnish with green onions, sesame seeds and a little more Sriracha. This Korean Beef goes amazing with my Rainbow Vegetable Noodle Stir-Fry Enjoy!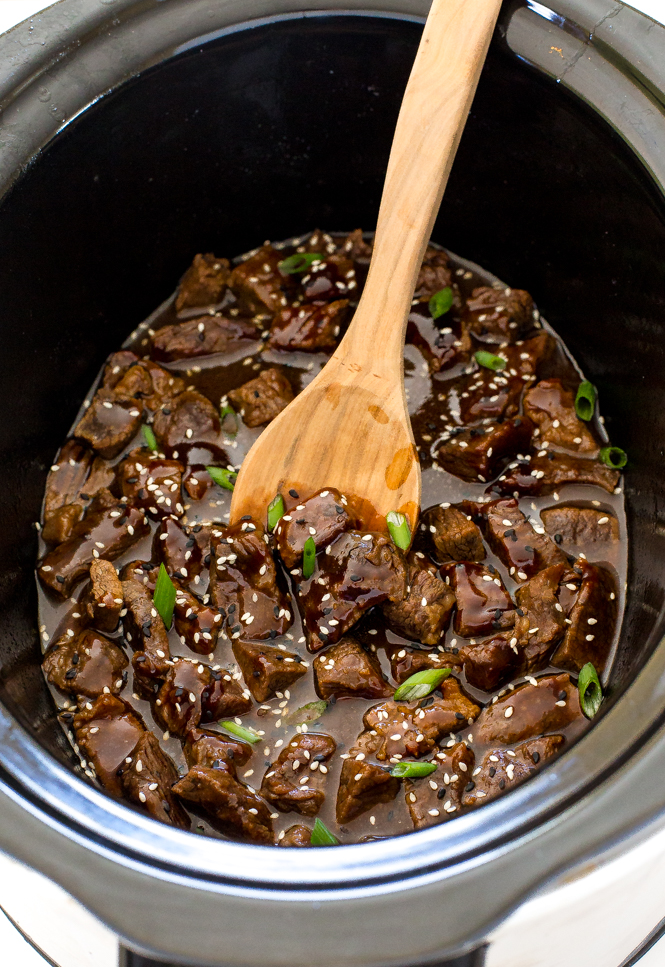 Slow Cooker Korean Beef
Incredibly Tender Slow Cooker Korean Beef. Cooked low and slow for 8 hours!
Ingredients
Slow Cooker Korean Beef
2 pounds chuck roast, cut into bite size pieces
Sauce
½ cup light brown sugar
½ cup low sodium soy sauce
6 cloves garlic, minced
2 teaspoons ginger, minced
1 tablespoon sesame oil
2 tablespoons rice vinegar
2 teaspoons Sriracha, or more to taste
1-2 tablespoons cornstarch
green onions. if desired
sesame seeds, if desired
Instructions
Add chuck roast to the slow cooker.
In a medium bowl mix together all of the sauce ingredients.
Pour on top of the chuck roast and stir.
Cover and cook for 8 hours on low. (I would not recommend cooking this on high. I have tried and it was pretty tough after cooking on high for 5 hours).
When the chuck roast is done mix together 1-2 tablespoons of cornstarch and ¼ cup of the liquid from the slow cooker in a small bowl. (I usually start with 1 tablespoon, if you want it thicker add an additional tablespoon to ¼ cup cooking liquid)
Pour the mixture back in the slow cooker and cook on high heat for an additional 30 minutes or until the sauce is thickened.
Serve immediately, garnished with green onions and sesame seeds, if desired.
Only Eats
Adapted